April: The Oxford Hotel Presents a Curated Art Series, brought to you by NINE dot ARTS
NINE dot ARTS is proud to facilitate art experiences that go beyond our traditional curating services – especially those that engage our communities and allow local artists to shine! That's why we're partnering with Sage Hospitality Group and Denver's historic Oxford Hotel to host a Curated Art Series throughout the months of March and April, 2022.
Join us at The Oxford Hotel (1600 17th St, Denver, CO 80202) every Tuesday in April from 5 to 7pm for FREE art activities led by local Colorado creatives.
---
NINE dot ARTS Painting and Project 1050 Pop Up | Tuesday, April 5th, 5-7PM
Come paint with the dots! We invite guests to help our team create collaborative abstract fields on canvas that will be donated to The Oxford Hotel. Additionally, participants can create their own abstract pieces to take home. The activity will be facilitated by teaching artist and NINE dot ARTS Office Manager Riana Casas. Guests can both create and purchase artwork during this fun and creative evening!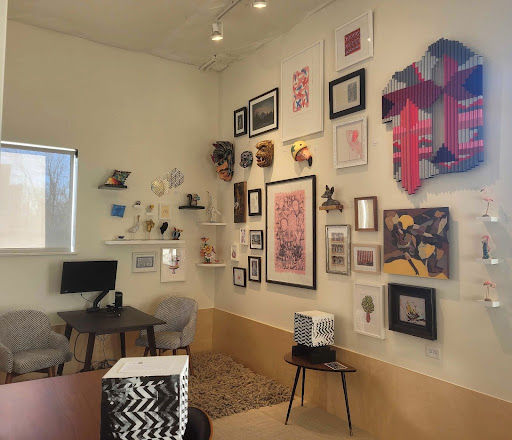 Project 1050: We will be selling artwork from our Project 1050 initiative, which supports local and emerging artists around the country. Guests can browse a range of artworks and styling objects for under $1000.
David Stallings, Art Gym | Tuesday, April 12th, 5-7PM
Artist David Stallings of the Art Gym will lead a workshop to teach effects and techniques for the beginner watercolor artist. Watercolor painting can be a challenging and disappointing medium, but with a few technical tips it can become quite satisfying. Come by and watch or participate in a series of watercolor demonstrations, which will help you better learn and appreciate watercolor with more confidence and success. Palettes, paper, and brushes will be provided for up to eight participants at a time.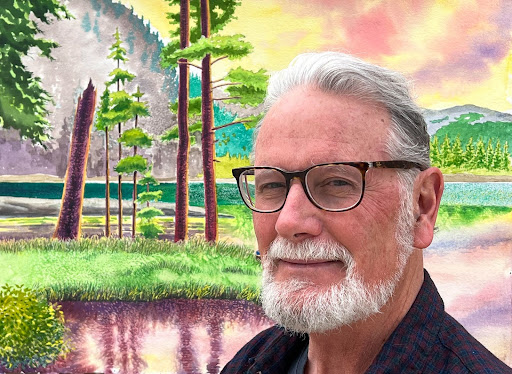 David Stallings just retired after a thirty-year career teaching students about visual arts in the Cherry Creek School District. When not teaching, he has spent most of his summers hiking and backpacking throughout Colorado and beyond. His love of nature has led him to focus his own artistic practice on the painting of intimate landscapes in watercolor, acrylics, and oils. View his work at davidlstallings.weebly.com/. Small prints of some of his paintings will be available for purchase.
Claire Simpson and Izaac Tafoya, The Art Garage | Tuesday, April 19th, 5-7PM
In honor of Earth Day on April 22nd, 2022, Art Garage teachers Claire Simpson and Izaac Tafoya will lead participants through two interactive art activities.
Claire will guide guests through a painting activity with handmade pigments from Earth's rocks, plants, and minerals. Experiment in making your own with ingredients found in your kitchen and garden! Grind berries into ink, mull rock pigment into paint, and make stamps with beets to celebrate all the unique ways we can use what the Earth has to offer to us to create something special. Izaac will show guests how to use recycled materials to mimic Joseph Cornell's "Cabinet of Curiosities" project using box origami as a base structure.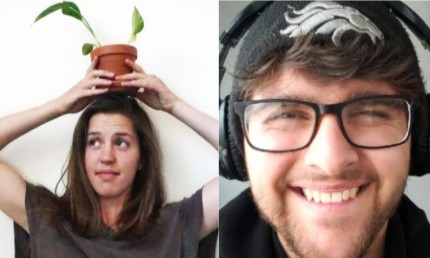 Claire Simpson is a multidisciplinary artist active in the Denver arts community as well as an artist at the Art Garage. Her focus is in human connections with the Earth through simulated reality and she employs a variety of mediums including photography, installation, painting, and video. Learn more at clairesimpson.net and follow Claire on Instagram at @clairesimpson.art. Izaac Tafoya is a painter and multimedia artist working and living in Denver, a graduate of Rocky Mountain College of Art and Design, and a teacher at the Art Garage. Follow Izaac on Instagram at @urban_cowpunch.
Clyde Steadman, Art Students League of Denver | Tuesday, April 26th, 5-7PM
Clyde Steadman of the Art Students League of Denver will set up in The Oxford Hotel lobby and actively paint the scenes around him. Guests are invited to interact with him as he paints his surroundings and shares insights on his process. Additionally, he will have original work for sale.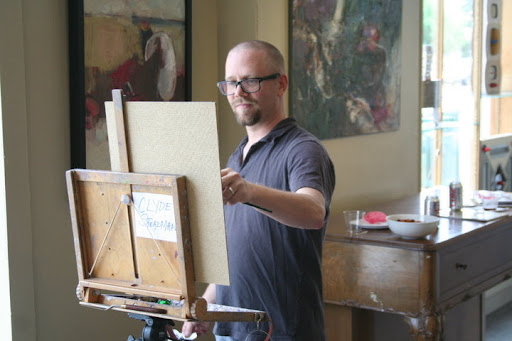 Clyde Steadman: Clyde's love of art started with drawing people in bars and coffee shops. His painting and drawings are inspired by the world and activity around him. He currently teaches at the Art Students League of Denver. He is a painter through and through, mainly working with oil but dabbling in watercolor, acrylic, and pastel. His work is regularly on display at Abend and Art Images in Denver, Colorado. He also shows work in Colorado Springs, Santa Fe, and Florida.
Learn more about The Oxford's Nightly Happenings. See you on Tuesdays!