Multifamily Round-Up: New Installations at Lakehouse & The Pullman
The pandemic has impacted every facet of our lives. While much is unknown about the long-term effects on the built environment, we do know multifamily real estate will look different when this is all said and done.
Although it's impossible to predict how dramatic (or lasting) those changes will be, our experience as art consultants and curators for the real estate industry has armed us with an important insight: differentiation – as shared through the brand you build and experiences you create – is more critical than ever.
That's especially true in a still-growing market like Denver where, despite a brief slowdown, multifamily development is expected to maintain a strong pace. Over the past few months, we've been fortunate to produce one-of-a-kind art experiences at two distinct projects in Denver: Lakehouse and The Pullman.
Here's how these communities are using the power of original art to capture the attention of their residents.
Lakehouse
Just three miles west of downtown Denver and steps from Sloan's Lake, Lakehouse is one of the most innovative for-sale multifamily developments in Colorado. As the first residential project in Colorado to earn WELL Precertification under the WELL Building Standard, Lakehouse has redefined the way we think about what it means to design places that are good for us.
For NINE dot ARTS, Lakehouse presented a rare opportunity to use art to enhance a community that has been intentionally designed to help people thrive, mentally and physically.
We curated a unique art collection featuring a thoughtful mix of pieces that convey the sophistication, elegance, and comfort residents can expect from life at Lakehouse. One of our favorite pieces in the collection is "Coterie" by Denver-based sculpture artist Michael Clapper. His feature lobby sculpture is the first thing you see when you walk through the main entrance. Although its size commands attention, the color and design evoke a light and airy feel, inviting residents and visitors to take a breath and relax into the space.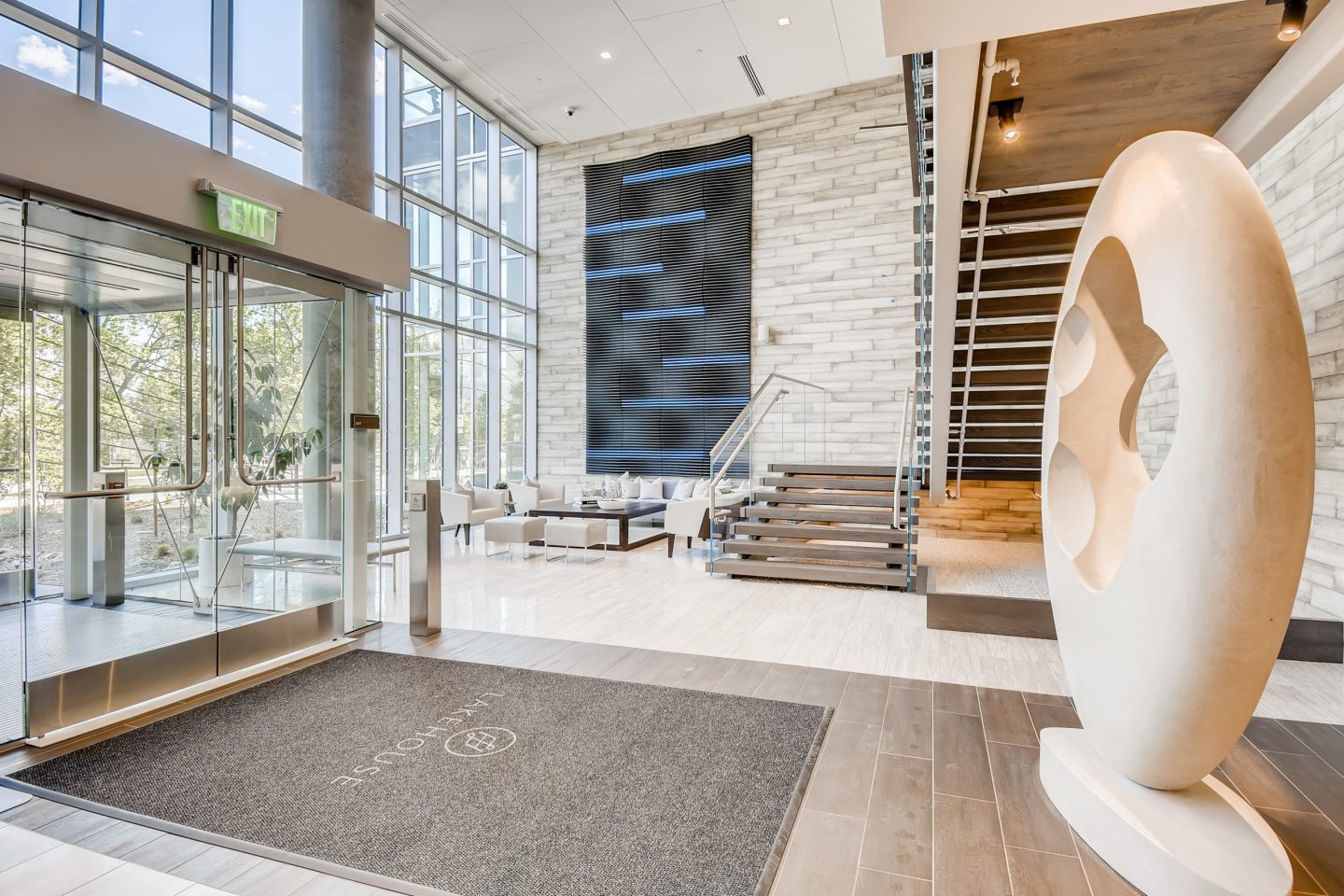 In Lakehouse's Creative Workshop, a studio stocked with multimedia supplies to support artistic pursuits, artist Taylor Herzog painted "Social Distancing," the aptly named large-format mural that encourages residents to slow down, disconnect and reflect.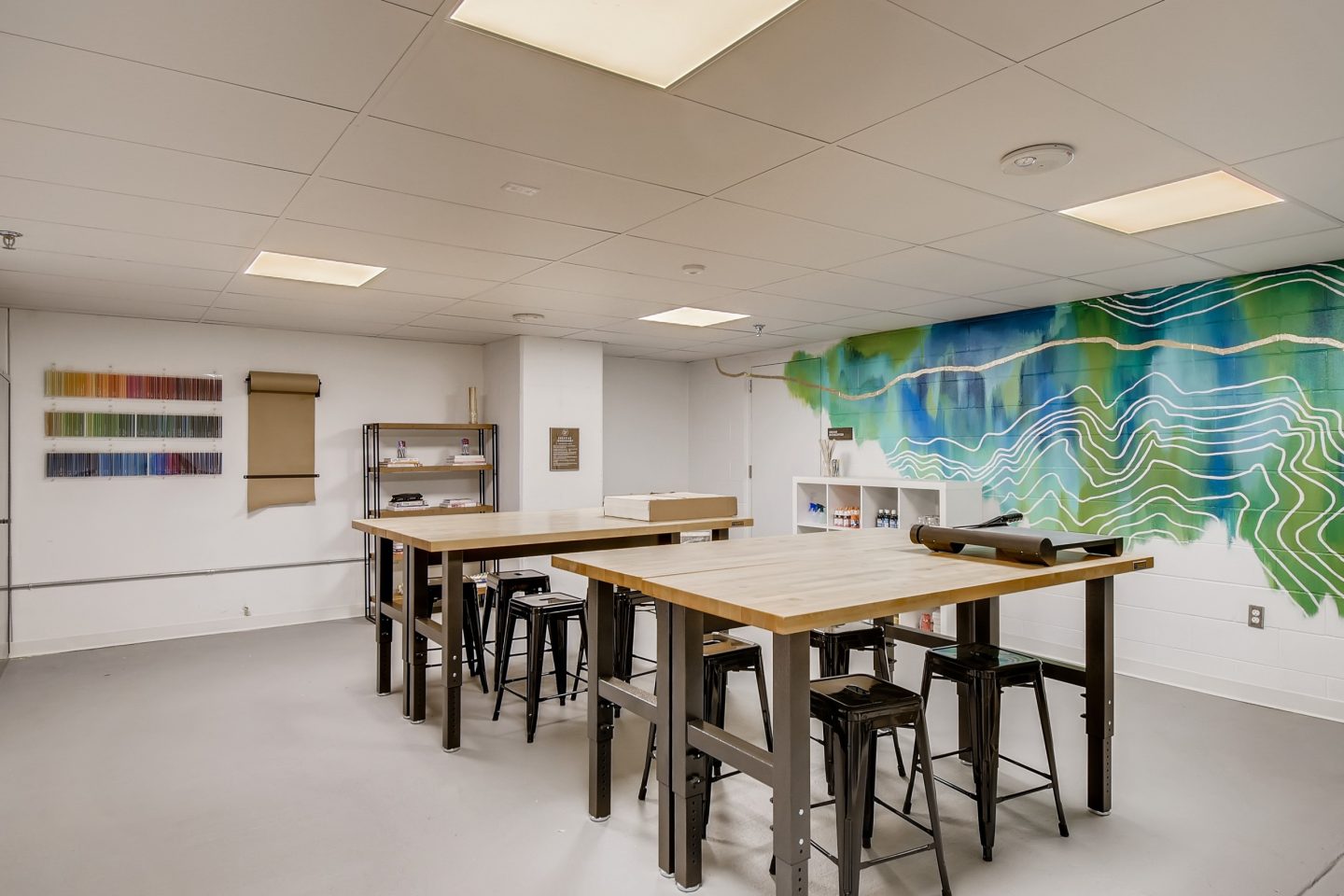 The rest of our art program for Lakehouse takes inspiration from calming elements like nature and water, as well as the glass and natural wood tones that bring the property to life.
The Pullman
Not far from Union Station, in the heart of downtown Denver, The Pullman is another multifamily community designed for true urban living in one of the city's most desirable (and walkable) neighborhoods.
Through the deliberate use of varied visual themes, mediums and surfaces, the art experience curated by our NINE dot ARTS team treats residents to a vibrant and elegant art experience that channels the vision of the building's namesake – engineer and industrialist George M. Pullman – and his world-famous sleeping car.
One of The Pullman's most unique features is the Pullman Club Room, a main floor event space designed to bring residents together outside of their immediate apartment home. From NINE dot ARTS' curatorial perspective, the art selected to this room was intended to honor the space's design aesthetic – one that features refined and plush finishes, transporting residents to the luxury of a bygone era.
This includes a historic print featuring the interior of a Pullman sleeper car along with two original black-and-white photographs taken by Denver-based photographer Jack Ludlum. In addition to the photography, Jack sourced ticket stampers and train whistles from the era. He even located Pullman train tickets to complement his artwork.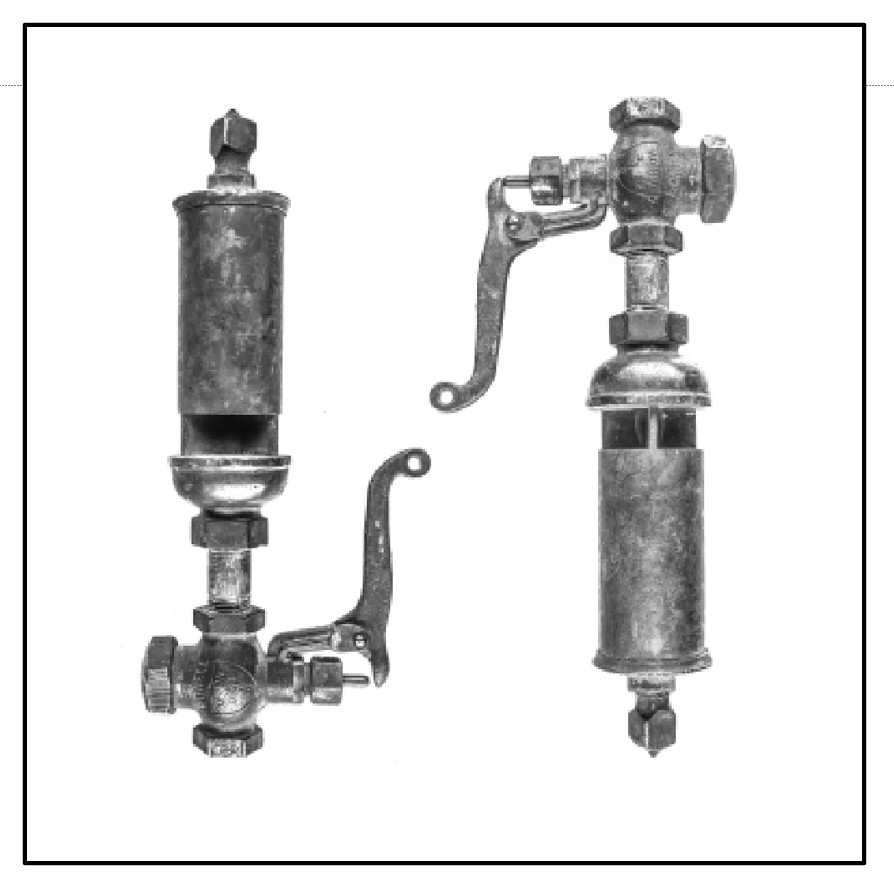 The Pullman also includes four original works from Denver-based artist Mai Wyn. Her paintings capture nature through a 21st century lens, finding beauty in the balance of opposites, which makes her work such a great fit for The Pullman collection. Her pieces also help to create the feeling of having one foot in the city and the other in the mountains by balancing luxury and rustic – a powerful theme that attracted so many residents to The Pullman in the first place.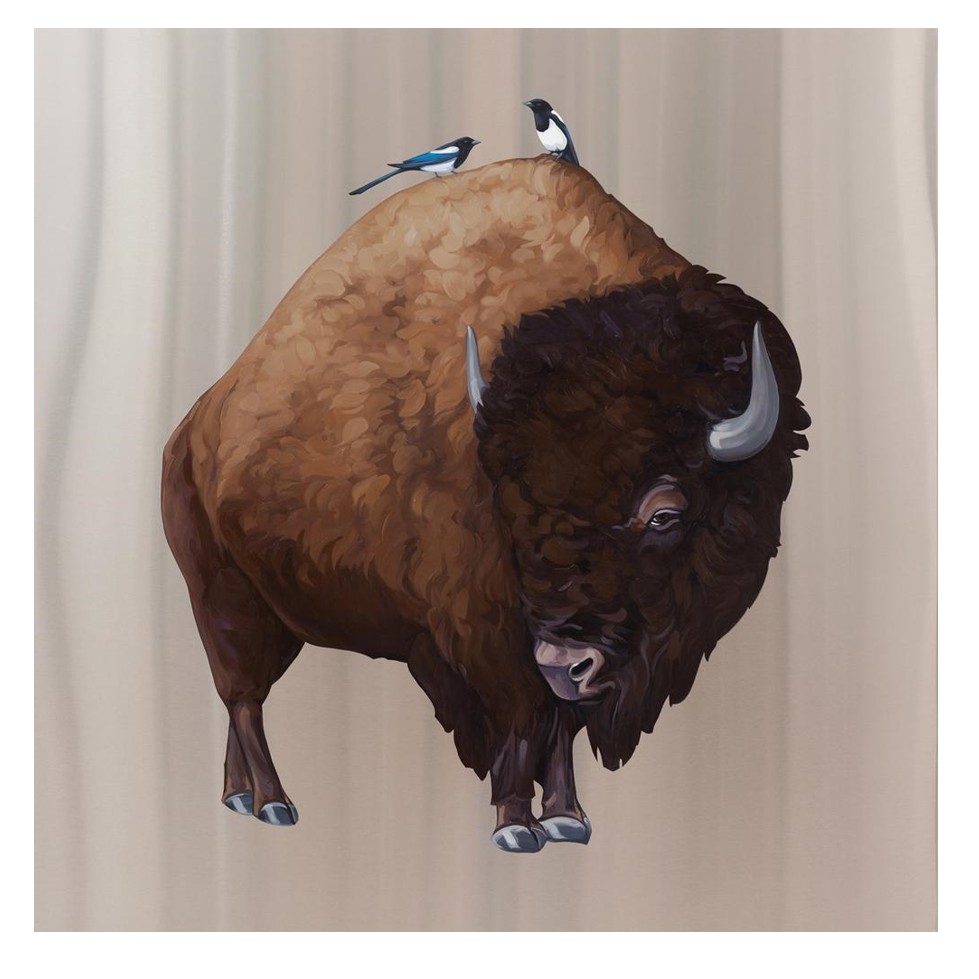 As COVID-19 continues to make an impact in our communities, brands – and the stories they share – will play a larger role in how residents are drawn to a particular development. At NINE dot ARTS, we're here to take those stories to the next level by creating a vision together and bringing it to life with meaningful art experiences.
Interested in learning about our art consulting and curating services for your new multifamily project? Start a conversation by emailing us at [email protected].