National Art Consulting and Curatorial Firm NINE dot ARTS Partners with Think 360 Arts for Learning and Artist Tony Ortega to Unveil Community Mural
New large-scale, hand-painted, community-driven mural celebrates the Northside Chicano and Indigenous community with the renaming of its famous La Raza Park.

NINE dot ARTS, a nationally recognized, award-winning art consulting and curating firm, will unveil a community mural that was created in collaboration with Think 360 Arts for Learning, Fred N. Thomas Career Education Center Early College, residents in the Northside neighborhood, and local teaching artist Tony Ortega on Friday, Jan. 7, 2022.
NINE dot ARTS will host collaborators to enjoy a champagne toast and celebrate the community-painted mural and its depiction of the renaming of Columbus Park to La Raza Park. The event will take place on Friday, Jan. 7, 2022 from 3:45 p.m. to 5:00 p.m. MT outside of the NINE dot ARTS' office located at 3734 Osage St, Denver, CO 80211. The event will feature remarks by NINE dot ARTS chief curator and Think 360 board member Molly Casey, Think 360 staff, and lead artist Tony Ortega. Community member Arturo Rodriguez, a leader in the Chicano community who was instrumental in renaming La Raza Park, will facilitate a blessing of the mural and a traditional Mayan prayer during the event.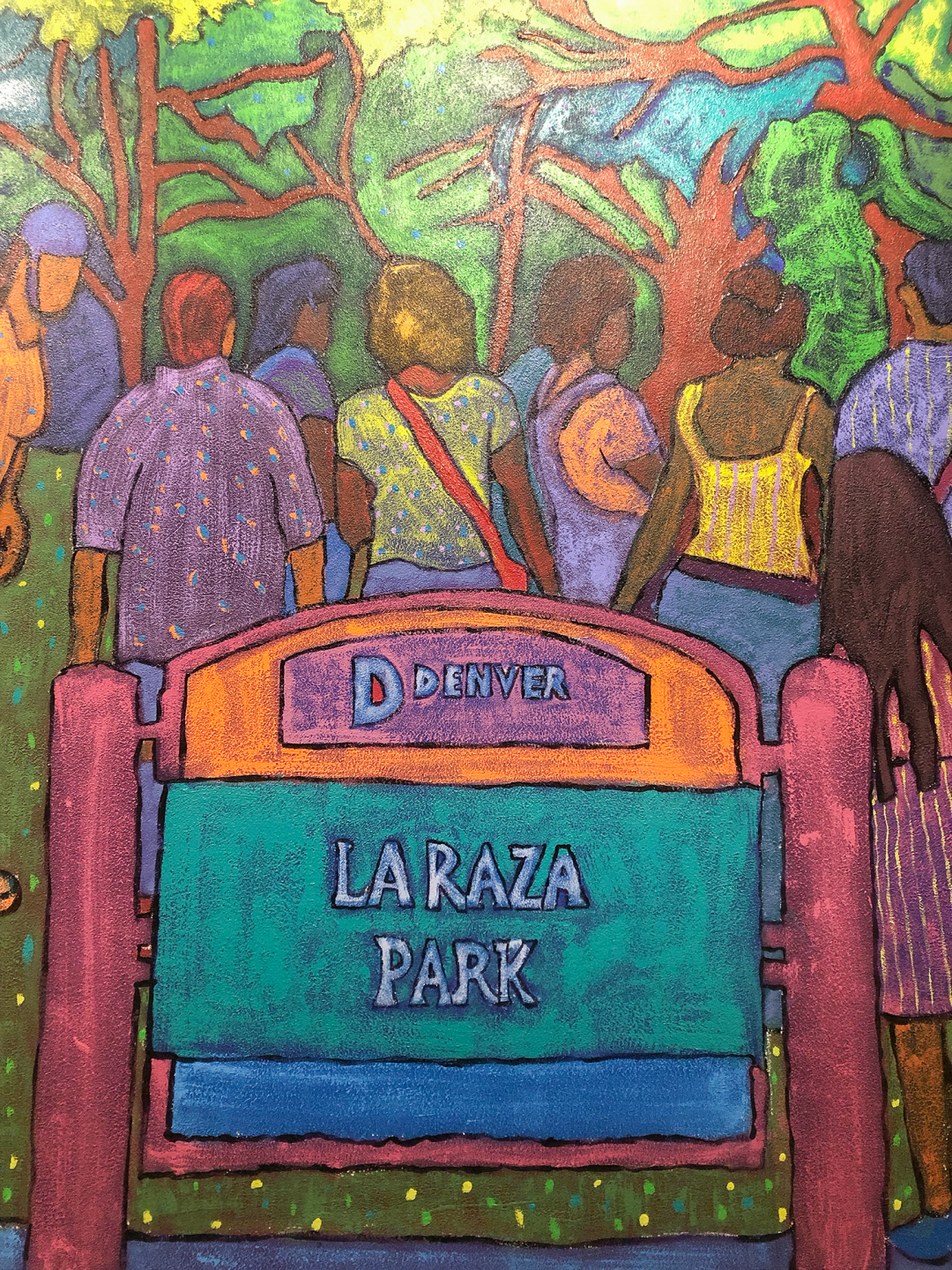 "We are honored to have had the opportunity to partner with Think 360 to create a mural that captures the soul of the Northside community," said Molly Casey, co-founder and chief curator of NINE dot ARTS. "Art has a critical impact on community wellbeing, and this mural will be a joyful reminder of that. It will celebrate the Mexican Chicano and Indigenous residents whose resiliency has shaped this neighborhood and is reflected in the new park name and in this beautiful community mural."
Local teaching artist Tony Ortega worked with students at CEC Early College in the fall of 2021 to paint the mural. On November 13th – the culmination of Denver Arts Week – NINE dot ARTS and Think 360 hosted a community painting day where residents could help complete the mural and learn the history behind La Raza Park. The final piece depicts a community ceremony held on June 20, 2021, dedicating the former Columbus Park as the new La Raza Park and honoring "la raza" – "the people."
"I'm delighted with the result of the final mural and feel proud that it will be part of the Northside neighborhood for years to come," said teaching artist Tony Ortega. "The mural commemorates the rich history of the Chicano and Indigenous communities, and demonstrates the power of art to heal us, connect us, and help us spread joy and pride for who we are."
About Think 360: Think 360 Arts for Learning (Think 360), the Denver affiliate of Young Audiences Arts for Learning, leads Colorado in cultivating and sustaining the arts as essential to all learning through creative experiences for students and teachers. The organization promotes collaboration among artists, educators, communities, and other arts and cultural organizations in order to nurture creativity and encourage life-long involvement in the arts. Think 360 envisions a community that embraces the arts as a fundamental tool to enhance learning. Learn more at think360arts.org.
About Tony Ortega: A longtime member of the Northside community, Tony Ortega has been an artist and teacher for the past 36 years. His lifelong goal is to contribute to a better understanding of cultural diversity by addressing the culture, history, and experiences of Chicanos/Latinos through his vibrant, colorful art. Tony's work can be seen in the Denver Art Museum, Los Angeles County Museum, and the Colorado Springs Fine Art Center. Learn more at tonyortega.net.