NINE Artists to Watch
One of the most fulfilling aspects of our work is connecting our clients with talented artists, curating art to create a unique experience that aligns with our clients' goals. As we continue to blog about our favorite sets of nine to commemorate our NINTH anniversary, we invite you to keep an eye on these nine talented artists who are making an impact through their art in Colorado and beyond.
1 & 2 | Lisa Solberg and Johnny DeFeo
Whether it's through an internship, mentor program or engaging with colleges and universities, NINE dot ARTS is passionate about engaging with student artists. Recently, Lisa Solberg, CU Boulder alum and international renowned artist, led an 18-month art mentorship program called "Beyond the Studio" for students looking to get real-world experience. Thanks to a partnership with NINE dot ARTS, Sage Hospitality and the University of Colorado Boulder, students gained insight into the business side of arts and what it takes to develop an installation from start to finish. Working with Johnny DeFeo, an MFA in Painting candidate at CU, the mentorship program resulted in the creation of a mural-like concept that was reproduced in all 172 guestrooms of the Hilton Garden Inn in Boulder, Colorado (and earned him a pretty awesome cocktail menu in the hotel bar that pays homage to his work).
Over the course of 18 months, DeFeo, under Solberg's guidance, developed a proposal for the guestrooms, presented the concept to NINE dot ARTS and Sage Hospitality, oversaw production and supervised the installation. The process allowed him to gain experience in conceptualization, research, communication, fabrication and project management.
3 | Laura Shill
If you've been to the stunning Ramble Hotel, you've noticed the gallery wall collection of art along the staircase from the first to second floors. Laura Shill contributed to the display with her dramatic cyanotype print named All a Man Could Want as part of her "Absent Lovers" series. The piece removes all but one lover from the cover of a romance novel. These prints guide the viewer up the stairwell surrounded by the framed ephemera of an affair.
Based in Denver, Shill's works explore the transformative potential of people and objects through early and experimental forms of image-making that pair the sinister and beautiful. We look forward to seeing more of her work!
4 | Landon Metz
Landon Metz's piece (Untitled) in the St. Paul Collection, one-of-a-kind luxury rentals in the Cherry Creek neighborhood, gives visitors a vibrant greeting as they enter the lobby. Brooklyn-based Metz used a custom ink formula to smoothly apply to the linen to yield visual dynamism and movement while creating a sense of serenity. The piece exudes tremendous warmth and color amongst the lobby's black marble.
In recent years, Metz has garnered critical attention for his work's ability to expand and deal with space serially with great sensitivity to site and scale. Strategies of display are central to Metz's visual language and his installations often incorporate components of rhythm and repetition in order to activate a space.
5 & 6 | George Peters and Melanie Walker
This dynamic team brought to life the award-winning "Alley" at Dairy Block with their popular Spilt Milk (an homage to Harold Ed Gerton) art piece. The massive sculpture makes a bold statement at its spot spanning the eight-story Maven Hotel, giving passerby's a beautiful visual that celebrates the venue's history as its previous home to Windsor Dairy.
Since 1995, George and Melanie have been working on a wide range of projects that enhance cities and urban environments bringing beauty, color, humor and life to our living and working spaces. We are so thankful for their Spilt Milk that helped activate the iconic Alley.
7 | Andy Tirado
The striking hand sculpture dawning the lobby of the Maven Hotel on the Dairy Block, known as The Quantifiable and the Ineffable, weighs in at more than 500 pounds, and required a U-Haul, a forklift and some resourcefulness to be installed.
Created by Andy Tirado – which was his first piece for a hotel – the project was inspired by the Dairy Block's focus on the maker, the handmade and perhaps a reinvestigation of and even a celebration of a kind of craft that's easily passed over these days. Open hands can be seen as a symbol of greater internal strength, fortitude and courage than the closed fist, implying a willingness to trust, to risk and even to suffer for the betterment of others.
Tirado initially set out to create a single hand piece, but it has morphed into a series of large-scale hands crafted from reclaimed wood and other 3D and 2D media in recent years. The artist's career has included building wood-strip canoes and custom cabinetry, fabricating custom props, displays and sets, teaching woodworking and supervising the 3D arts facility at Colorado College in Colorado Springs.
8 | Jonathan Saiz
Denver painter Jonathan Saiz's Marie sits behind the reception desk of Le Méridien hotel in downtown Denver, and might require a closer look to fully understand the creation. From a distance, what appears to be a sea of warm colors actually consists of approximately 1,100 miniature oil portraits of France's last queen Marie Antoinette, an icon in both European history and pop culture.
Saiz says he created the work to pay homage to social media, France's sophistication and the Marie Antoinette herself. It also celebrates the hotel group's French roots, which date back to the 1970s. Some of the paintings took just a few minutes, while Saiz spent almost an hour on others.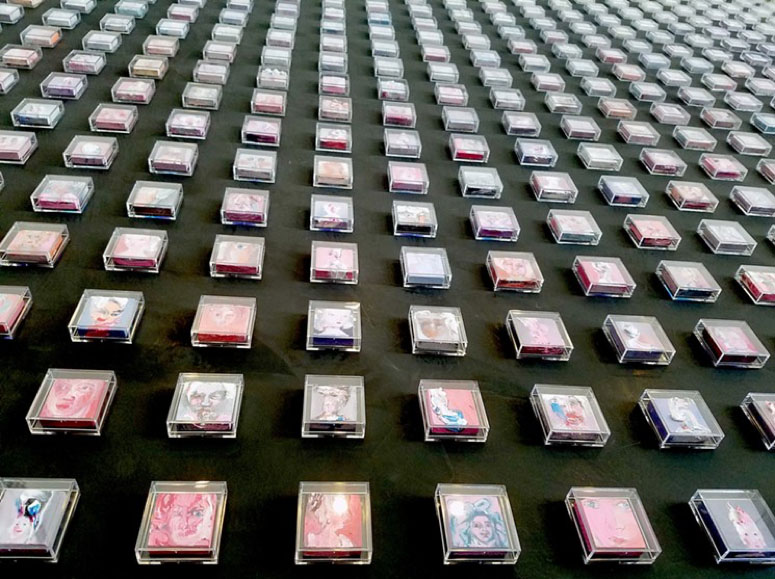 Photo courtesy of Linnea Covington
9| Shantell Martin
On the sidewalks of the Denver Theatre District, which covers an area on 14th Street from Stout to Champa, internationally renowned visual artist Shantell Martin created a giant black-and-white, stream of consciousness drawing. Part of the Terra Firma series was curated by NINE dot ARTS to enliven a 16-block area of downtown Denver through interactive,immersive and experimental art and culture events. In addition to the ground drawing, Martin designed a sculptural bench that says "DON'T HIDE + YOU ME" installed near the Light Rail stop at 14th and Stout.
Martin's iconic style and inventive visual language of characters, figures and phrases immerse pedestrians in a complex yet meandering world of exploration, introspection, and conversation. Created in only four days, Martin's work bridged performance art as she scooted across the sidewalk at times on a skateboard while drawing with spray paint. We look forward to seeing what innovative art projects she has in store!