The State of the Art Report
Transforming the Built Environment through Art Experiences
In a time of isolation, art and culture have emerged as beacons of hope that help us build connections, appreciate differences, and create community. As part of NINE dot ARTS' mission to continuously support the creative economy, our team surveyed professionals in the hospitality, real estate, architecture, healthcare, and government sectors to explore their perspectives on art's ability to create meaningful experiences for cities, customers, employees, clients, and others.
In our previous report, we highlighted why good art is good business and how intentional art collections help immerse visitors in the story behind a physical space. This year's report, featuring opinions and insights from nearly 200 business leaders, builds upon these findings and analyzes art's impact on employee engagement, branding, return on investment, and more.
Whether in corporate, leisure, or public spaces, art plays a vital role in shaping a business' identity, defining their connection to the community, and turning commercial destinations into memorable experiences. To explore these topics, our research survey investigated:
How and when a commercial project's art budget is determined
ROI expectations
The role of diversity, equity, and inclusion (DEI) in selecting the art collection
Art's relationship to branding and experience
Continue reading for some of the survey's most intriguing findings.
Experience matters.
Placemaking is significant because the customer demands it. They want to go somewhere interesting, and they're interested in experiences," said Walter Isenberg, CEO of Sage Hospitality Group. Our respondents underscored the power of art, with 76% noting that an original art collection in the lobby is one of the most buzz-worthy elements of any project.
Collaboration is key.
"The best projects come from harnessing the collective wisdom of a talented team of people, all growing in the direction of a common vision," noted Chad McWhinney, CEO and Co-Founder of McWhinney. Working with commercial partners from the beginning of the project allows us to create cohesive and meaningful collections, yet only 18% of business professionals say they begin thinking about art consulting and curation during the initial visioning stage of a project's development. From facilitating initial visioning exercises to fostering community partnerships, NINE dot ARTS knows the power of collaboration in creating memorable art experiences that benefit everyone involved.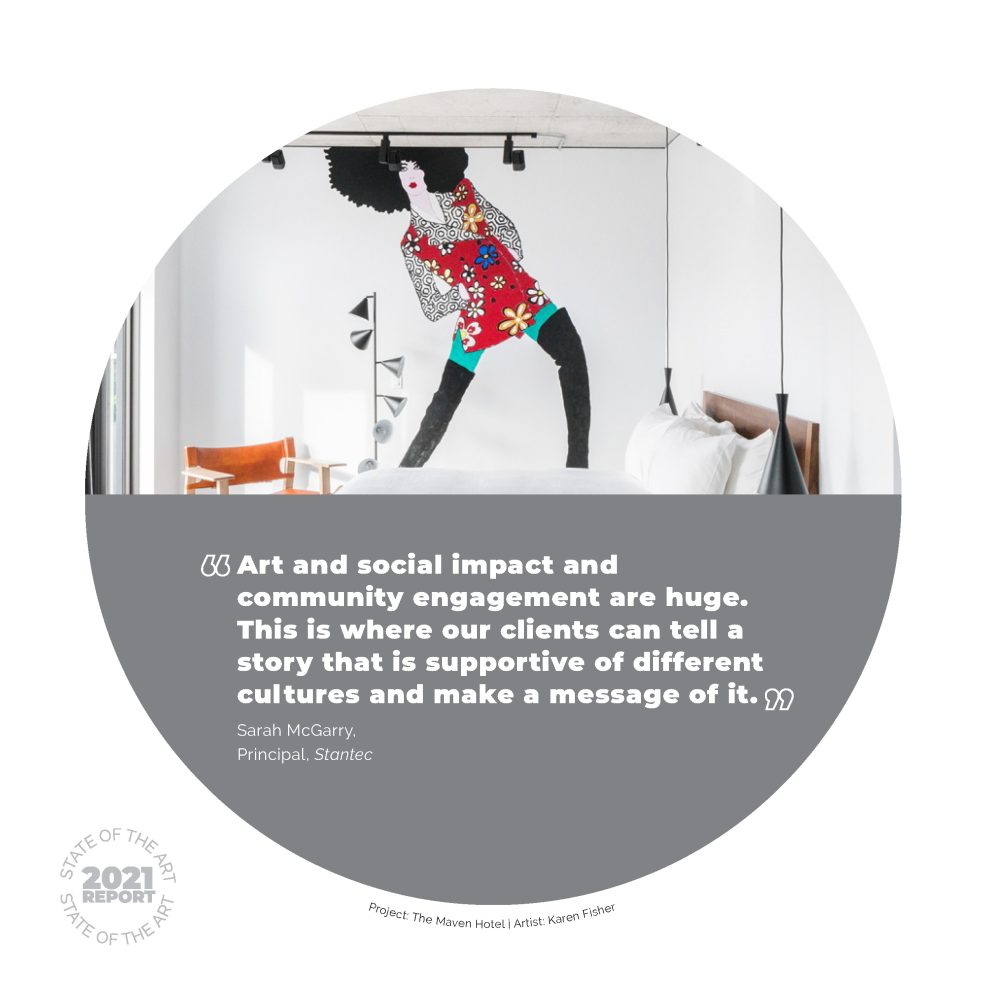 Diversity is critical.
"Art and social impact and community engagement are huge. This is where our clients can tell a story that is supportive of different cultures and make a message of it," commented Sarah McGarry, Principal at Stantec. The art of representation is more than incorporating diverse talent in your collection; it extends to normalizing equity–in representation, financial incentives, professional roles, exhibitions, and opportunities. Nearly 90% of stakeholders believe it is good business to celebrate diversity, equity, and inclusion as part of their projects, but the industry consistently leaves underrepresented artists out of the equation. As our CEO Martha Weidmann discussed in an article with Art Business News, collaborative efforts cultivate community engagement. When we work together to feature diverse artists, more people resonate with the work they're experiencing, and more people share that experience with their peers. This creates ripple effects that promote diversity, equity, and inclusion, and make your space or business a "must see" attraction.
Visit our blog and social media channels as we dive deeper into findings from the 2021 State of the Art Report over the coming weeks and months. Plus, check out our Dot Dot Dot podcast series (coming soon), which brings our research findings to life through insightful conversations with industry leaders on the value of art in corporate, leisure, and public spaces. Available wherever you get your podcasts!