The 2023 State of the Art Report
How Architecture, Design, and Art and Culture Contribute to Successful Placemaking
NINE dot ARTS' State of the Art Survey is intended to grow the body of research available on creative placemaking – the integration of art, culture, and community-engaged design into the real estate development process. This year's report marks our third survey with hundreds of real estate leaders from across regions and industries. The findings reveal powerful insights about how architecture, design, and art and culture work together to culminate in successful placemaking.
Complete this form to download your free report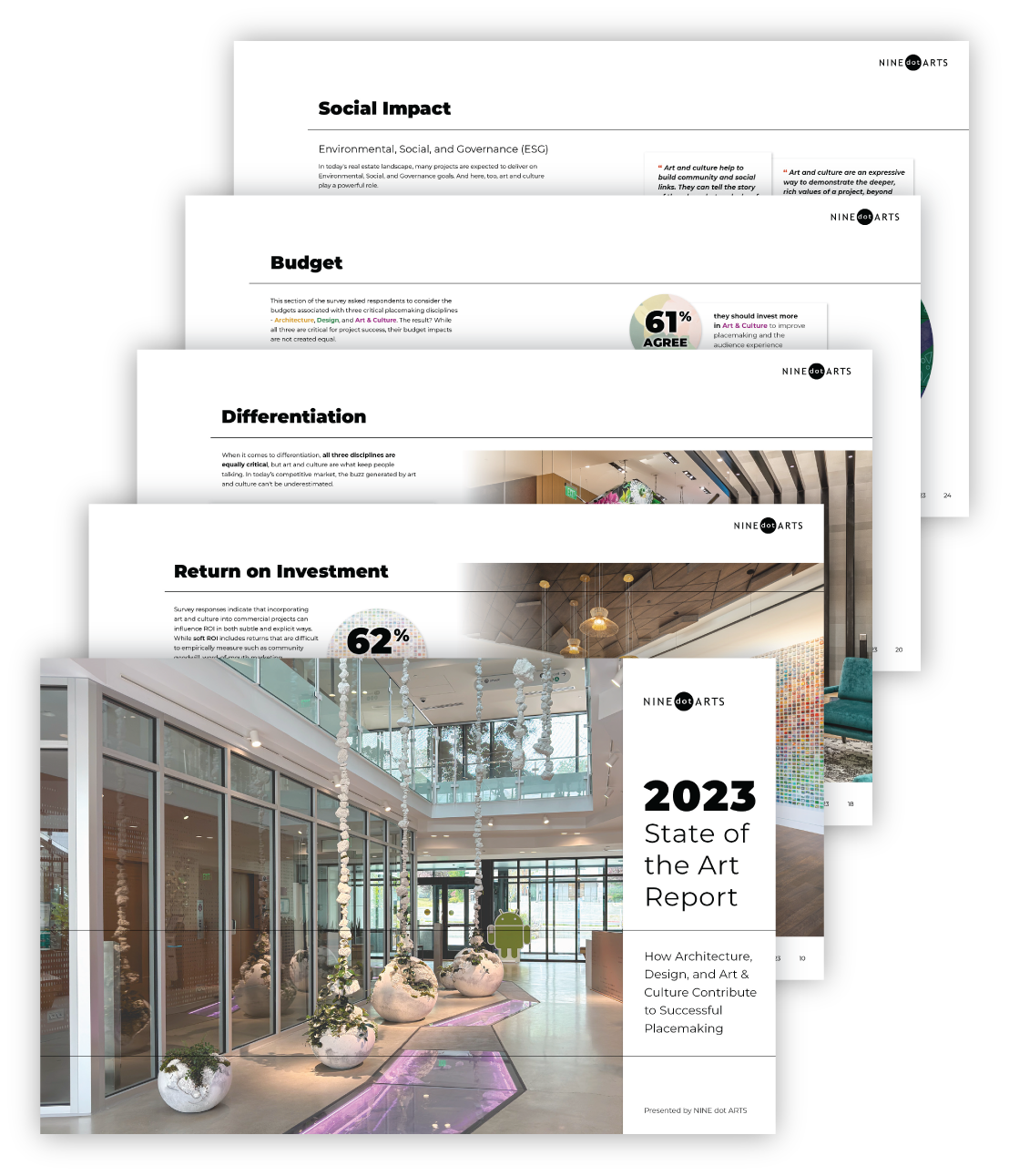 Survey results demonstrate that when positioned as equally necessary as architecture and design, art and culture help increase ROI, maximize project budgets, differentiate a space, and make a positive social impact.
SHORT ON TIME? CLICK BELOW FOR THE KEY TAKEAWAYS:
---
Architecture, Design, and Art and Culture Are Equally Critical for Successful Placemaking
To examine the impact of these three placemaking disciplines, we first asked survey respondents to think about their unique functions and influence on a project. Here's what we found:
Architecture sets the foundation of a project. It is the framework upon which the rest is built, establishing a tone and integrating the space into its exterior environment.
Design marries the form and function of a project. It creates a theme for the overall atmosphere and makes the space comfortable to live, work, or play.
Art and culture bring soul to a project. They instill a space with character and connection, giving it an identity that connects its users on an emotional level.
But all three are equally essential. Respondents said Architecture, Design, and Art & Culture have a nearly equal impact on the way projects ultimately come to life. And when they're treated as such in a project's development, they elevate each other all the more.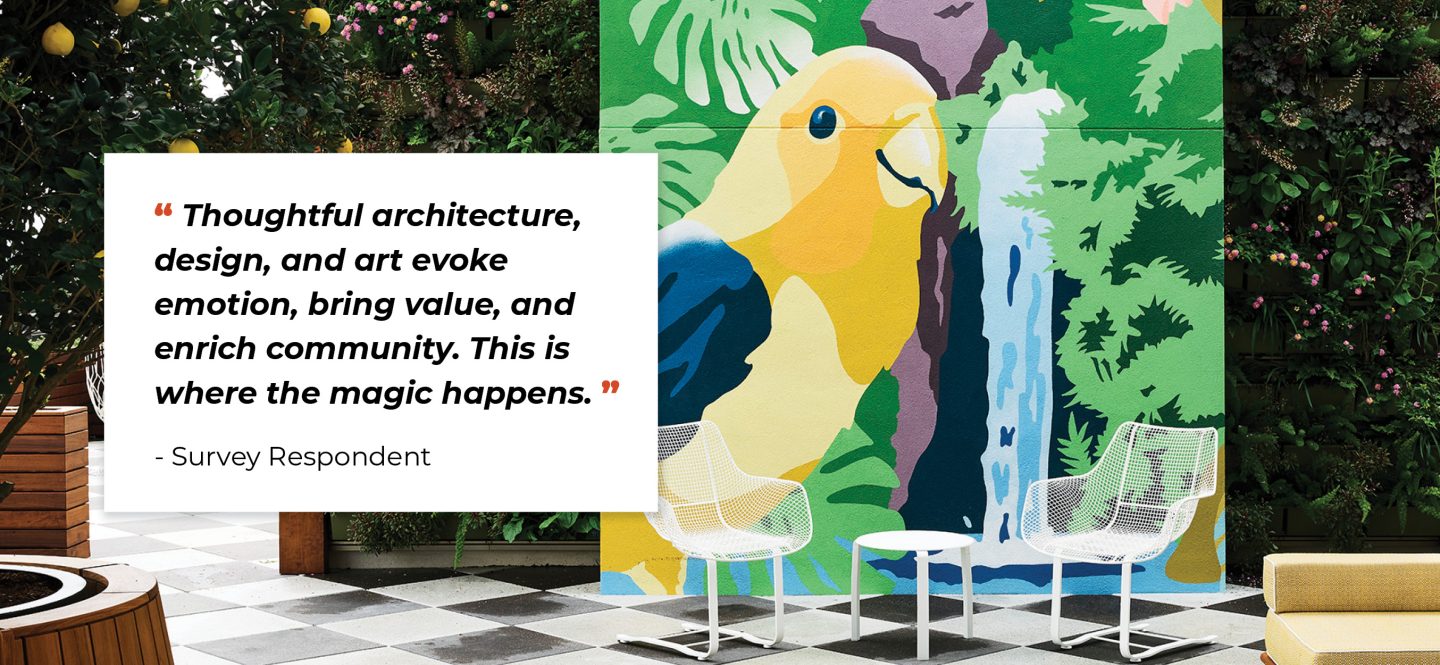 ---
Thoughtful Art and Culture Support ROI and Differentiation
Survey results show that incorporating art and culture into commercial projects can influence both soft ROI – like community goodwill, word-of-mouth marketing, differentiation, and the ability to spark conversations – and hard ROI – like increased revenue, on-site spending, repeat visitations, and lease-up rates. But the correlation between the two isn't always obvious. More than 80% of respondents said art often doesn't get the credit it deserves for its impact on a project's outcome, and that its ROI can be hard to measure or quantify. The survey uncovered several more insights about how art and culture enhance both soft and hard ROI when integrated thoughtfully with architecture and design, noting art's unique ability to:
Inspire dialogue (66% agree)
Connect a space and its community (69% agree)
Differentiate the space from others (76% agree)
Altogether, findings prove that art and culture – alongside great architecture and design – encourage people to return again, spend their money, and spread the word with enthusiasm and pride. It's a soft ROI, but its impact is priceless.
---
Art and Culture Overperforms its Share of the Project Budget
Perhaps the most intriguing data gleaned from the survey relate to how respondents think about the budgets associated with architecture, design, and art and culture. While all three are critical for project success, their budget impacts are not created equal. In fact, over 60% said art and culture's impact is at least double its investment, and agreed they should be investing more in art and culture. Here's why:
"It's usually the most short-changed and cut back from start to finish."
"It has the longest term impact after construction is complete."
"Its impact feels more direct to the end user."
"It can accomplish more, with better community integration."
For every dollar spent on art and culture, respondents are seeing at least twice the return. This data supports why it's critical to prioritize the art and culture budget to maximize project success.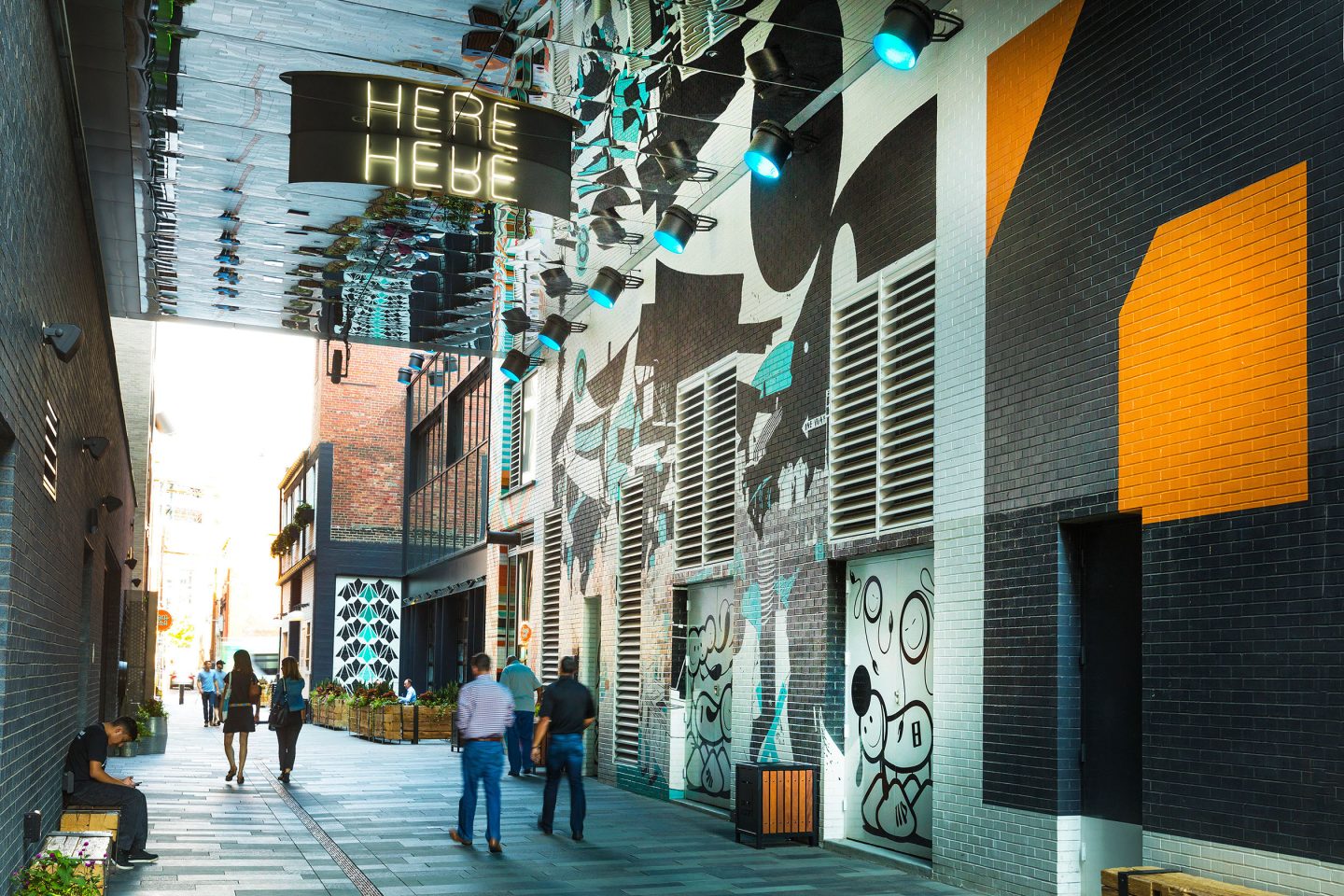 ---
Art and Culture are the Primary Drivers of Positive Social Impact
Though social impact can encompass a broad array of topics, this survey focused primarily on three key areas: Environmental, Social, and Governance (ESG) goals; diversity, equity, and inclusion (DEI), and community identity. The result? Nearly 70% of respondents said that of all three placemaking disciplines, art and culture are what most effectively create positive social impact in their projects.
Follow along on LinkedIn as we dive deeper into findings from the 2023 State of the Art Report over the coming weeks. Plus, tune into Dot Dot Dot: The NINE dot ARTS Podcast to hear these findings brought to life through inspiring conversations with industry leaders on art and placemaking in the built environment. Available wherever you get your podcasts!