National Art Consulting and Curatorial Firm NINE dot ARTS Announces Two Art Experiences for Multifamily Projects in Washington with Quarterra
The comprehensive art programs at Spectra and Ovation will deliver bold and vibrant energy to enhance connection and community.

Today, NINE dot ARTS, a nationally recognized, award-winning art consulting and curating firm, announced details for two Washington multifamily projects, further cementing its growing presence in the greater Seattle area. The firm partnered with Quarterra (formerly LMC), a leader in apartment development and management, to curate robust custom art programs that align with each property's unique personalities and feature artwork from regional and underrepresented artists.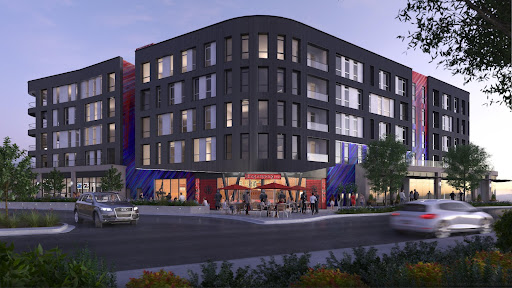 "We are eager to share the Spectra and Ovation projects with future residents, fellow creatives and the surrounding community," said Martha Weidmann, CEO and co-founder of NINE dot ARTS. "Specifically, Spectra's dynamic public art program has the opportunity to become the standard for private, art-forward developments in the city of Redmond. Creative and highly marketable, Spectra will reflect the ethos of its residents through art, design, and functionality."
Consisting of artwork by five regional artists, the art experience for the Spectra project will span multiple buildings and spark energy and connection amongst both residents and passersby. With an estimated completion date of spring 2023, the custom art program, which includes exterior murals, designed balconies, and a signature sculptural installation, will create a strong sense of place, as well as support navigation, wayfinding and overall community wellbeing.
With a target completion date of summer 2022, the Ovation project, located in the heart of Seattle's First Hill neighborhood, will celebrate modern life and neighborhood progression while also honoring the past through two diversified programs. The west Ovation tower will embrace a playful yet chic vibe that celebrates its metropolitan views. The east Ovation tower will pay homage to "what was" through a "what will be" lens using mixed media artwork and rich storytelling.
"The Spectra and Ovation projects are the culmination of a remarkable partnership between Quarterra and NINE dot ARTS and we are eager to see them come to life," said Brad Machat, Quarterra Senior Development Manager. "We want our residents and guests to have a one-of-a-kind experience inside our properties and these two projects deliver exactly that. Now more than ever we understand the power of art and the benefits it produces in creating a distinct sense of place and a home."
About Quarterra: Launched in 2011, Quarterra Multifamily, previously known as LMC, is among the nation's most active developers, builders and managers. The company is currently the eighth largest U.S. developer, according to the National Multi-Housing Council's (NMHC) annual Top 50 list and has been on the list for seven consecutive years. Quarterra's Multifamily Construction organization, previously known as Lennar Multifamily Builders, has been recognized on the NMHC Top 25 Builder list for five consecutive years and ranked No. 15 in 2021. Learn more at www.quarterra.com.