National Art Consulting Firm NINE dot ARTS Curates Social Impact Sculpture for Catbird Hotel by Sage Hospitality Group
Made by internationally acclaimed artists Gillie and Marc, a large-scale bronze rhinoceros now welcomes visitors to Denver's River North Arts District.

NINE dot ARTS, a nationally recognized, award-winning art consulting and curating firm, recently installed a 992-lb bronze rhinoceros sculpture outside the Catbird Hotel in Denver's River North Arts District (RiNo). Entitled "Come Out, Come Out Rhino, Wherever You Are," the sculpture pays tribute to the RiNo district while raising awareness for one of the world's most endangered species.
"Come Out, Come Out Rhino" features an endangered rhinoceros peering out of a city manhole, nodding to humankind's harmful effects on endangered animals. It's part of the broader #LoveTheLast project, a social movement driven by public art to raise awareness, funds, and support for endangered species around the world.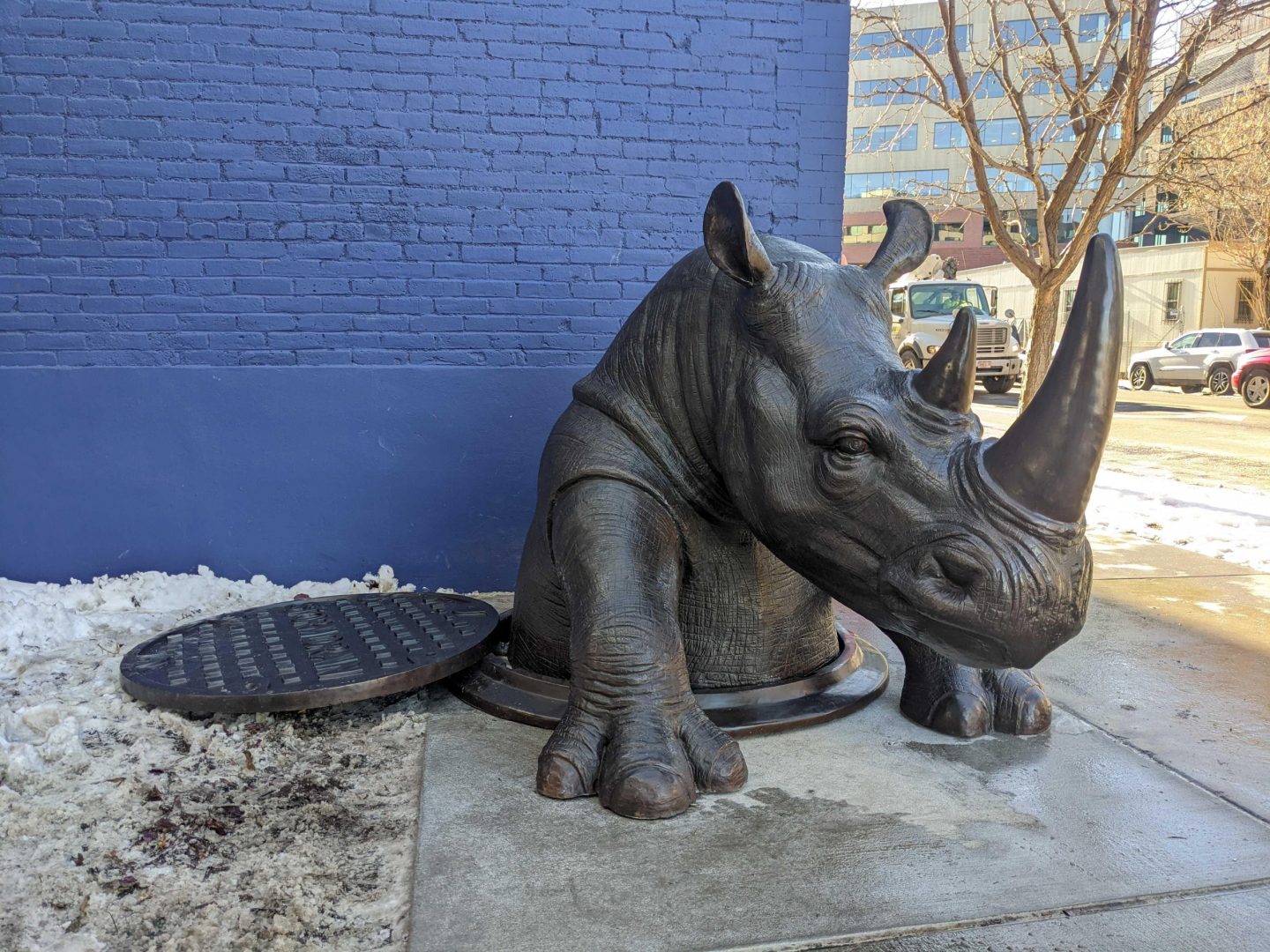 The rhinoceros was made by world-renowned artists Gillie and Marc, labeled by The New York Times as "the most successful and prolific creators of public art in New York's history." The husband and wife duo has created some of the world's most innovative public sculptures, many portraying messages of love, equality, and environmental conservation. Self-identified "eco-warriors," Gillie and Marc are passionate about preserving the natural world and its creatures – particularly rhinos – for whom they are especially passionate. Through their monumental, award-winning installations around the world, they aim to "transform passive audiences into passionate advocates for rhino conservation."
"The rhino was a bit of a late addition to Catbird's art collection, but one we knew we had to have for its message, its monumental size, and of course its connection to the RiNo Arts District," said Molly Casey, Chief Curator at NINE dot ARTS. "Since the sculpture is one of 10 in a series, the artists had to fabricate it, which took about 6 months. Then COVID supply chain issues caused the shipment to take about that same time. So we've been highly anticipating the rhino's arrival. And now that it's here, it's a huge celebration. We couldn't be happier with the excitement and impact it's bringing to Catbird and the surrounding neighborhood."
The rhino sculpture is the final installation in Catbird's extensive and eclectic 47-piece art collection, curated by NINE dot ARTS. Made at the artists' studio in Australia, it arrived in Denver in January 2022, after nearly 5 months on a shipping crate. Positioned just outside the Catbird entrance at 3770 Walnut Street in Denver, the rhino will serve as a landmark installation, welcoming guests and locals to the hotel and to the RiNo district. The public is encouraged to interact with the sculpture and share its story through the hashtags, #LoveTheLast and #ComeOutRhino.
About Gillie and Marc: Distinguished artists Gillie and Marc are re-defining what public art should be, spreading messages of love, equality, and conservation around the world. Their highly coveted sculptures and paintings can be seen in art galleries and public sites in over 250 cities. They are Archibald Prize Finalists, were awarded the Chianciano Biennale in Italy, won the People's Choice Award in Sydney's Sculpture by the Sea 2 years in a row, and have earned several other notable awards and accolades. Gillie and Marc believe art is a powerful platform for change. Their art is multi-disciplinary, paying homage to the importance of togetherness, as well as the magnificence of the natural world and the necessity of preserving it – for we are it, and it is us. more at gillieandmarc.art.