Come Out, Come Out Rhino, Wherever You Are
The Catbird Hotel has a new guest in town – and this one's here to stay!
What's big, bold, and bronze all over? The 992-lb rhinoceros sculpture we curated for the Catbird Hotel in Denver's River North Arts District (RiNo). Officially titled, "Come Out, Come Out Rhino, Wherever You Are," this high impact, site-specific sculpture was created by internationally acclaimed artists Gillie and Marc, who have been recognized by The New York Times as "the most successful and prolific creators of public art in New York's history." The husband and wife duo has created some of the world's most innovative public sculptures, many portraying messages of love, equality, and environmental conservation.
After nearly 6 months of travel all the way from the artists' studio in Australia, the rhinoceros sculpture is the final addition in the eclectic 47-piece art collection that our team curated for Catbird. Positioned just outside the hotel's entrance at 3770 Walnut Street in Denver, the sculpture serves as a landmark installation, welcoming guests and locals to the hotel and to the RiNo neighborhood.

Massive in size and intricate in detail, the sculpture depicts a rhinoceros peeking out of a city manhole, nodding to humankind's harmful effects on endangered animals. Unlike the daring and dangerous qualities that are often associated with rhinos, the animal's demeanor is rather reserved – even shy – amidst the bustling urban environment. From its textured skin to its striking gaze to its triumphant horn (which people are encouraged to rub for good luck), the rhino's ornate detail sparks connection, curiosity, and care, encouraging passersby to understand where it came from and how it can be protected.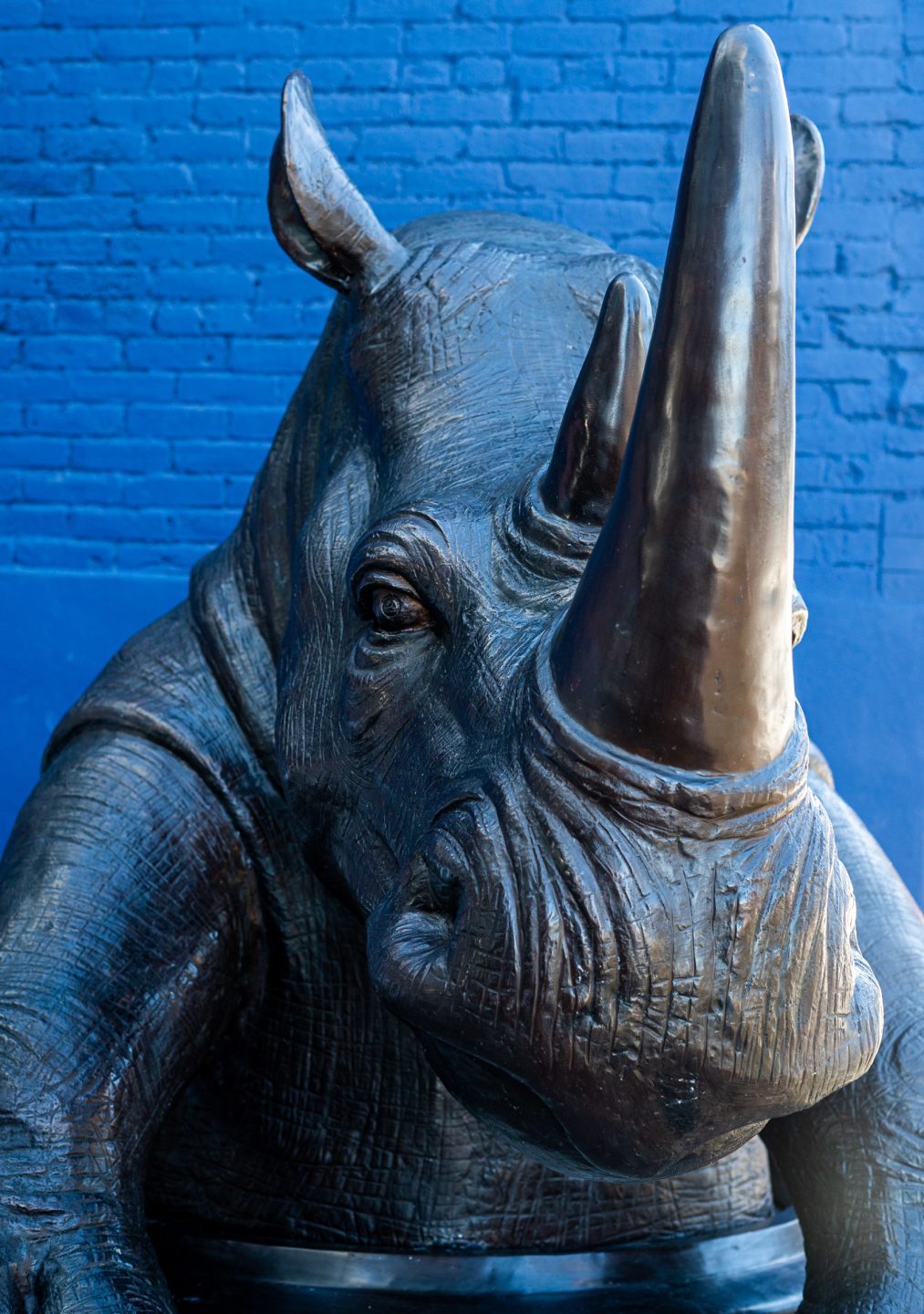 Such was the goal for renowned artists and self-identified "eco warriors" Gillie and Marc, whose artwork aims to spread awareness about protecting our planet's many creatures. This rhino is part of Gillie and Marc's broader #LoveTheLast Project, a social movement driven by public art to raise awareness, funds, and support for endangered species. This beloved sculpture is one of ten rhinos – among countless other creatures – the artist duo has created with similar environmental conservation messages. But it's the only one located in Colorado, and it will forever symbolize the "rhino in RiNo."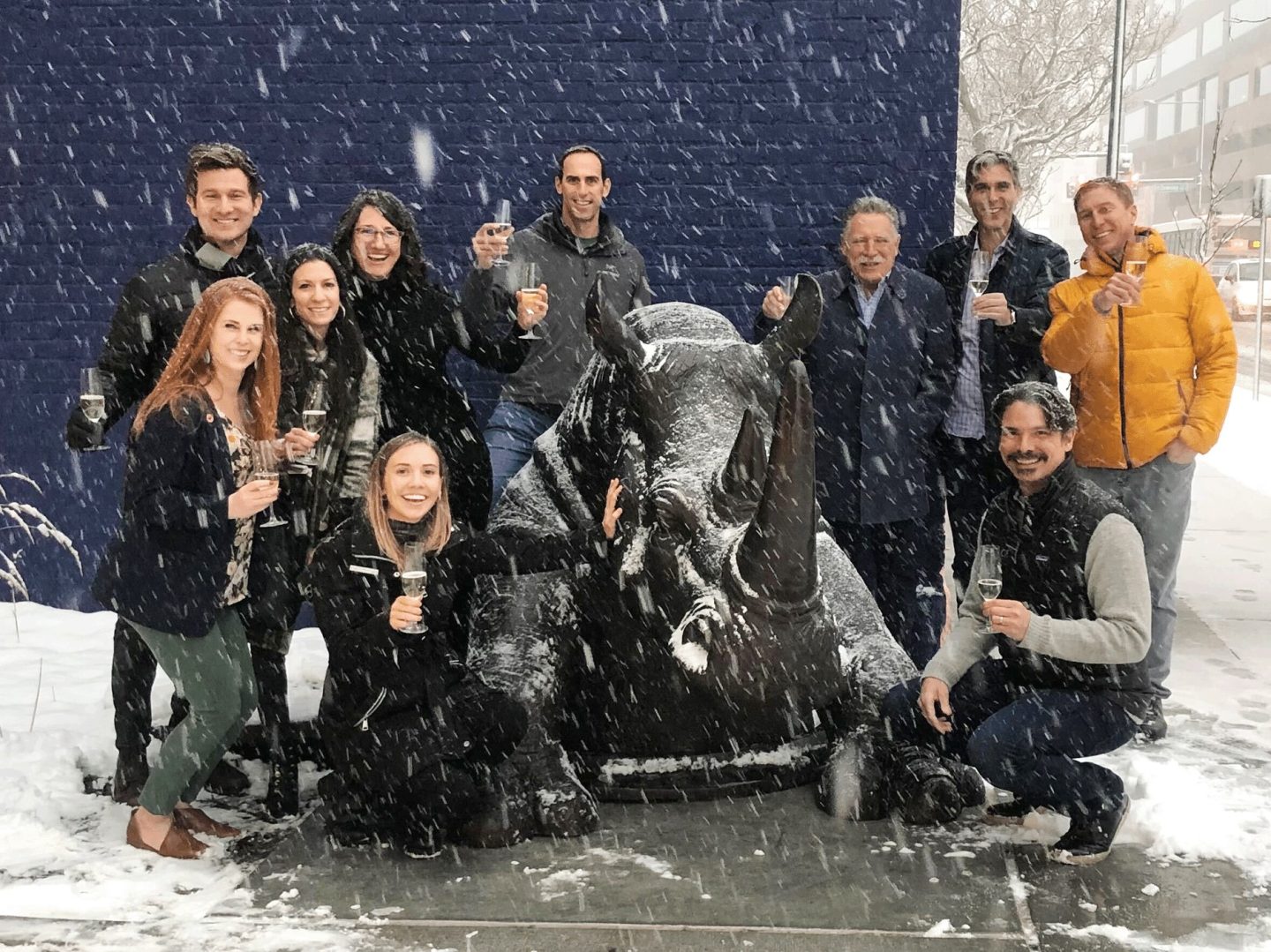 Even a snowstorm couldn't stop us from celebrating the sculpture's unveiling at the Catbird Hotel!
"We knew we had to have the rhino for its message, its monumental size, and of course its connection to the RiNo Arts District," said Molly Casey, Chief Curator at NINE dot ARTS. "And now that it's here, it's a huge celebration. We couldn't be happier with the excitement and impact it's bringing to Catbird and the surrounding neighborhood."
Learn more about the artists' inspiration for "Come Out, Come Out Rhino, Wherever You Are" below. When in Denver, be sure to stop by the Catbird Hotel to experience the rhino yourself and share its meaning through the hashtags, #LoveTheLast and #ComeOutRhino.
NINE dot ARTS sends a special thanks to Gillie and Marc for creating the sculpture, the Catbird Hotel for hosting it, and our clients (Sage Hospitality Group, EXDO Properties, and Walnut Development Partners LLC) for supporting our curation of such a landmark installation.