2021 Projects We're Proud Of
2021 brought more projects, more artist collaborations, and more opportunities to make a social impact. To conclude the year, we asked our curators to reflect on which art installations they were most proud of – be it for their scale, their location, or their connection to community. Across all our curators' responses, three common threads emerged. Turns out, they're the same prevailing forces that drive our work every day.
Collaboration: It takes teamwork to do what we do, and we owe much of our success to the innovative clients, artists, and partners we're fortunate to work with. It's strong collaboration that leads to the most engaging art experiences, where art, architecture, and design unite with culture and community to bring a space to life.
Authenticity: Collaboration doesn't happen without the space to be yourself. When we embrace our differences, we can leverage them for good. We value coming together across identities, expertise, and interests to create something authentic that honors the breadth of the human experience.
Social Impact: We believe good work gives back. Through authentic collaborations, our collections can tell a story, build community, and make a social impact – long after the installations are complete.
Read on to learn how these values played a role in the projects our curators were most proud of from 2021.
Arté Noir | Seattle, WA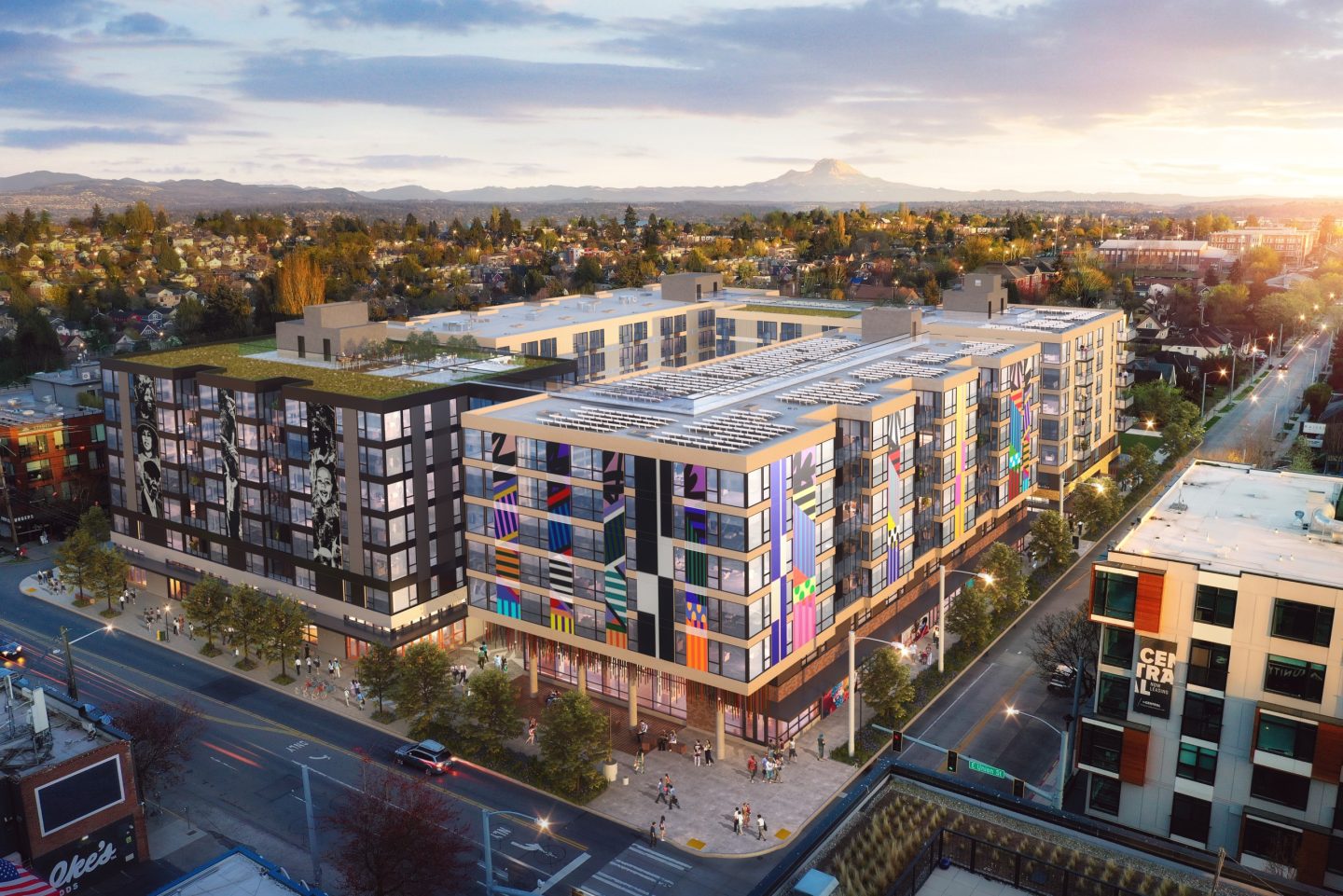 Martha Weidmann, CEO: A project I'm most proud of is Midtown Square in Seattle's Central District. We helped founder Vivian Phillips and the developer Lake Union Partners to establish the soon-to-launch Arté Noir, a permanent institution dedicated to uplifting Black art, artists, and culture in a historically redlined district, creating strategies for multigenerational wealth via a property ownership for Arté Noir. The space will serve as a rent-free exhibition gallery for Black artists, who will receive 100% of the proceeds of all art sales. I am hopeful this project will serve as a national example for corporate-community partnerships, cultural leadership, and reparative equity — while putting NINE dot ARTS on the map as a champion of arts and cultural activations that make a meaningful social impact.
Learn more about the vision for Arté Noir in the central district community.
Catbird Hotel | Denver, CO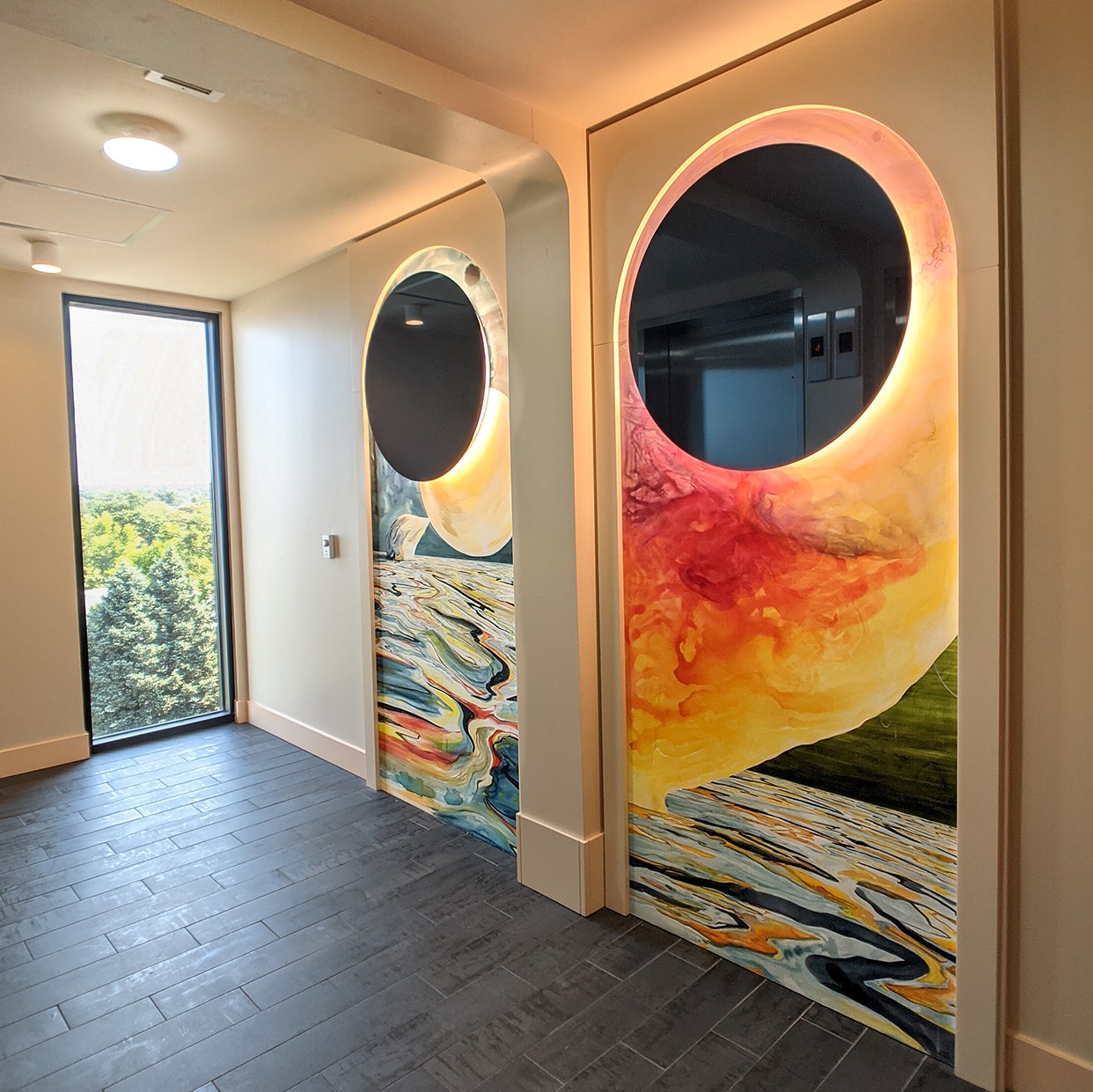 Molly Casey, Chief Curator: I'm proud of the art collection we developed for the Catbird Hotel in Denver. We were able to collaborate with so many emerging and edgy artists from around the world, while truly pushing the boundaries of traditional hospitality art. I'm proud of the diversity represented in the collection, both in the artists themselves and the subject matters depicted. This gives the hotel both a refreshing vibrancy and comforting familiarity, while honoring the many unique identities and life stories that will undoubtedly travel through the space. I'm grateful to our clients, Sage Hospitality Group, EXDO Properties, and Walnut Development Partners LLC, for their confidence and support, and for giving us the agency to curate such an eclectic collection that brings the Catbird brand to life.
Lauren Donald, Project Manager: The art collection at Catbird was fun to put together because it really had it all: large and small sculptures, ceramics installed as wall sculptures, stylings, vinyls, murals, guestroom artwork, corridor portraits, and even vibrant public art pieces on the rooftop and hotel exterior. It was a joy to work with so many partners to make this project a success, and it's a testament to the power of collaboration and early art visioning to make a space truly stand out.
Learn more about the art collection at the Catbird Hotel.
Sleeping Giant School | Steamboat Springs, CO
Grant Adams, Curator: The art collection we curated for Sleeping Giant School (pre-K through 8th grade) succeeded because of the great teamwork involved in the project. We worked closely with a community arts committee, the local Tread of Pioneers Museum, and members of the Ute Indian Tribe – the earliest residents of Colorado. Per the committee's request, we also worked with all local artists. These collaborations allowed us to capture – through a range of unique perspectives and mediums – the evolving richness and diversity of Steamboat Springs, from its people to its landscape to its culture. Through sculptures, kiln-fired glass, illustrations, and murals, the art collection at Sleeping Giant School tells a compelling and authentic story about the surrounding region, educating and inspiring minds of all ages on the meaning and legacy of "home." I'm proud that NINE dot ARTS can support relationship building, community engagement, and educational opportunities through our consulting and curation services. It's part of our larger mission to bridge gaps, tell stories, and help educate through art.
Learn more about the Sleeping Giant Mural by Jennifer Baker, Sandi Poltorak, and Jill Bergman, and stay tuned for more details on the art collection at Sleeping Giant School.
Clayton Members Club and Hotel | Denver, CO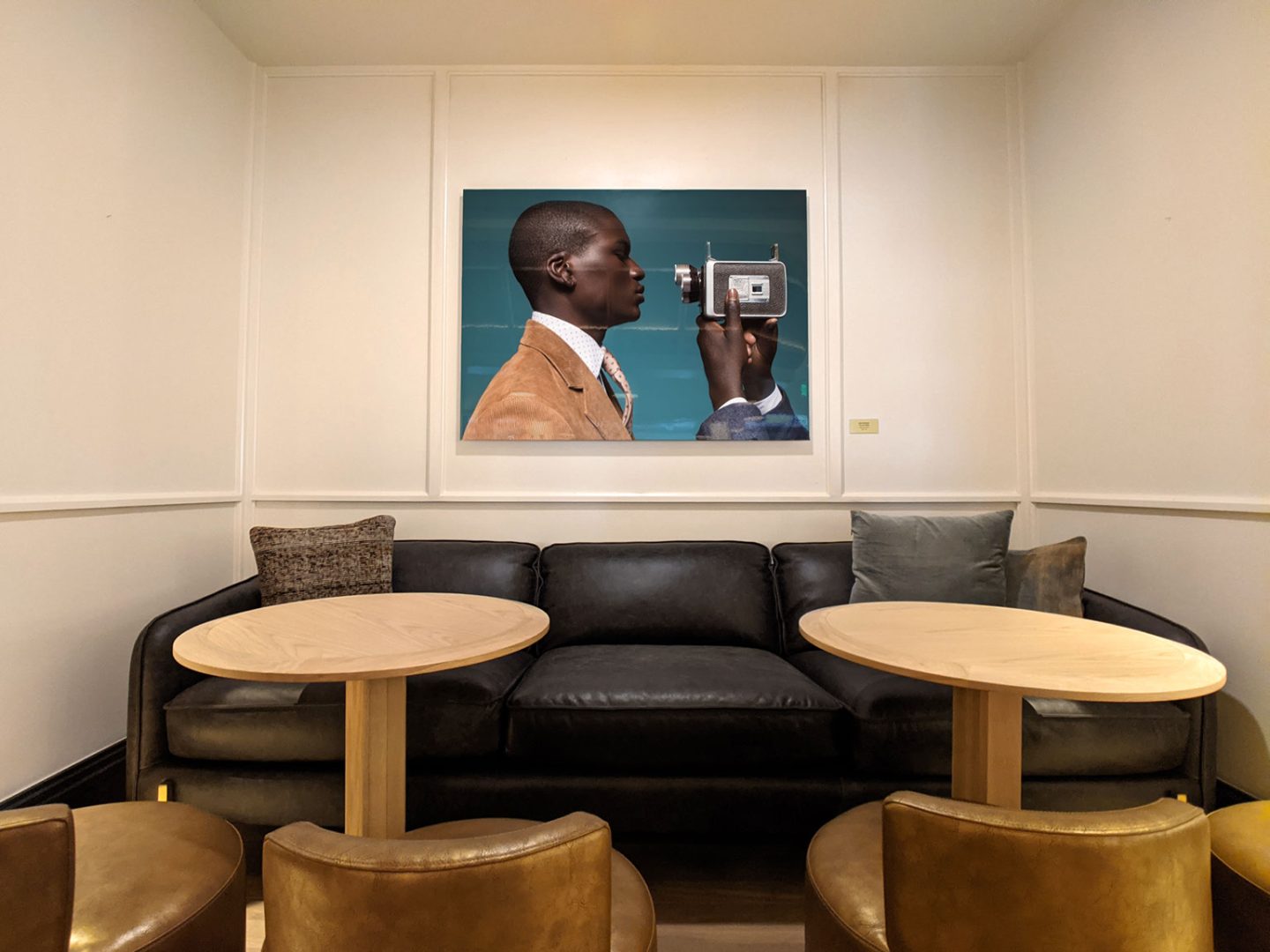 Denise Joseph, Curator: Facilitating the art loan between the Clayton Members Club and Hotel and Denver's Redline Contemporary Art Center is something I'll always be proud of. NINE dot ARTS partnered with Aparium Hotel Group and BMC Investments to initiate a collaboration with RedLine, a nonprofit that fosters education and engagement between artists and communities to create positive social change. Through this collaboration, RedLine artists included in the hotel's on-loan artwork collection can display and sell their work at the Clayton Club, keeping 100% of the profits. This project demonstrates the magic that can happen through public-private partnerships and initiatives that prioritize diverse voices. Now, Clayton Club is more than just a buzzing social club and hotel; it serves as a beacon of opportunity for underrepresented and emerging artists to showcase their work and grow their careers.
Learn more about the art collection at the Clayton Members Club and Hotel.
Kenect Nashville | Nashville, TN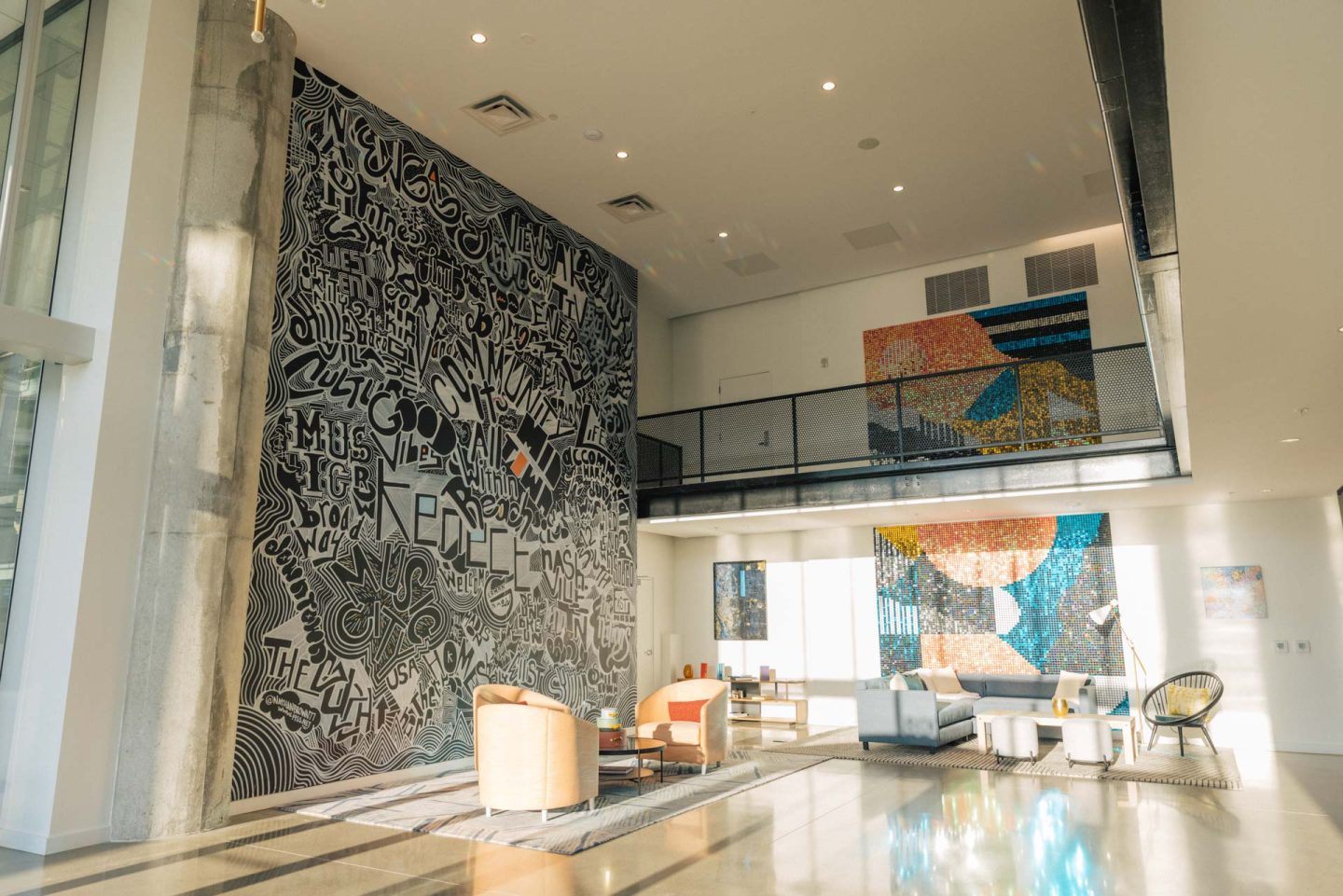 Hannah Penny, Curator: I'm most proud of the art collection at Kenect Nashville by Akara Partners LLC. Through large-scale murals, mixed-media installations, and thoughtful styling, the art captures the creative spirit of the city and infuses it into the multifamily residential property. I'm proud of how we transformed the space without overloading it with artwork. Though the collection is only nine pieces, it spans seven floors and feels totally integrated with the building. The large-scale murals are amenities in themselves – statement pieces that engage and inspire.
I also loved working with Memphis-based artists Kong Wee Pang and Jay Crum on their 19-foot-tall sequined mural. Yes, I love all things shiny and glittery, but this piece is especially powerful. The sequins make up an abstract landscape, creating a sense of movement in the space while honoring the glamour of the Nashville music scene.
Learn more about the art collection at Kenect Nashville.
Thanks to our talented team of curators for sharing the projects they're proud of from 2021, and to the many clients, artists, and partners who made this work possible. We can't wait to see what's in store for 2022!