Art Curation: How We Work and How You Benefit
Download this free resource
With today's economic challenges and competitive climate, you can't afford to blend in with the masses. To differentiate your project and reap financial returns, you need creative cohesion, a strong brand narrative, unique amenities, and a next-level experience. You need that unspoken "it" factor that keeps people coming back.
And unlike other art vendors you may have worked with, we know how to get you there. NINE dot ARTS has a proven process for success designed specifically to mitigate risks, maximize value, and create one-of-a-kind experiences that set you apart.
Click here to see the steps we take to distinguish your property and boost your ROI.
Stage 1: Vision and Roadmap
What does custom mean to you? To us, it means art that doesn't exist yet. And the vision development stage is critical for bringing that art to life. First we convene your project stakeholders (including designers, architects, and other consultants) to determine interests and objectives, review design concepts and architecture mandates, and perform a thorough review of your property's site plans to identify art locations that will make the greatest impact.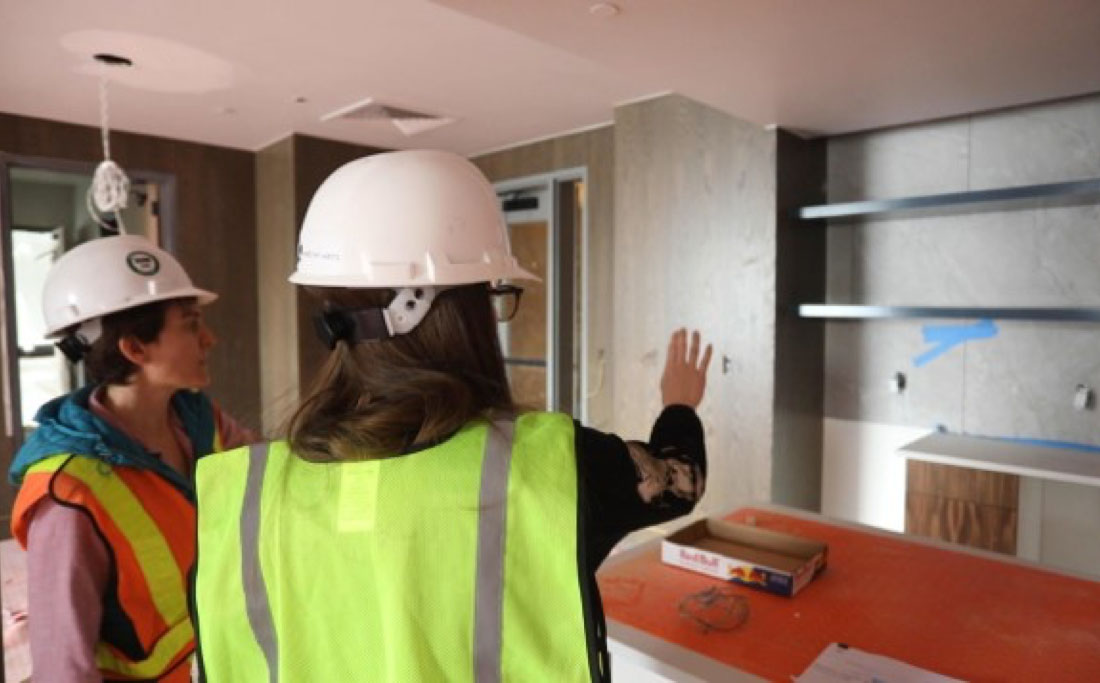 Our expert curatorial team then guides you through our tried and true Visual Preference Survey (VPS), an interactive, democratic exercise completed virtually or in-person to allow stakeholders to review and respond to various art concepts, styles, mediums, and aesthetics.
Rather than simply duplicating the project's design vision and curating underwhelming art prints to match, this exercise is intended specifically for your property's art collection. The established art vision builds on your architecture plans, design goals, and brand story, amplifying these elements while ensuring cohesion throughout your space.
And beyond setting the stage for the project's completely custom art program, our clients tell us that VPS sessions are the most FUN parts of their day…
"It was so fun…a fun way to get us thinking about the project. Thank you!"
"This was so well done and the favorite part of my day!"
"You guys have done a great job at hearing all the voices. I have sat through my fair share of art committees and you guys do such a great job of respecting multiple opinions."
"Your expertise and experience made this a most enjoyable day for our group."
Our team compiles your art location plans and VPS results into a project roadmap that serves as the "North Star" for your art collection. It includes…
A compelling curatorial statement with your custom art vision, goals, and criteria
Art concepts and mood boards that visually depict your brand
Proposed art locations intended to maximize your budget and the visitor experience
Budget allocation by location and priority
Project milestones broken out by the four stages of our proven process
Art acquisition, billing, and installation schedules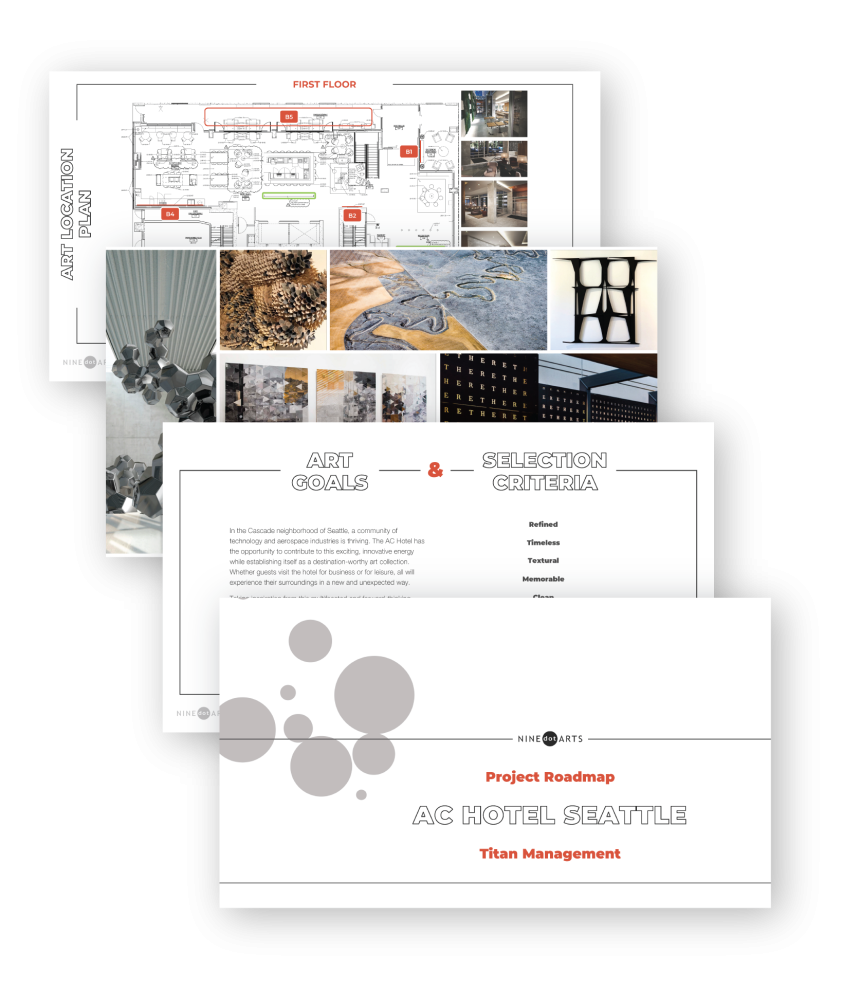 Stage 2: Research and Curate
Upon your approval of the art collection roadmap, our curators start researching the kinds of artists and artwork who will bring your creative vision to life. And no matter the industry or location of the project, we work proactively to engage with the community, understand local culture, and source artists who reflect it – ensuring your property feels authentic to the neighborhood while staying true to your project's brand. Curatorial research includes…
Performing deep online research
Searching dotfolio, our proprietary artist database with over 10,000 members worldwide, where our curators can identify talented individuals in your area
Tapping into our curatorial team's extensive artist relationships worldwide
Attending local art exhibitions and events
Connecting with nearby universities, organizations, and institutions to find artists whose practice and style align with the project's brand vision
Soliciting designs for site-specific commissions
Keeping your budget and site plans top of mind, Stage 2 concludes with a presentation of your custom art collection – including site-specific commissions – to be approved prior to art acquisition.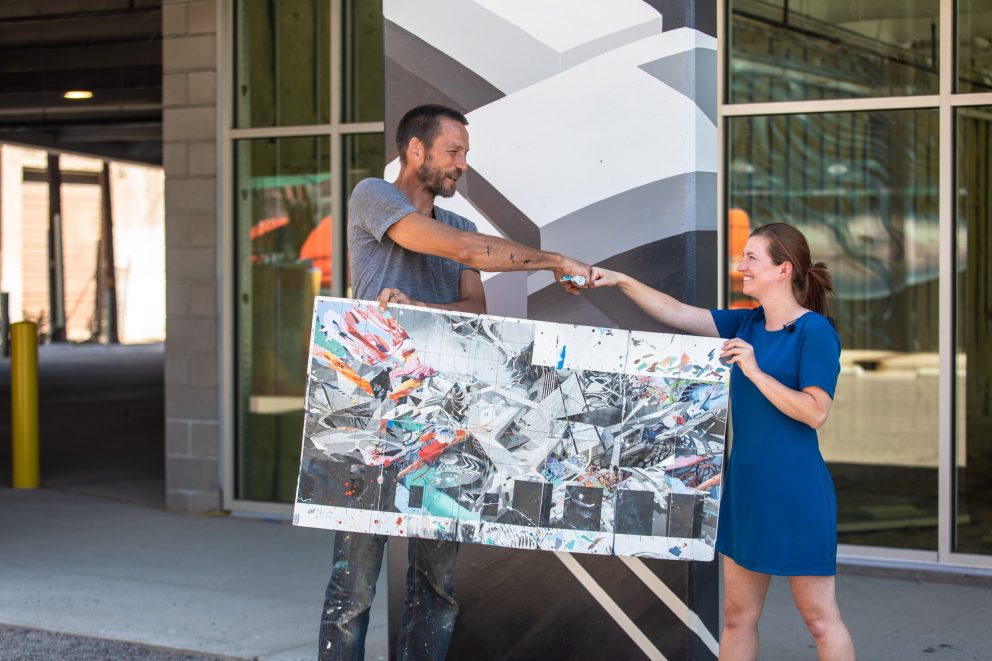 Stage 3: Art Acquisition
Our art acquisitions team brings everything together through the skillful negotiation, purchasing, and management of all approved art. As needed, we partner with engineers, architects, contractors, and geotechnical teams to perform feasibility studies for each art location, ensuring installations will be safe, structurally sound, and require minimal ongoing maintenance. Our expert project managers handle all the heavy lifting to ensure you – and your space – are ready for the art experience to come to life. Services include:
Invoicing vendors for framing, pedestals, shipping, installation, and other art logistics
Updating the project timeline with detailed shipping, framing, and delivery checkpoints
Presenting commission-related progress updates at 30%, 60%, and 90% of artwork completion
Creating licensing agreements as needed (such as for a digital file from an artist for a limited edition print or artwork wall vinyl)
Building a digital installation guide depicting images of the framed artwork in their identified locations
Managing artist contracts, including budget, insurance, and preliminary schedules
Project accounting, including supervising and communicating costs for construction, materials, fabrication, and final installations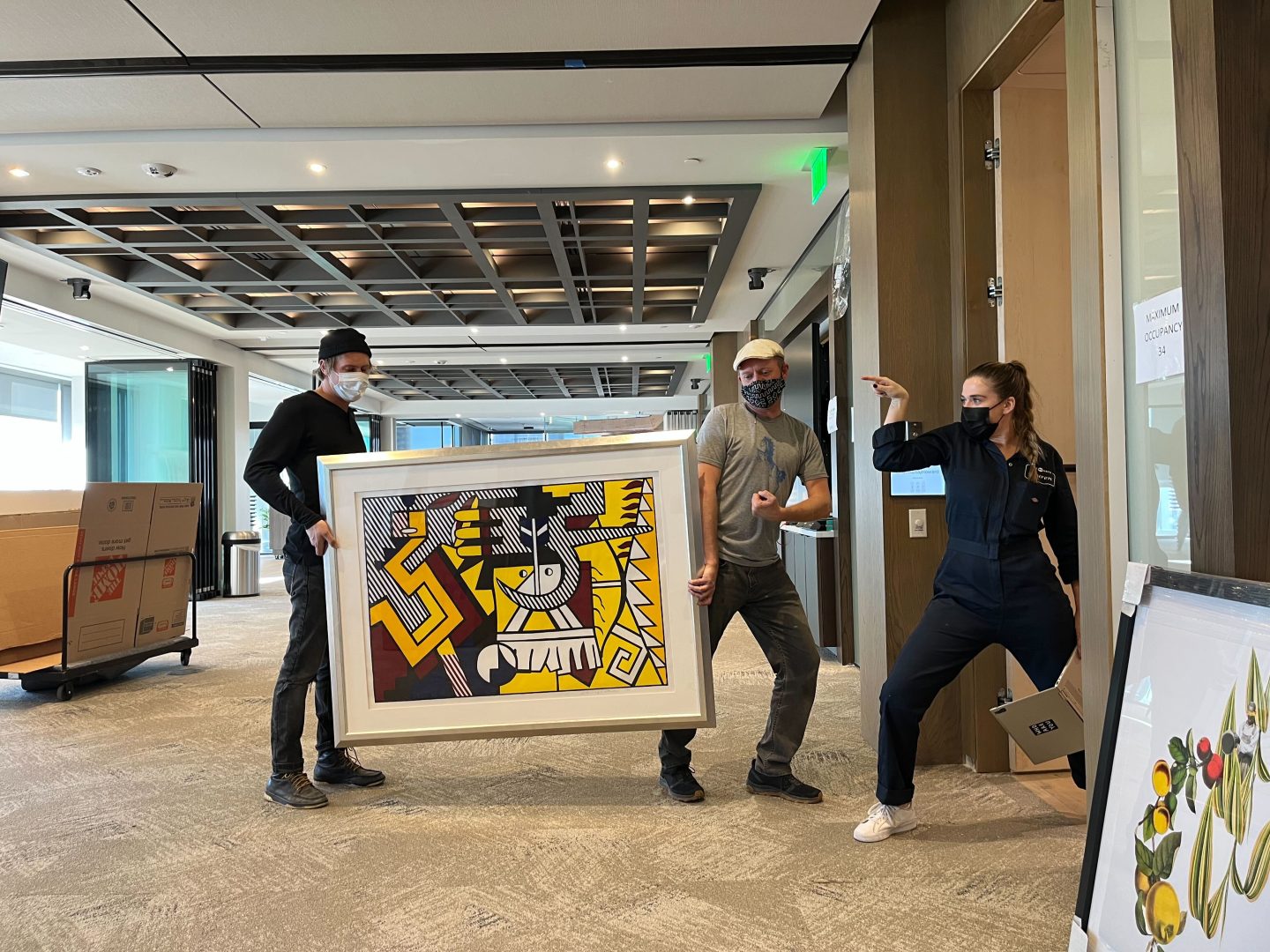 Stage 4: Install and Engage
The creative process concludes with the installation of a powerful art experience that delivers that "it" factor for your space. Installing artwork can take anywhere from a few hours to a few weeks, requiring careful coordination with you, the artists, and our expert art handlers. Such partners are often needed with large-scale installations like Michael Clapper's 1,265-lb limestone sculpture, which was installed using an 8,000-lb forklift at Lakehouse Residences before the property was even complete!
Another great example? "Come Out, Come Out Rhino, Wherever You Are," the 992-lb bronze rhinoceros sculpture by Gillie and Marc that sits outside the Catbird Hotel, welcoming guests to the River North (RiNo) Arts District. Just see for yourself…
And our work doesn't stop when the art is installed. We provide complimentary art labels to identify the artist, their locale, and the title and medium of the piece, as well a comprehensive collection summary with images and descriptions of all artwork. We can even promote the collection through educational engagement materials and community-oriented events like an unveiling ceremony or an artwork tour led by a NINE dot ARTS curator.
But one of the best parts of the art installation is the positive outcomes you'll reap because of it…
"The Oxford Hotel and Spa is currently running its highest average rate on historical record. We are the #1 Denver hotel on TripAdvisor. And the energy that NINE dot ARTS helped bring to our lobby through their weekly art activations undoubtedly played a role in this success."

– Ed Blair, General Manager, Sage Hospitality Group
"We sold the property…In a significant way, you had a role in helping us maximize the value of the building."

– Charles W. Elder, Senior Vice President, Hines
"I would have loved to spend twice as much because the art is definitely one of the things that shines when you visit the project and the community tells me every time I interact with them that the art is one of the most special components of the project."

– Nick Kitaeff, Senior Development Director, Confluent Development
"Our ability to create authentic experiences for our guests is a key differentiator against our competition, and the art program that NINE dot ARTS created is a prime example".

– Adam Sperling, General Manager, Hotel Commonwealth
Beyond its aesthetic appeal, a custom art experience can deliver positive benefits like community goodwill and increased ROI. And in today's commercial landscape, it's a must if you want to stand out. But our creative process makes things easy. With comprehensive project management from start to finish, we do the heavy lifting to give you peace of mind. And by starting early, we help create spaces for bold, iconic artwork that would be impossible anywhere else.
Set up a consultation to learn more about our process and to get started on your own bespoke art experience!