Bisnow Recap: Revitalizing Downtown Seattle
Catch the latest from Bisnow events in Atlanta and San Francisco here.
When compounding challenges like crime, violence, and poverty collide with rapid development and gentrification, how can public and private leaders influence change? 
This was the central question of discussion at the May Bisnow panel, Revitalizing Downtown Seattle, where CEO Martha Weidmann joined business owners, developers, restaurateurs, and other industry professionals to explore how to address such challenges while remaining hopeful about the future and remembering all that makes Seattle special.
So what resulted? And how do art and placemaking fit into the conversation? We break down the event below.
Panelists: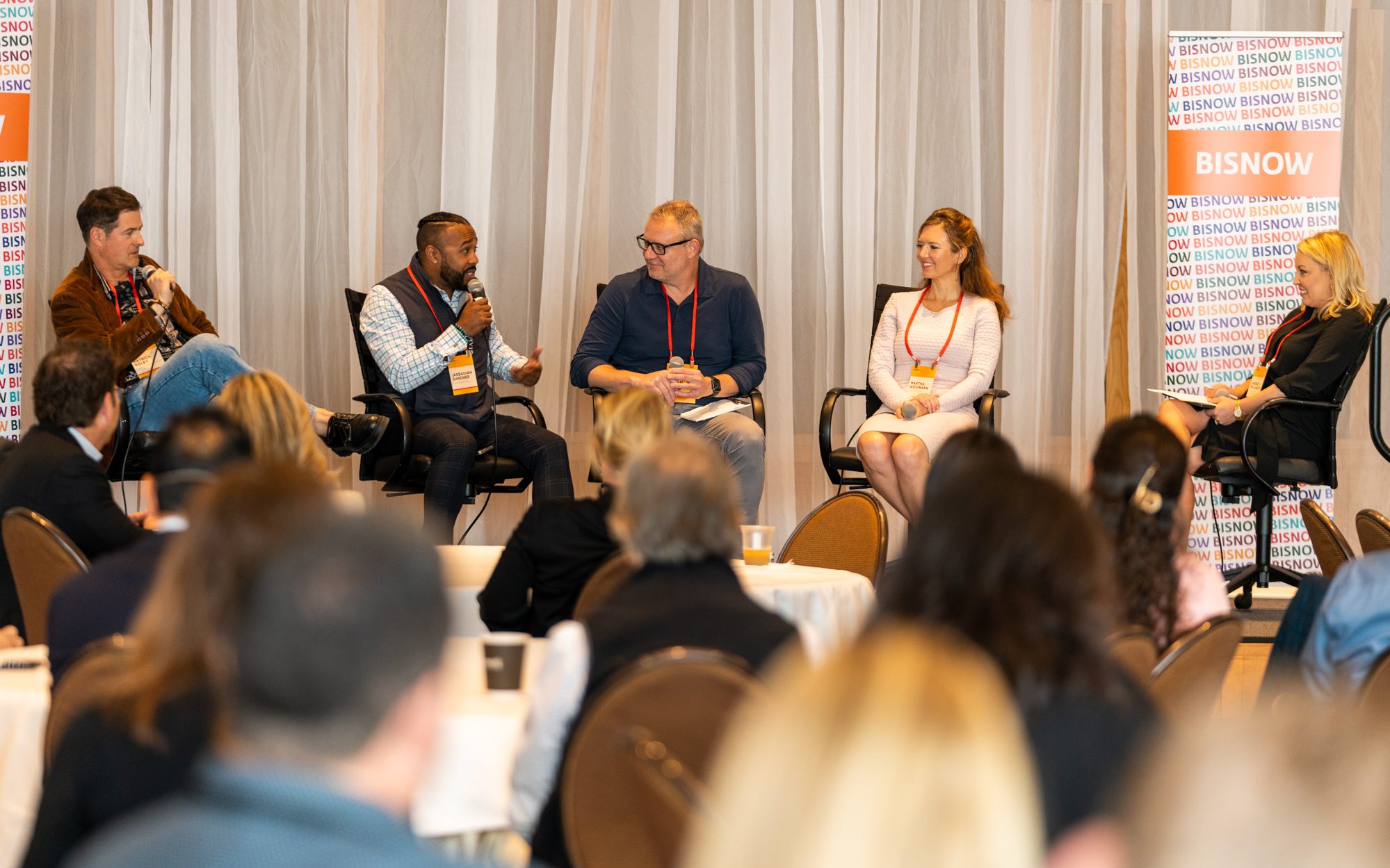 Panel Themes:
Uncovering the greatest obstacles for recovery, from homelessness and drug addiction to neglected streetscapes and civic unrest
Identifying opportunities for public and private investment
How and where to allocate resources and responsibilities
Solutions and best practices from other markets
Key Takeaways:
Having recently marked the one-year anniversary of our Seattle office opening – and with several projects in the Washington area underway – NINE dot ARTS was proud to be included in such an important discussion about how to revitalize Seattle's downtown area through the transformative power of art and culture. Key takeaways included…
Consider the Broken Windows Theory
Coined by social scientists James Q. Wilson and George Kelling, the theory uses the metaphor of broken windows to assert that visible signs of disorder and neglect lead to societal disorder, such as violence and crime (i.e., places that "look bad" are bad). This disorder creates fear in the minds of citizens and visitors and – particularly in the case of downtown Seattle – prevents them from spending time in such areas. Social abandonment then causes businesses to struggle, close, and become vacant, creating space for further chaos.
But if aesthetics can reinforce social behavior, then art can play a major role in revitalizing downtown Seattle's "broken windows."
Collaboration is Key
But no one can do it alone. Revitalizing downtown Seattle will require long-term, interdisciplinary collaboration between both private and public partners, with each sector recognizing the value in the other and remaining open to new ideas.
Take Midtown Square, for example, a new multifamily complex and civic plaza at 23rd and Union. NINE dot ARTS collaborated with the developer Lake Union Partners, DLR Group's Principal and Civic Design Leader Rico Quirindongo, longtime arts advocate Vivian Phillips, and several community philanthropists to solidify the complex as the permanent home for Arté Noir, an organization dedicated to uplifting Black art, artists, and culture.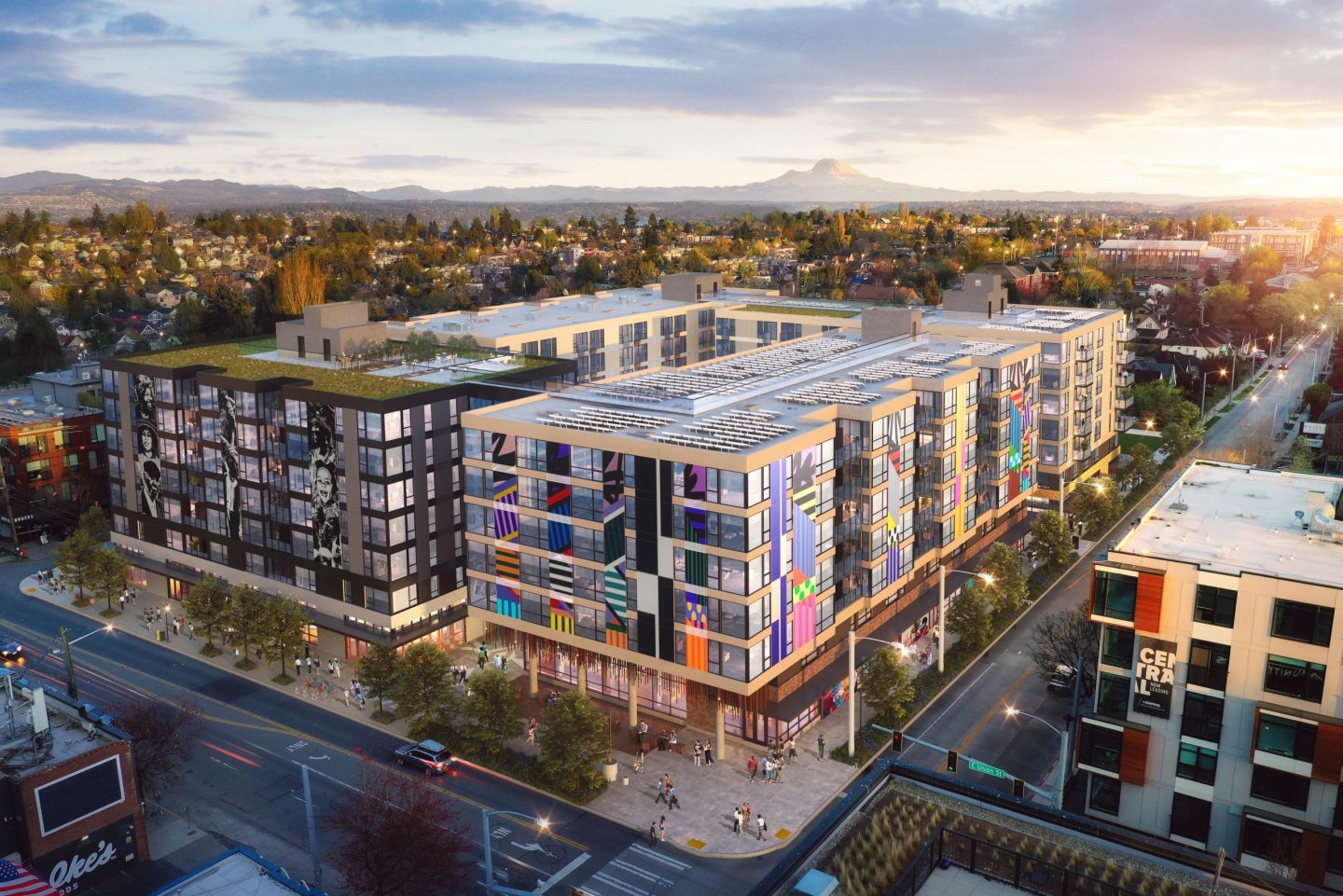 Thanks to these corporate-community partnerships, the nonprofit has secured a permanent retail and exhibition space on the ground floor of Midtown Square, anchoring the organization in the heart of Seattle's Central District where many Black creatives have been displaced. Outside the property is a bustling civic plaza filled with artwork that honors the resiliency of the Black community.
"With more development and the decline of the Black population, we were facing real erasure," Vivian Phillips shared in our Dot Dot Dot podcast. "Arts and culture is what helped that not be so…We're incorporating our lived aesthetic into the way our environment looks, just as a reminder that we were here and we are still here."
Midtown Square now serves as a national example of how art and culture can stem erasure while facilitating cross-disciplinary collaboration, reparative equity, and economic development.
Focus on the People
"Why do we aim to build great cities?" was a recurring question during the panel. The prominent answer? For our people.
When thinking about how to support downtown Seattle's recovery, panelists agreed that engaging Seattle residents would be a key strategy. Because who better to support the city's growth than those who call it home?
So rather than focusing only on what the city lacks or needs, leveraging its existing assets – from its people to its places to its institutional resources – is an important step in ensuring positive and sustainable change.
At NINE dot ARTS, we call this Asset Based Community Development, or discovering existing strengths that can be further developed and amplified through intentional community-engaged planning. We analyze these strengths from a creative lens by specifically engaging local arts and cultural networks (people, organizations, places, events, etc.) to aid in the placemaking process – from the planning and design of public spaces to the maintenance of parks and streetscapes.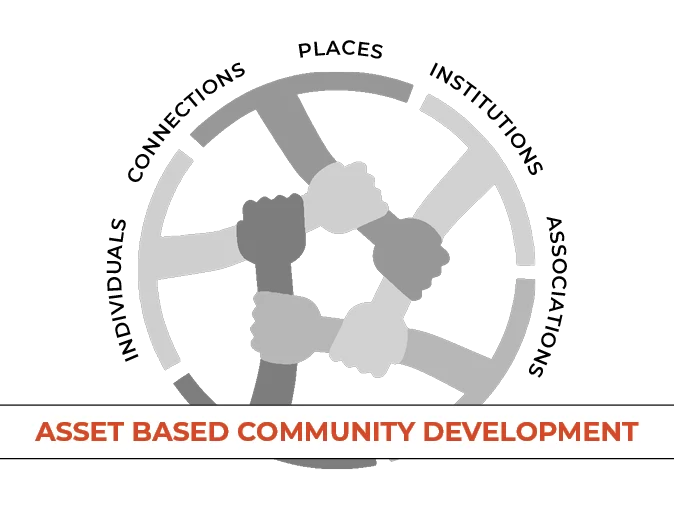 Investing in the creative sector in this way sparks innovative and often community-driven solutions, where citizens are incentivized to contribute to their city's progress. This catalyzes ongoing civic pride and further buy-in from businesses and the government, contributing to a collective effort that increases the likelihood of enduring change.
Despite challenges in the city's urban core, Seattle's outlook is still quite positive. As the first city to vaccinate over 70% of its residents – and with growing activity in popular areas like the waterfront, Pike Place Market, and Denny Triangle – there is tremendous potential for the revitalization of downtown. The area itself has long been the epicenter for arts and culture, where people gather to be enriched, educated, and entertained. Leaders should find hope in this legacy and in the city's existing strengths, leveraging art and culture to further uplift these assets in pursuit of a healthy and vibrant downtown Seattle.