The Value of Community Art Planning
Have you ever visited somewhere and thought, "Wow, this place gets it." Or maybe you never had that revelation, because you were too enthralled by the various sights, sounds, and overall sensation of the place. You were busy enjoying its integrated retail, entertainment, residential, and public spaces – each infused with art, culture, and community.
Places that achieve this kind of satisfying synergy don't just come to life overnight. Rather, they take years of coordination on behalf of diverse teams including developers, designers, architects, community leaders, artists, consultants, and other placemaking partners. Such special places are often born out of community art plans that highlight a city's strengths, prioritize local labor, and work across disciplines and identities to create something exceptional.
So how does community art planning happen? And what is placemaking, anyway?
Beyond Curating: Cultural Placemaking
Placemaking is a people-centered process that includes the planning, design, and management of public spaces, including buildings, streets, transportation hubs, parks, and more. As SAGE Hospitality Group CEO Walter Isenberg said, "placemaking is significant because the customer demands it. They want to go somewhere interesting, and they're interested in experiences." But to create memorable experiences, developers must think beyond what is visually appealing to what is authentically compelling.
Enter NINE dot ARTS. Our team specializes in developing holistic community art plans (traditionally called "art master plans") that capture and amplify all those authentic elements that make a place special – primarily its art, culture, and community. As CEO Martha Weidmann explains in her insightful webinar, our plans leverage these local assets to build greater social cohesion, civic capacity, economic prosperity, and cross-cultural connections. Community art planning and placemaking thus work in tandem to produce something more than just a beautiful place, but something placemaking pioneer Dana Crawford describes as, "those places where people care."
Community Art Planning: How It Works
Though community art planning may vary by project, it almost always involves creative collaborations, comprehensive research, and robust recommendations – each informed by local history and values. It often starts with identifying a community's diverse set of strengths and capacities, which can be further developed and amplified throughout the project.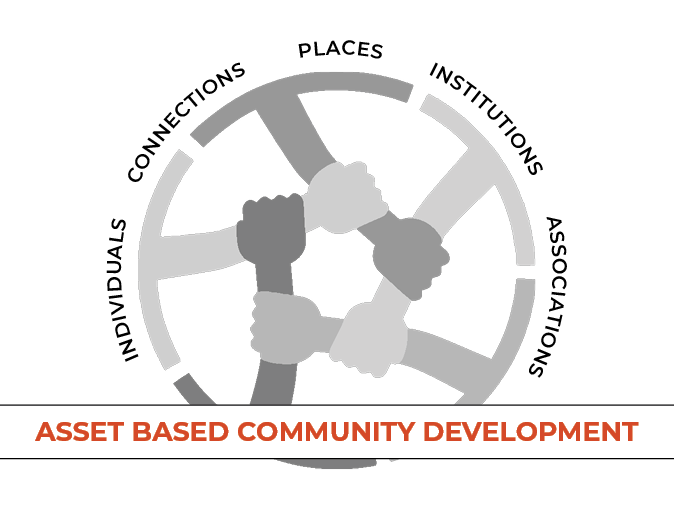 Collaboration: From working with architects and developers to facilitating public-private partnerships among nonprofits and commercial properties, community art planning is strongest when diverse voices are prioritized. Whether we're hired by a developer or brought in by the city, our team seeks out local creatives who can inform and inspire the work, meanwhile helping us engage the surrounding community in decision making. Creative collaborations are also essential for performing robust research and providing contextualized recommendations.
Research: There are many ways to learn about a place. For our team, that research often includes:
analyzing industry trends and the demographic landscape;
reviewing the policies that may impact art, culture, and commercial development;
gathering an inventory of art and cultural opportunities including public art itself;
and conducting interviews with local residents.
For Denver International Airport, our research helped us take a deep dive into the passenger experience in airport travel. Meanwhile, to help launch the Seattle nonprofit and exhibition space Arté Noir, we studied best practices in nonprofit organizing and translated our research into guidance for their fundraising plans.
Vision and Recommendations: Community driven, arts-based research also involves convening project stakeholders (including local creatives) for vision development workshops. In these sessions, we share our team's research and solicit feedback to determine the project's vision. Together, we create a vision statement and list of goals that guide our recommendations, which may include:
public art programming opportunities;
funding strategies;
art typologies and locations;
a process for selecting public art;
and metrics for evaluating success.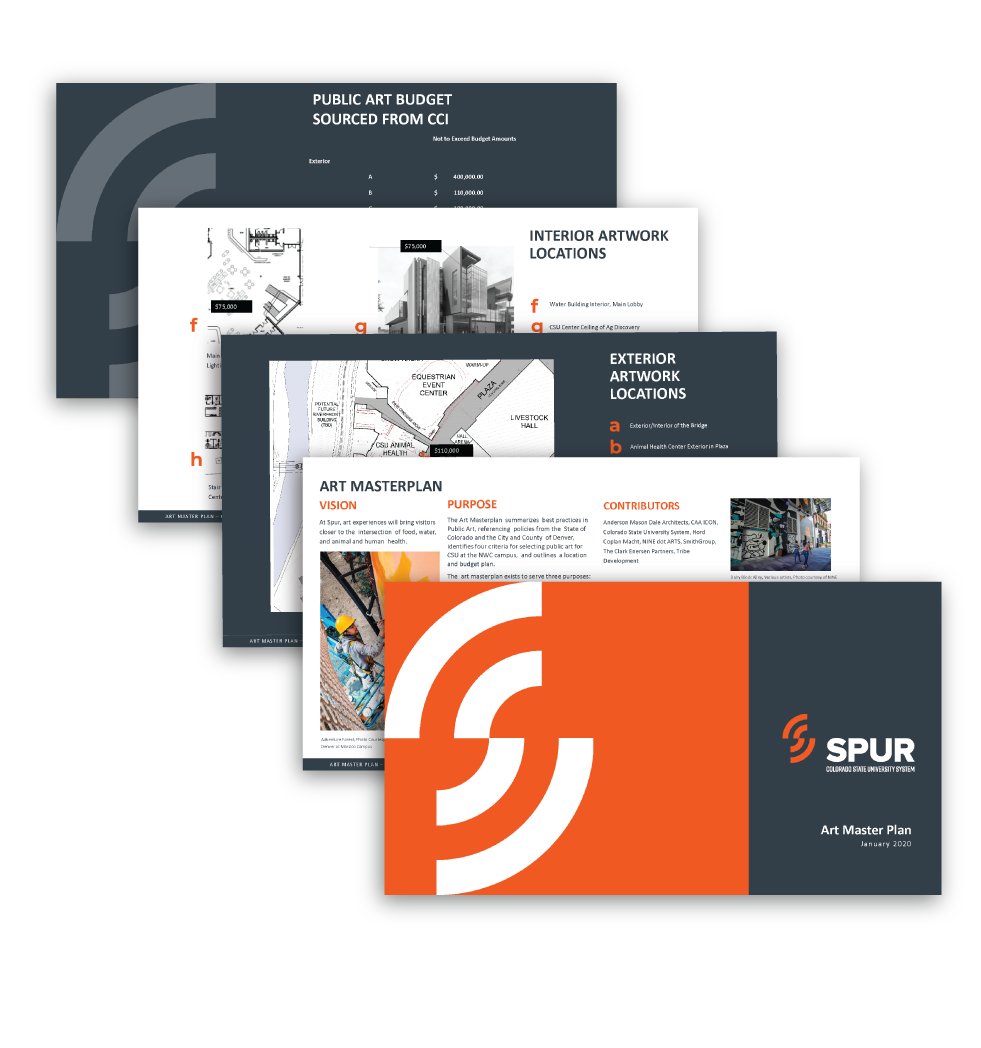 When developing the community art plan for the new CSU Spur Campus, we created a public art selection process with accompanying imagery, budget, and art location recommendations. Meanwhile, for Denver's new 62-acre River Mile neighborhood, we provided guidance for establishing an art and culture nonprofit to carry out our recommended policies, programming, and funding strategies.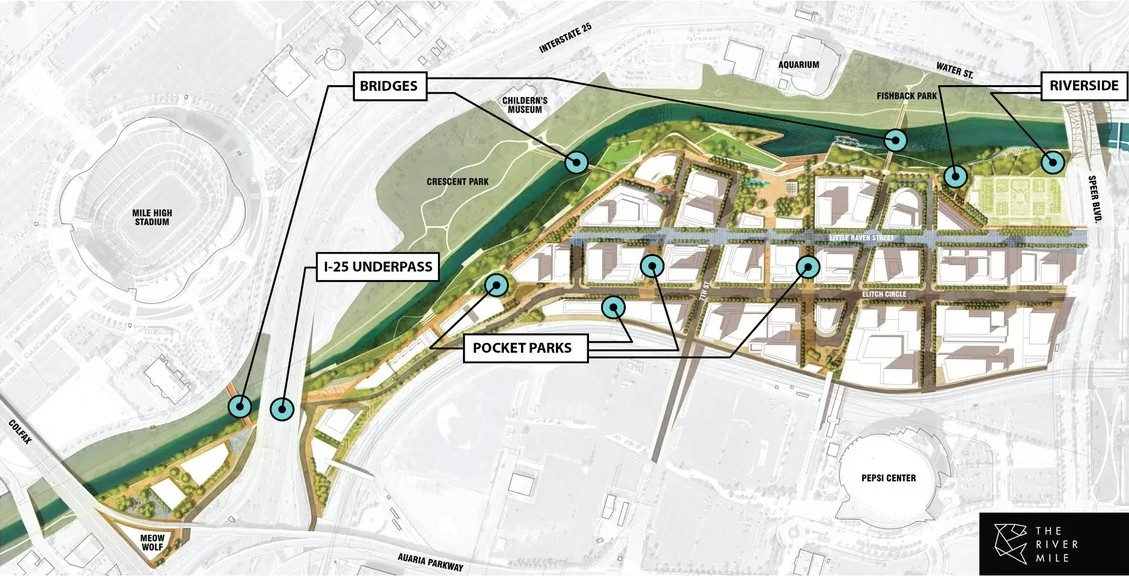 Why Not Art Master Planning?
If you haven't figured it out by now, community art planning is about exactly that – the community. As part of our social impact and DEI initiatives, we've intentionally chosen not to describe our work as "art master planning." Not just because of the outdated language, but because the terminology doesn't quite capture what makes a place special. Community art planning goes beyond master planning to amplify the heart and soul of a place – its people. And what better way to express, engage, and elevate the human experience than through art and culture?