How to Distinguish Your Multifamily Property Through Art
Download this free resource!
It's no secret that multifamily development is soaring right now, creating stiff competition and the need to stand out. Here's why you need a one-of-a-kind art experience to attract tenants and ensure your property stays top of mind in today's competitive landscape. 
Wow Prospective Residents
From community events to leasing tours, art can be a unique selling point that leaves a positive first and lasting impression on visitors. Art can help personalize your space and elevate your community's culture – important elements of any apartment tour. Along the tour, leasing agents can share the stories behind particular artworks, bringing authenticity to the visitor experience. Further, artwork can be a visual indicator of a property's brand, values, and culture, helping residents get a feel for what it might be like to call that space home.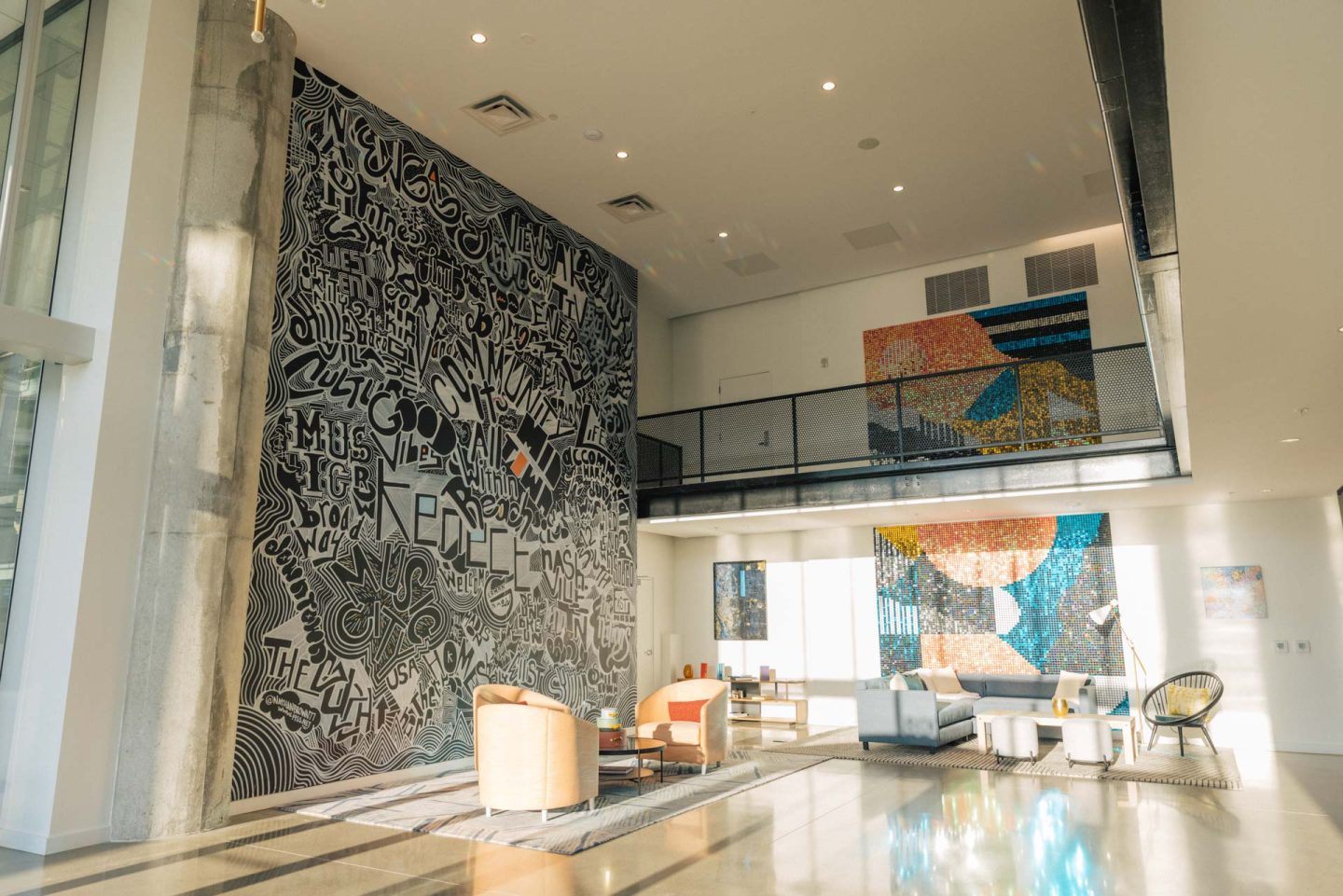 Take Kenect Nashville. Upon entry, residents are greeted by Nathan Brown's two-story mural, which features a collage of words representative of both the Kenect brand and the Nashville culture. With phrases like "Life accommodated" and "It's all within reach," the striking mural communicates what living at Kenect might be like, leaving a memorable impression on anyone who visits the building.
Boost ROI
Incorporating art into your multifamily property doesn't only create aesthetic benefits. It can increase your profitability, too. A one-of-a-kind art experience can distinguish your property as "the place to be," driving renter demand and even a sense of urgency. This primes people to pay higher rates and sign longer lease terms. Plus, it can lead to faster bookings and valuable earned media, generating good press for your property while enticing prospective residents.
Altogether, 76% of business leaders from our State of the Art Report confirmed that an original art collection in the lobby is one of the most buzz-worthy elements of any project, and 94% said their projects would be less successful without art. So when working to differentiate your property from the competition and boost your overall ROI, remember the value of an authentic art experience.
Elevate Your Amenities
With over half of the US workforce continuing remote or hybrid work arrangements, multifamily developments are evolving to include more dynamic amenities that cater to the live/work/play lifestyle that's become so popular post pandemic. From creative coworking lounges to luxurious rooftop patios, the apartment amenities of today are bordering those of the hospitality sector, driving developers to either meet the trend or stand out in other ways.
That's where the art comes in.
When considered early in a project's life cycle, art can be used to elevate a building's amenities, as well as its architecture and design, creating a cohesive experience and a backdrop for community. But art can also be an amenity itself.
At the newly opened Citizen Apartments, for example, the art collection spans 18 floors, enhancing the property's expansive lobby, speakeasy, rooftop, and more. Some works help accentuate amenities, like the mountainous rooftop mural by Magik Studios, which creates the perfect backdrop for pool loungers and patio-goers.
Other artworks even disguise amenities, making their discovery that much more exciting for residents. For example, our curators created a mesmerizing mural made entirely of eccentric door knobs and "treasure boxes" – only one of which holds the fob to the apartment's hidden speakeasy. Though the art installation alone is enough to wow tenants, its main purpose is to pique excitement for what's just beyond its doors.
So whether it's a stand-alone piece meant to elicit awe from residents or it's used more strategically to create moments of discovery, art can be a key differentiator that makes your property unlike any of the rest.
Establish a Unique Sense of Place
One of the most valuable benefits of an original art collection is its ability to create a unique sense of place that residents feel proud to call home.
Art alone can be a signature selling point, but it can also help amplify the many other reasons someone may have chosen to live at a particular property – from its location to its amenities to its brand.
At Boulder's Parc Mosaic, for example, residents are surrounded by breathtaking views of the Colorado foothills. Our team thus curated a collection that was "built for Boulder," full of nature-inspired artworks that bring the outdoors in and remind residents why they chose this property as home.
Altogether, a next-level art experience can give your property the "wow factor" it needs to stand out from the competition, helping you attract new renters and keep them satisfied to stay. From boosting revenue to elevating your leasing tours and amenities, an intentional art collection is a key differentiator for overcoming competition and creating an unforgettable sense of place.