How Art Improves the Return to Office Experience for Employees
As we navigate the post-pandemic landscape, many employers are grappling with how to engage their staff in this new normal. Approximately 50% of business leaders are even asking employees to return to an in-person work environment. But after nearly two years of remote flexibility, how can employers make the return to office feel exciting, engaging, and worthwhile for their staff?
Enter art and culture. While some leaders may overlook these elements in their return-to-office strategies, they are in fact vital for creating the kind of engaging environments that will attract employees back to the office and keep them satisfied while they're there. Here's how:
Art Impacts Profitability
Companies with engaged employees report 21% more profitability. So instead of thinking about art as an afterthought with no measurable outcomes, remember its impact on employee engagement and, by extension, business success. As you work to bring employees back into the office, consider the many benefits of an intentional workplace art program, which can stimulate creativity, connection, wellbeing, and purpose – elements that many remote employees are missing.
Art Fosters Creativity and Connection
According to IBM, a core tenet of workplace re-entry is creating an environment where individuals can achieve their best work. This means accounting for safety, socialization, and some much needed inspiration. Fortunately, artwork can play a tremendous role.
Our partners at Gensler found that designing to promote social distancing can actually make spaces more hospitable and adaptable. Thus, many office redesigns are incorporating more open and organic spaces to account for distancing if necessary and collaboration when appropriate. Infusing art into such redesigns can further amplify these benefits, inspiring employee creativity and connection.
Take The Link, a mixed-use office space in downtown Denver designed exclusively for the 21st century hybrid employee. Our team curated a large-scale mural by artist Kong Wee Pang, which is made up of over 25,000 UV-printed sequins wrapped across two walls in the office's coworking lobby. With its striking size and unique materials, the kinetic mural is the perfect backdrop to stimulate conversation and creative idea sharing.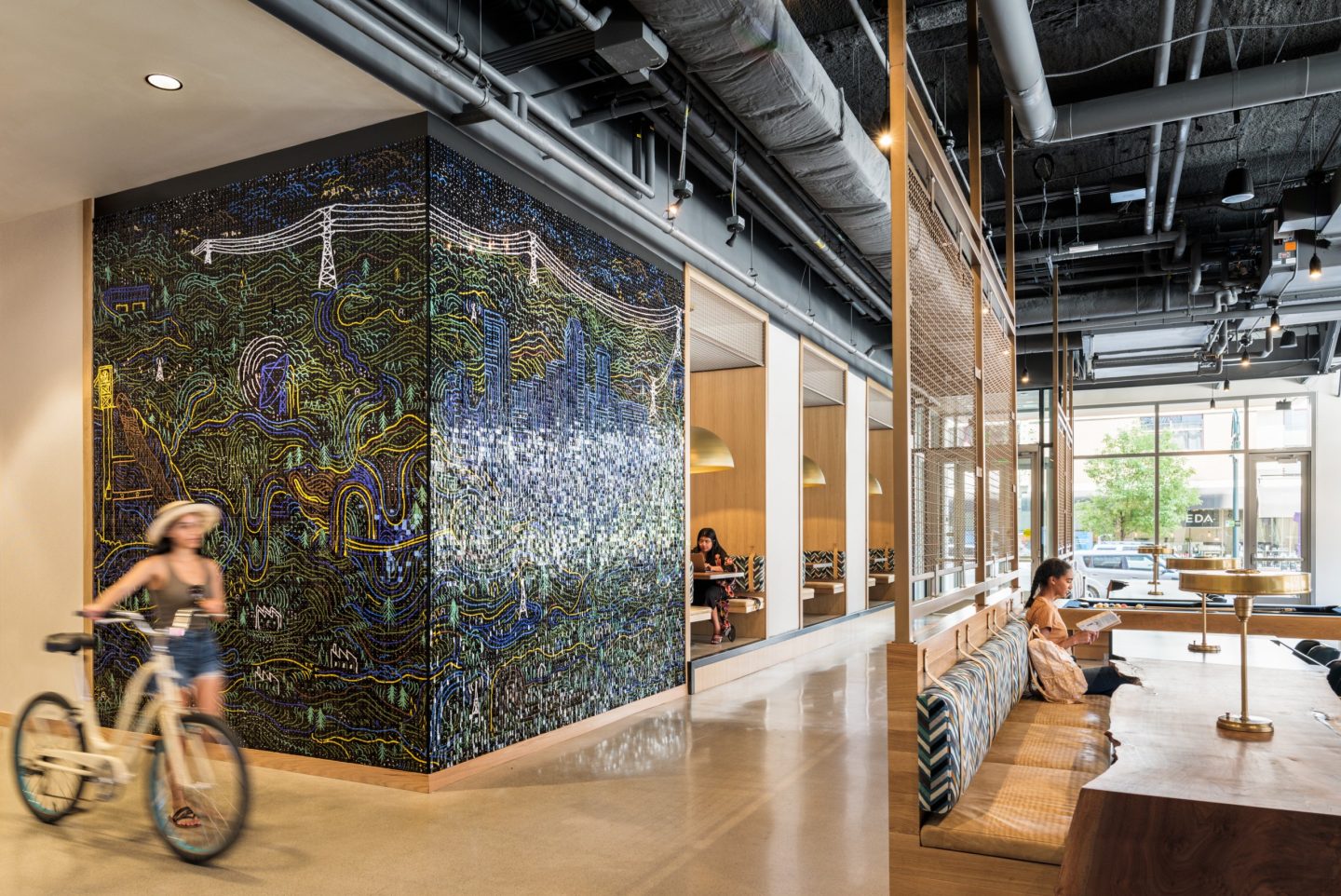 The artwork also represents exceptional use of open, public space to foster the kind of safe socialization that people are seeking. So next time you wish to inspire your employees or promote creativity, forgeo the typical inspirational cliche and try incorporating an innovative art installation instead.
Art Promotes Employee Recruitment, Retention, and Engagement
After nearly two years of working remotely, many individuals feel unsure about returning to the office. And cold corporate cubicles aren't exactly a selling point. Instead, companies should look to art to enliven their workspaces and attract new talent.
For example, at Denver's Block 162, artwork elevates the office's amenity-rich Sky Terrace, which provides employees with access to panoramic views of the neighborhood, an exercise lawn, a fitness center, and a social lounge. The open floor plan is home to 10 multidisciplinary artworks made primarily by local and emerging artists, creating a captivating and purposeful backdrop to engage office tenants.
And a sense of purpose is shown to greatly impact employee retention and engagement. After all, employee engagement is defined as "the emotional commitment the employee has to the organization." And when employees are committed and feel a sense of purpose, they are 27% more likely to stay in their jobs. At Jackson National Life, intentionally curated artwork drives that purpose.
Unlike the stark design and monotonous colors of many corporate spaces, this Lansing insurance office boasts a range of dynamic sculptures, paintings, and installations that speak to the firm's reputation as both a visionary financial leader and longstanding advocate of the arts. With a focus on nature and wellbeing, the collection also promotes mental health, which HR Executive calls a key retention strategy. Fortunately, public art is shown to benefit public health, helping to increase belonging and reduce feelings of isolation. The art collection at Jackson National Life represents this evidence in action. Featuring over 1,300 artworks across two buildings – including dozens of investment-quality commissions by Michigan artists – Jackson National Life demonstrates the value of an intentional art experience to strengthen wellbeing and engagement among all who interact with it.
Altogether, art can bring tremendous emotional and financial value to an office environment. From sparking conversation to encouraging innovation, an art-infused workplace may be just what employers need to mitigate effects of the Great Resignation and improve the return to office experience for employees.