Findings from the 2023 State of the Art Report
Dot Dot Dot: The NINE dot ARTS Podcast
Episode 51
Our 2023 State of the Art Report surveyed hundreds of key decision makers across the AEC industry to reveal powerful insights about how architecture, design, and art and culture work together for successful placemaking. This episode describes the report findings in more detail and explores project examples that reinforce the data, such as how one iconic art installation helped developers save money while another became the distinguishing feature of an entire micro-district. Tune in to hear new data on the ROI of a custom art program and learn the many benefits of treating art and culture as equally essential as architecture and design.
Get the full scoop by downloading your free copy of the report today!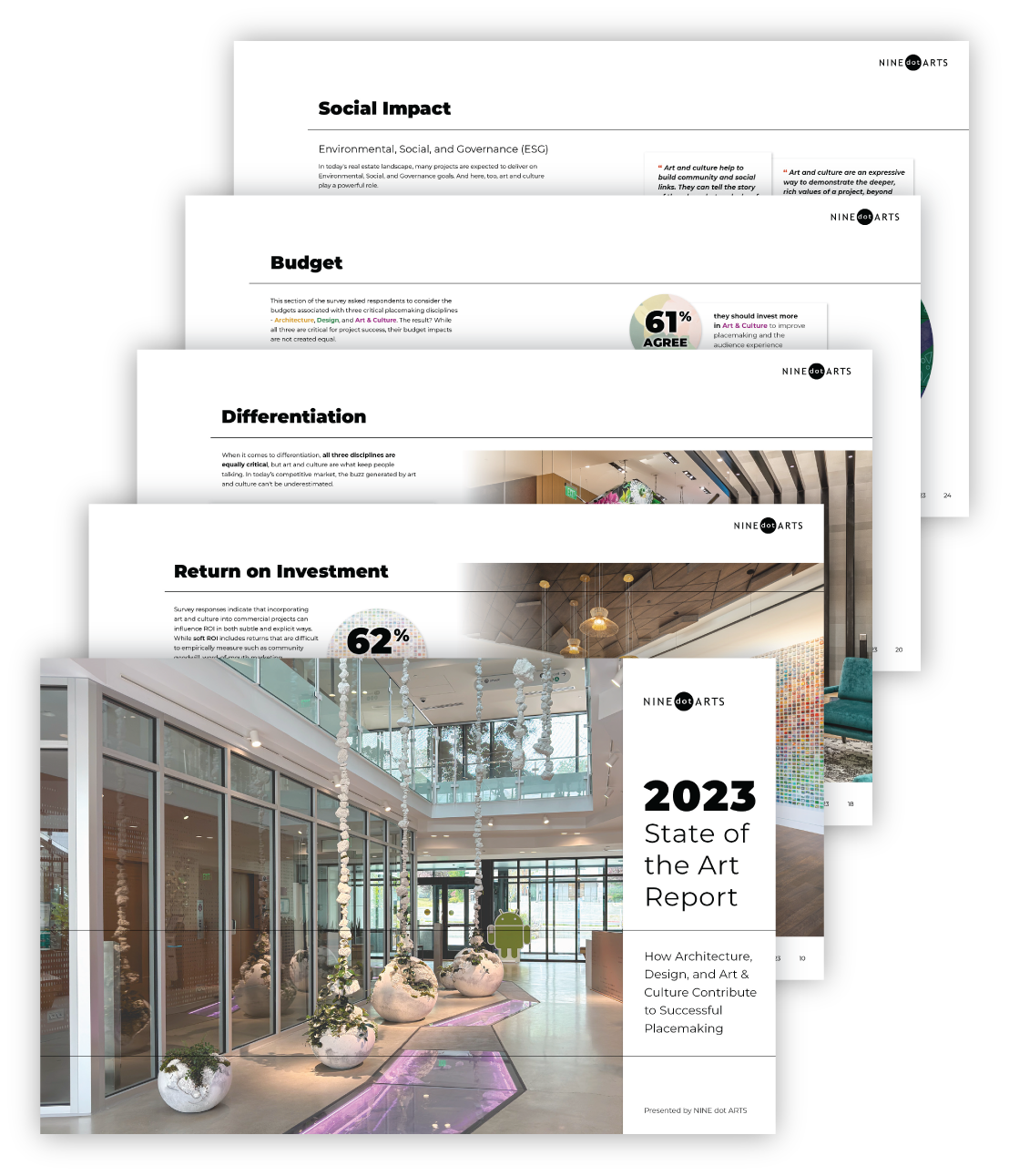 Discussed in the Episode:
The 2023 State of the Art Report
The Dairy Block
The Dairy Block Alley art collection
The Maven Hotel art collection
The Quantifiable and the Ineffable by Andrew Ramiro Tirado
Art Activations at Understory at Amazon's Spheres
Collin Parson's "Here" mirror installation at The Dairy Block
Citizen Apartments
The Art Collection at Citizen Apartments
How Developers Can Make a Positive Social Impact with Art
Midtown Square
Featured Artists at Midtown Square
Arté Noir at Midtown Square
About Dot Dot Dot: The NINE dot ARTS Podcast
Dot Dot Dot is the continuing conversation around art and placemaking in the built environment. Hosted by NINE dot ARTS CEO Martha Weidmann, episodes explore art, culture, community, and more with a range of reputable business leaders. Tune in biweekly to learn how an original art experience can boost your business and make a social impact. Episodes are available wherever you get your podcasts!