Go Back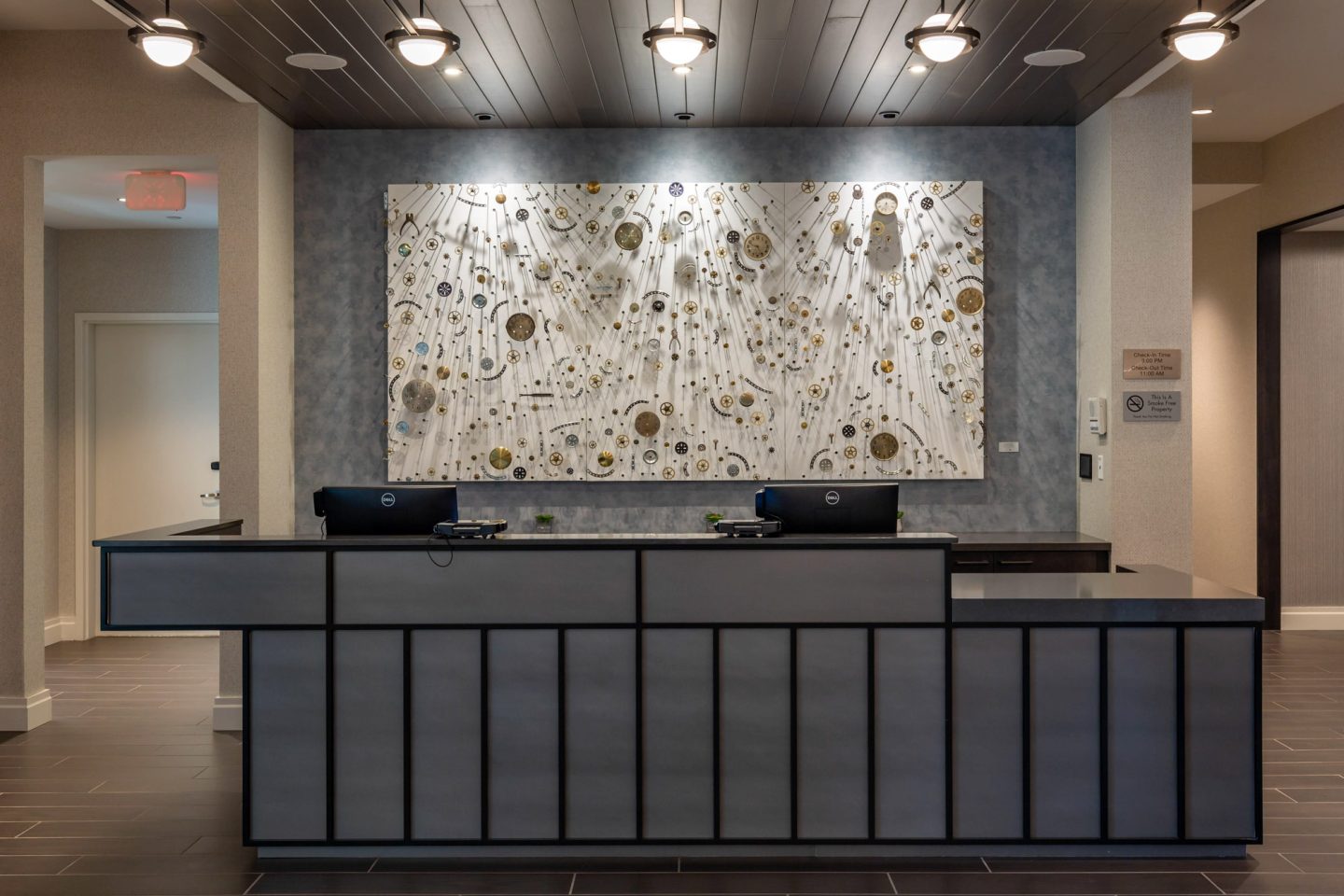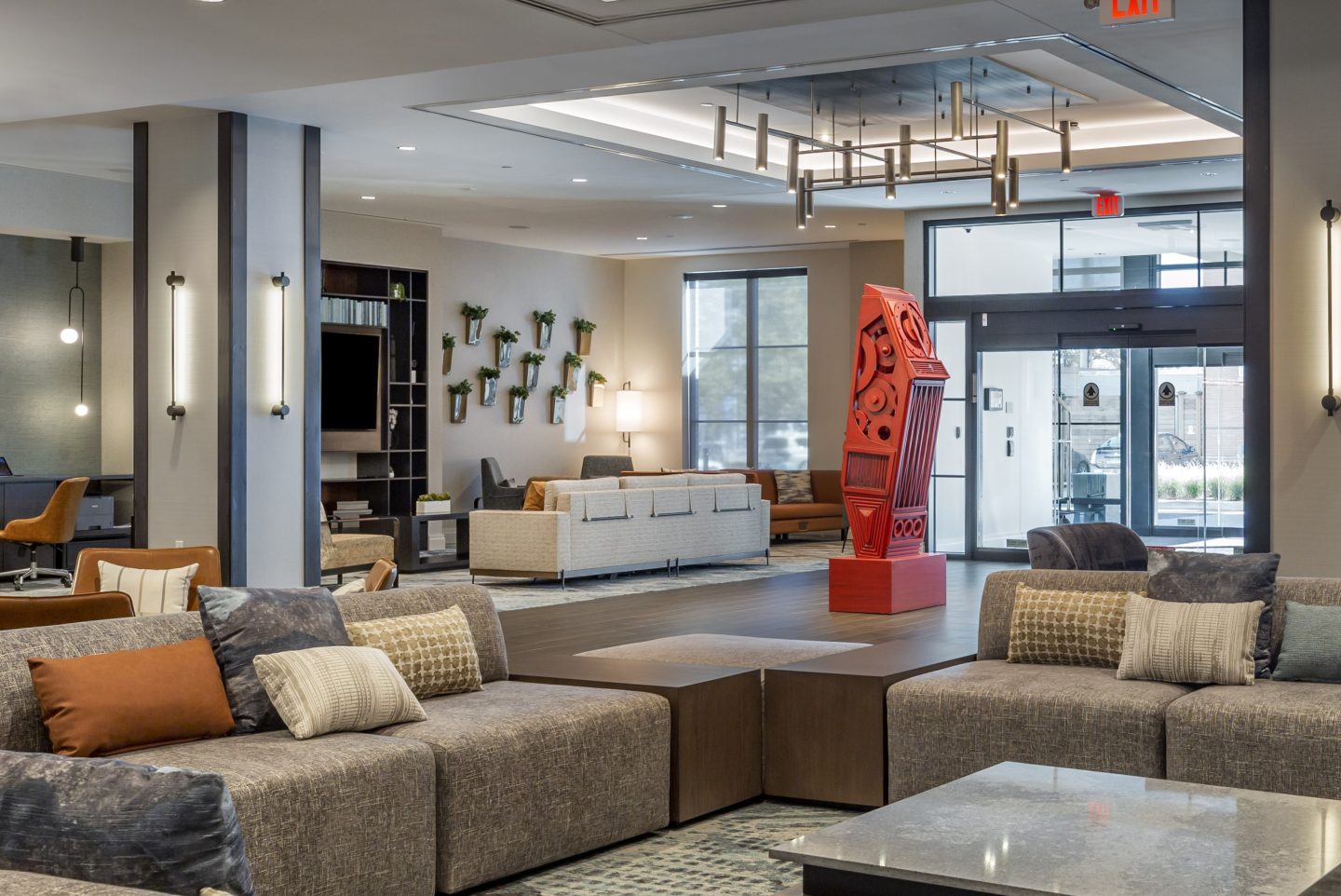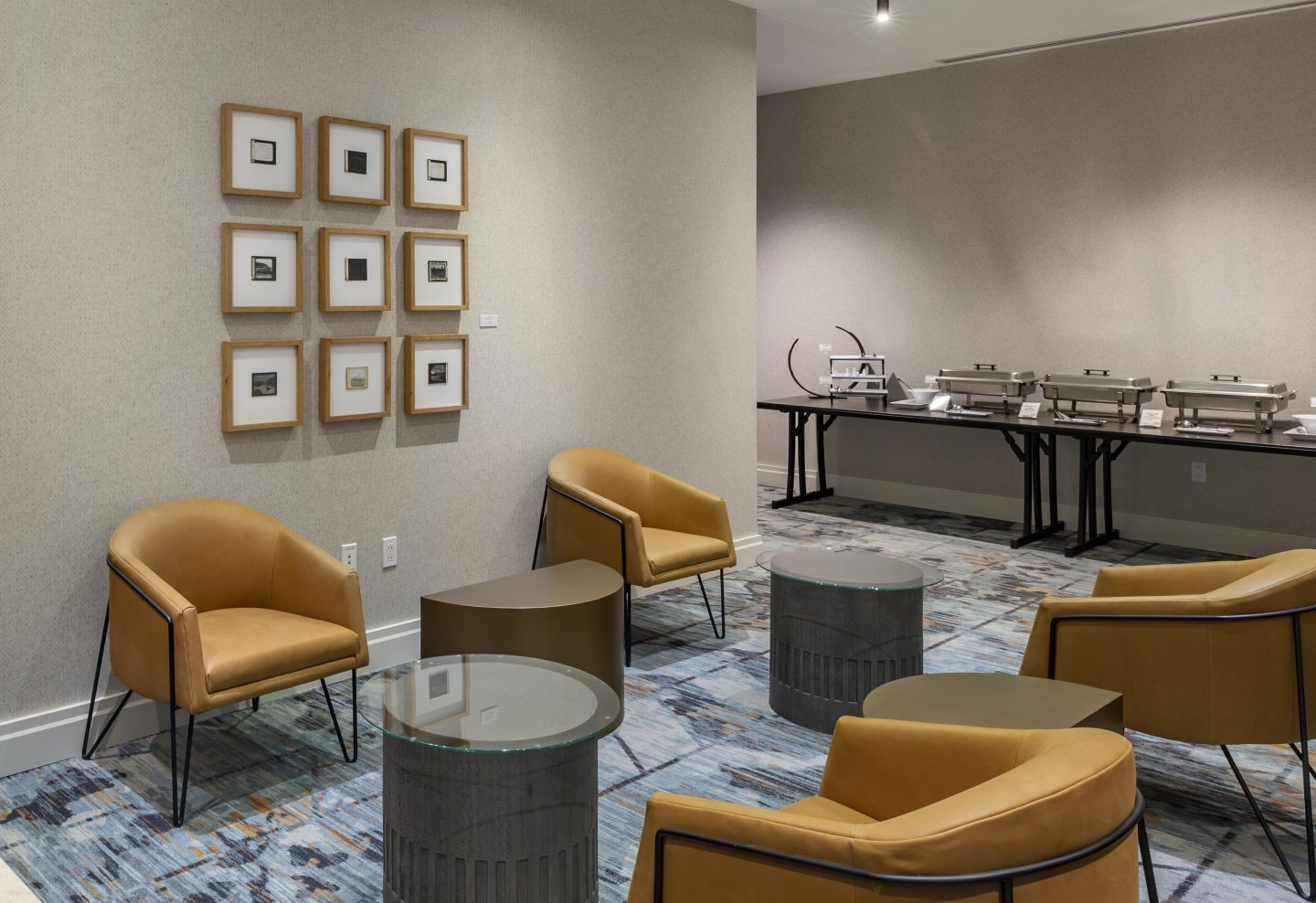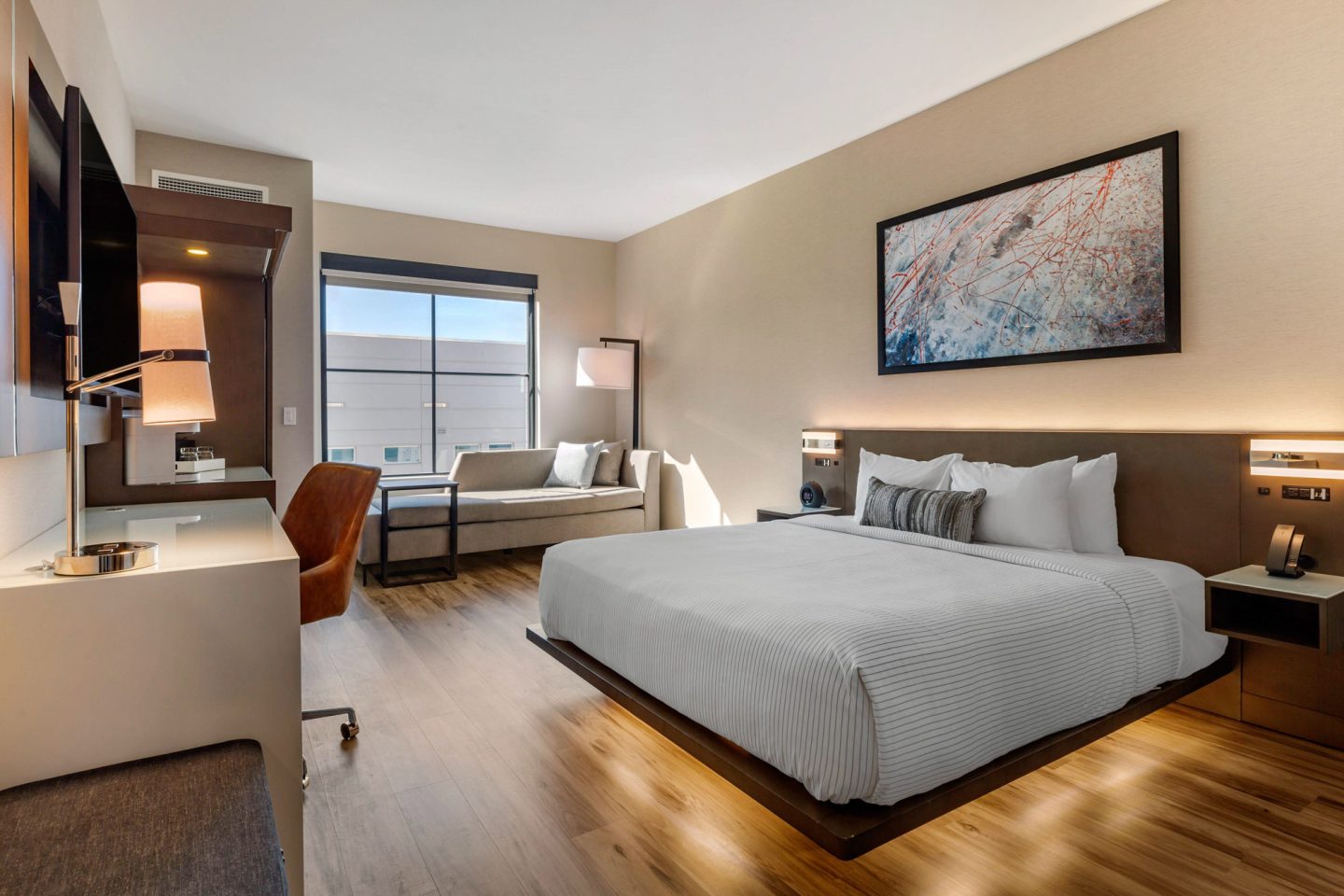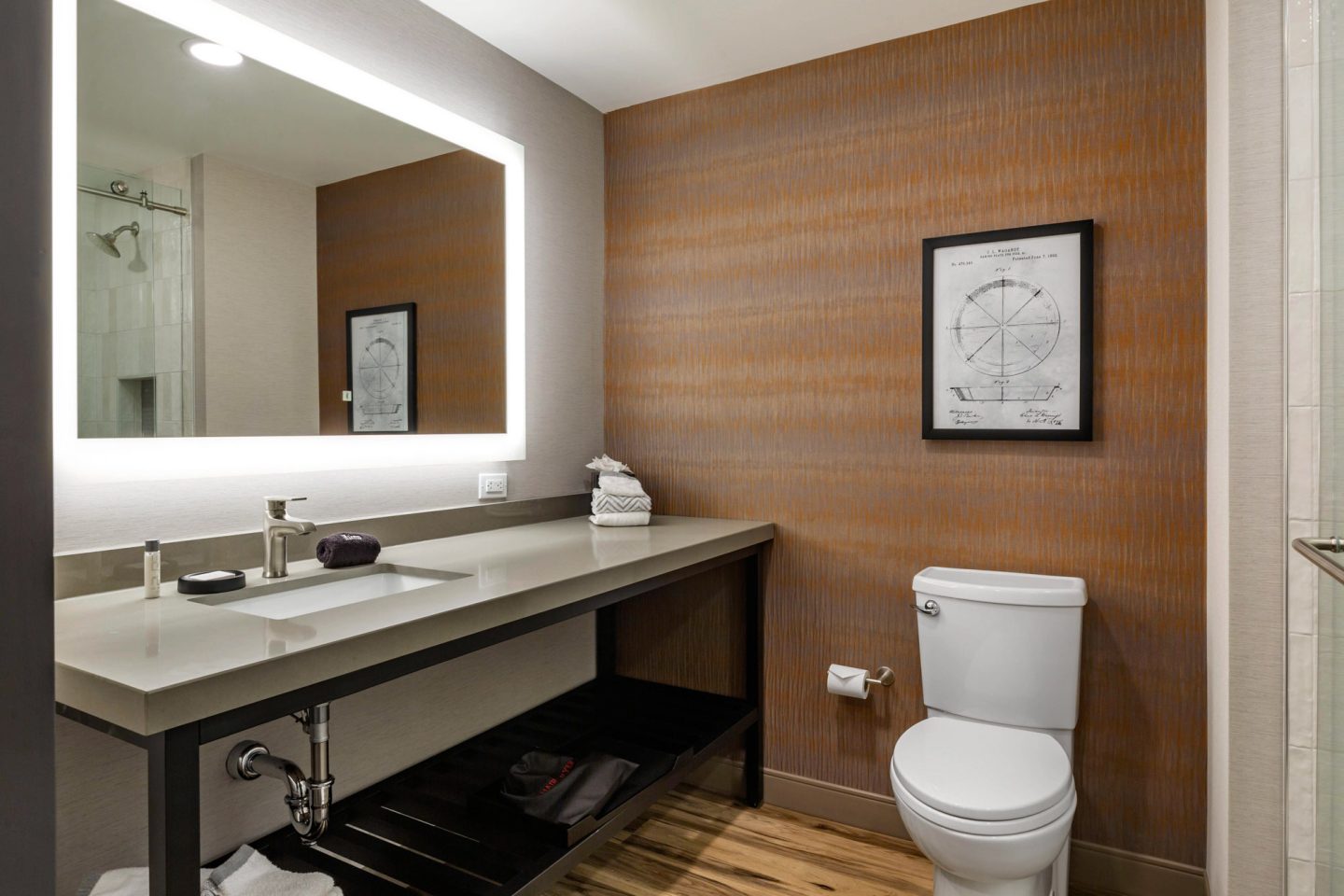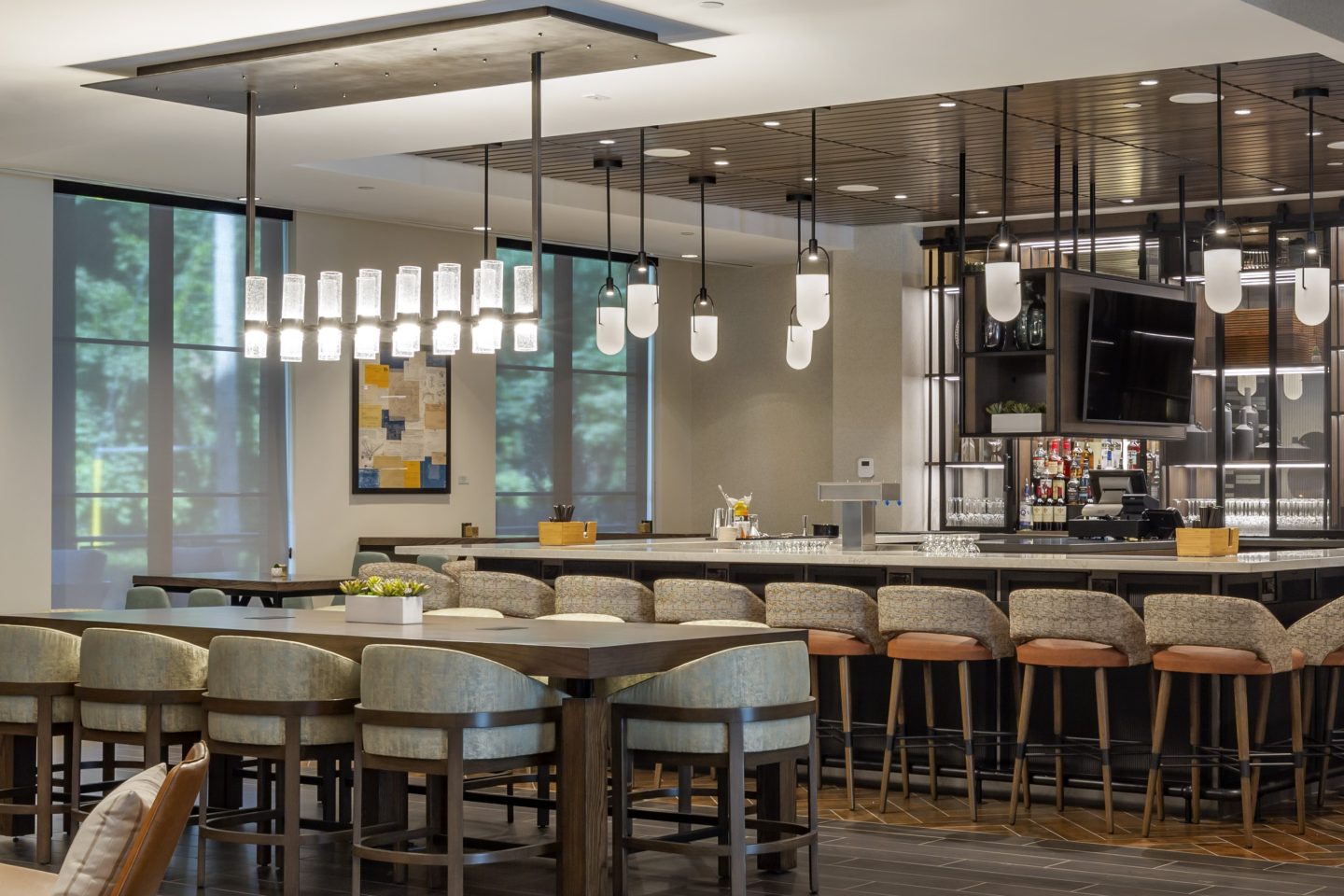 Cambria Hotel
New Haven, Connecticut
Client
HighSide Development, Choice Hotels
Highlights:
Each floor of the hotel features artwork related to a unique New Haven innovation, from the frisbee to the typewriter.

Framed patents of various New Haven inventions can be found in the bathrooms on each corridor.

The iconic lobby sculpture by David LeCheminant includes various factory tools to showcase New Haven's prominence in the industrial revolution.
Show more
The Story
Founded in 1638, New Haven, Connecticut was the first planned city in America and has grown to become the "Cultural Capital of Connecticut" – a place where innovators of all kinds have benefitted from the city's emphasis on education, healthcare, and economic development. 
The art collection at Cambria New Haven aims to reflect the city's historic roots, deconstructing the past in order to reconstruct the present and imagine an even brighter future. Featuring local and national artists, the contemporary yet eclectic collection utilizes various media and textures to spark curiosity, conversation, and connection.  
Visitors are welcomed by "Industrial Revolution Redux," a 150+ lb sculpture by David LeCheminant in the lobby, which includes references to clocks, carriages, and general factory tools like tension pulleys, grills, and stampings. Made of wood and adorned in bright red paint, the sculpture's design elements also reference the "Art Deco" movement that was heavily influenced by the machine age. 
Nearby, local artist Liz Antle-O'Donnell's linoleum print and paper collage, "Turning Home," pays homage to a historic New Haven home, featuring more than 200 hand-drawn images, each hand-carved into a linoleum block to create this intricate, mesmerizing piece. 
And just behind the reception desk sits "New Haven Innovation Installation" by emerging local artist Molly Gambardella, a 3-panel piece composed of unique found objects organized in the layout of The Green, a popular park in New Haven. Objects include typewriter pieces, clock parts, tools, toys, and more, each honoring New Haven's working class community and continuous innovation. Guests can also enjoy Gambardella's collage of blueprints related to New Haven in the hotel's restaurant and bar area. 
"As a fourth generation New Haven resident I was really excited to hear that you all wanted an installation behind the reception desk that speaks to the incredible amount of innovation that has come out of this city…The process took far longer than the length of this video, but it shows the important stuff: working with my hands and learning new things." – Molly Gambardella
Other highlights in the collection include a salon wall of Ida Barney prints, an American astronomer best known for her 22 volumes of astrometric measurements on 150,000 stars. As one of just a few women in the field of astronomy, the artwork pays tribute to Barney's important contributions to astronomy maps, measurements, drawings, and books.
And what's especially unique about the hotel is that each guest may have a different art experience depending on the floor in which their room is located. That's because each floor features artwork curated intentionally around a New Haven invention, from the cotton gin (level 2) and rubber (level 3) to the frisbee (level 4), the lollipop (level 5), and the portable typewriter (level 6). With patents of each innovation in the bathrooms and related prints and artifacts throughout the corridor, guests who stroll through the hotel will be educated and inspired about New Haven's many innovative pursuits. 
Show more