Go Back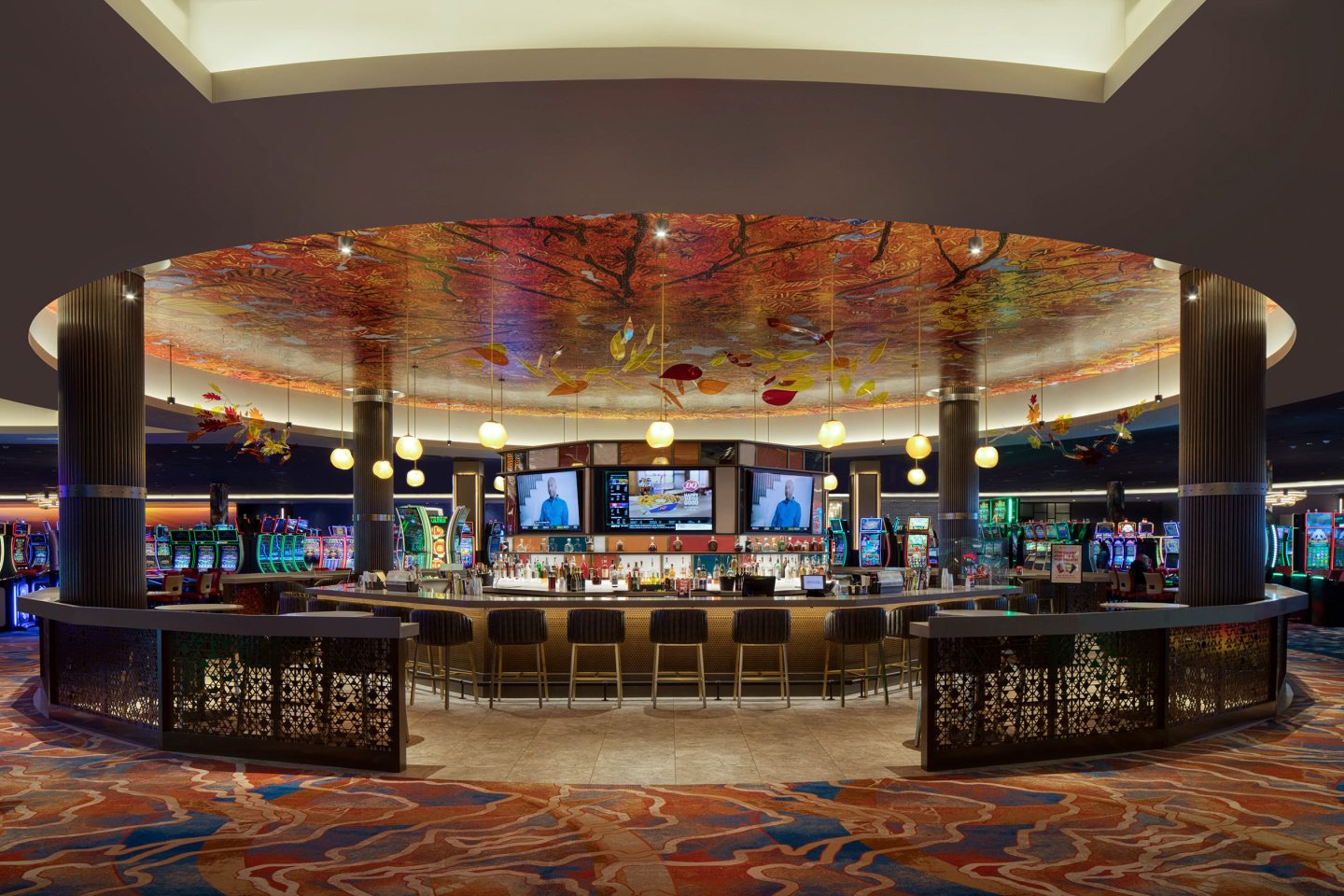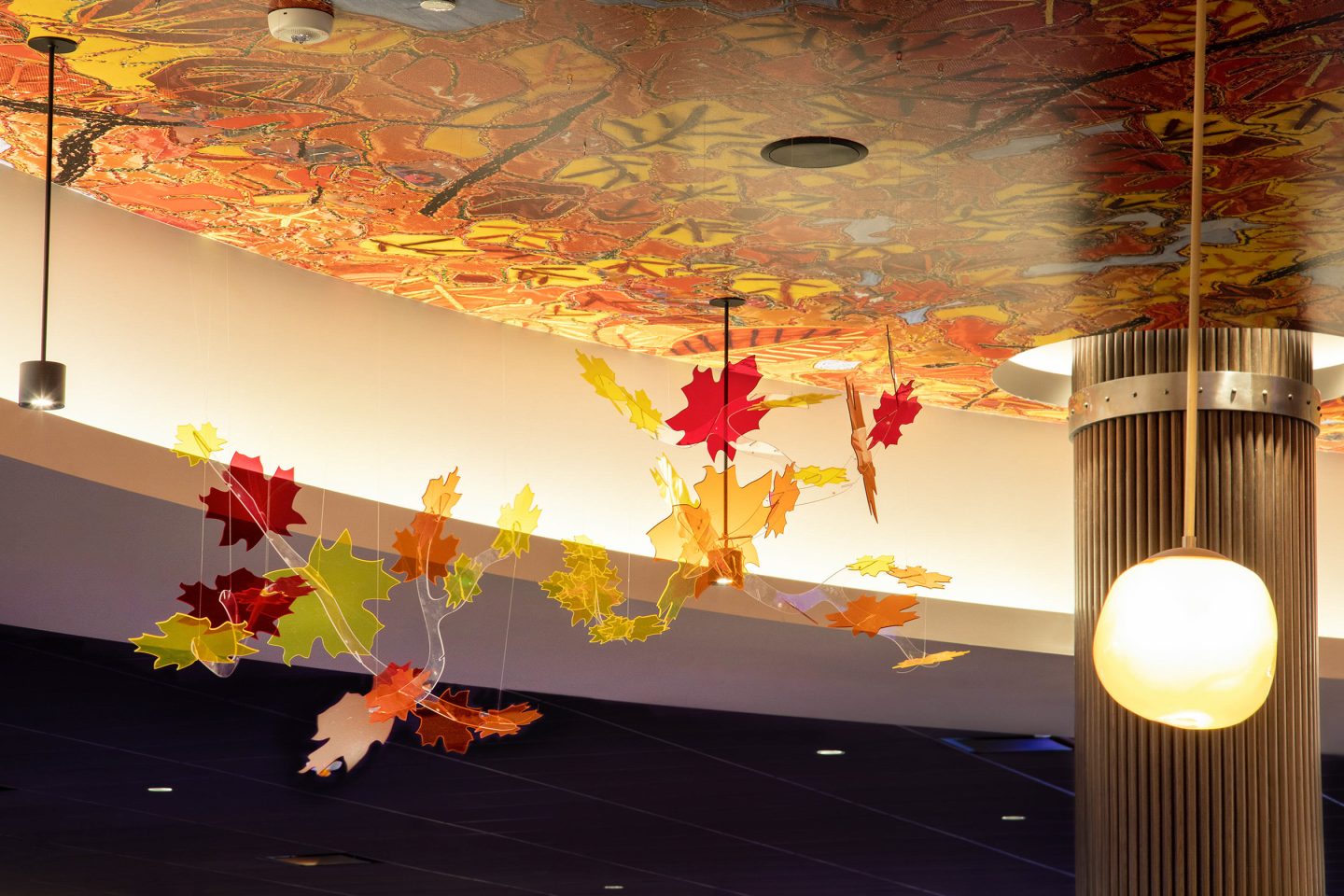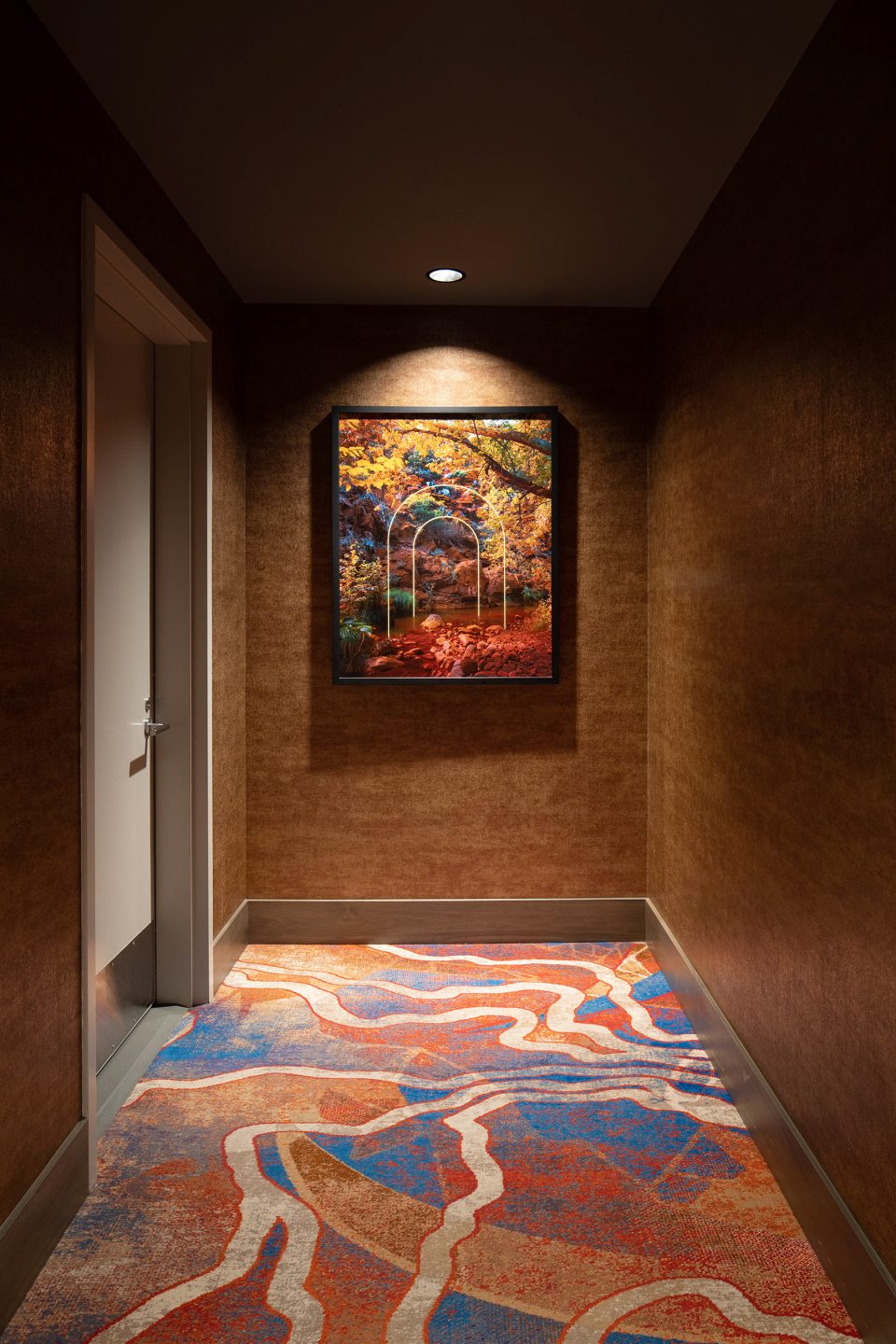 Resorts World
Hudson Valley
Newburgh, New York
Highlights:
Curated artwork across 60,000 square feet of casino and entertainment space

The casino's 360 bar features a massive ceiling mural and suspended sculptural leaves by Natalya Khorover and Rachel Urkowitz.

Two photographic wall vinyls wrap the curved walls and lean into the "fire and water" theme of the casino's architecture and design.
Show more
The Story
Just 60 miles north of Manhattan, Resorts World Hudson Valley is the latest entertainment attraction in Newburgh, where guests can enjoy a completely digital casino and an equally impressive immersive art experience. Featuring warm tones, vibrant colors, and a variety of textures and mediums, the local art program reflects the area's iconic fall foliage and nods to the  "fire and water" theme of the casino's architecture and design. 
In addition to fine art prints throughout the corridors, restrooms, and high rollers club, the property showcases a major mixed-media installation and two photographic wall vinyls that set the tone for an engaging experience. The wall vinyls feature enlarged photography by New York artists Bentley Porter and Scott Snell – one exhibiting vibrant fall leaves and the other showing a mesmerizing morning sunrise over a bridge on the west bank of the Hudson River. 
At the 360 bar in the center of the casino, local artists Natalya Khorover and Rachel Urkowitz created an engaging installation that evokes the feeling of standing underneath a tree canopy, drawing people to the bar for conversation and connection. The installation began with Natalya's mixed media artwork, "Golden Canopy," made of single-use plastic and thread. "I strive to use materials which would be condemned to the landfill and use the unusual techniques of stitching and sewing to bring my artwork to life," Natalya said of her work. 
In addition to gifting the original to the casino, Natalya's mixed-media piece was then digitized and enlarged to fit the casino ceiling, totaling 56 feet in diameter. Hanging from the ceiling is Rachel's installation, "Organic Chemistry," which features suspended acrylic leaves hanging at each of the corridor openings, where casino carpets lead visitors to the bar. Acrylic maple, birch, and oak leaves hang from fishing lines to give the appearance of floating and to capture "fleeting moments, like the movements of a falling leaf or the light filtering through the treetops," Rachel shared.
Altogether, the art experience at Resorts World Hudson Valley leverages local talent to reflect the area's famed fall foliage and produce an entertaining destination that will keep guests coming back.
Show more