Top 4 Art and Culture Trends for Commercial Developers in 2022
At NINE dot ARTS, the changing of years means reflecting on past projects and setting goals for the future. But this year especially, it means leaning on art and culture to envision a post-pandemic world. Findings from our 2021 State of the Art Report embolden us, because more leaders across industries are recognizing the value of art in their businesses and in society at large. 96% of the professionals we surveyed believe art improves the experience and quality of life for those who interact with it. And 94% say their commercial projects would be less successful without art. From these findings and our curators' expertise, we are predicting four post-pandemic trends for 2022, and sharing ways that commercial developers can leverage them through the power of art and culture.
Trend #1: Multifunctional Public Spaces
According to C-suite commercial leaders on our Dot Dot Dot podcast, amenities that were once considered lavish luxuries are now becoming customer demands. One such amenity that rules in this area is open, multifunctional public space where connections can flourish, yet safe distancing is possible. And according to our partners at Gensler, the act of designing to promote social distancing can actually make spaces more hospitable, adaptable, and agile; allowing for multiple forms of civic engagement. Fortunately – whether a residential lobby, hotel rooftop, or community plaza – art is a memorable way to enhance public space and foster the kind of safe socialization that people are seeking.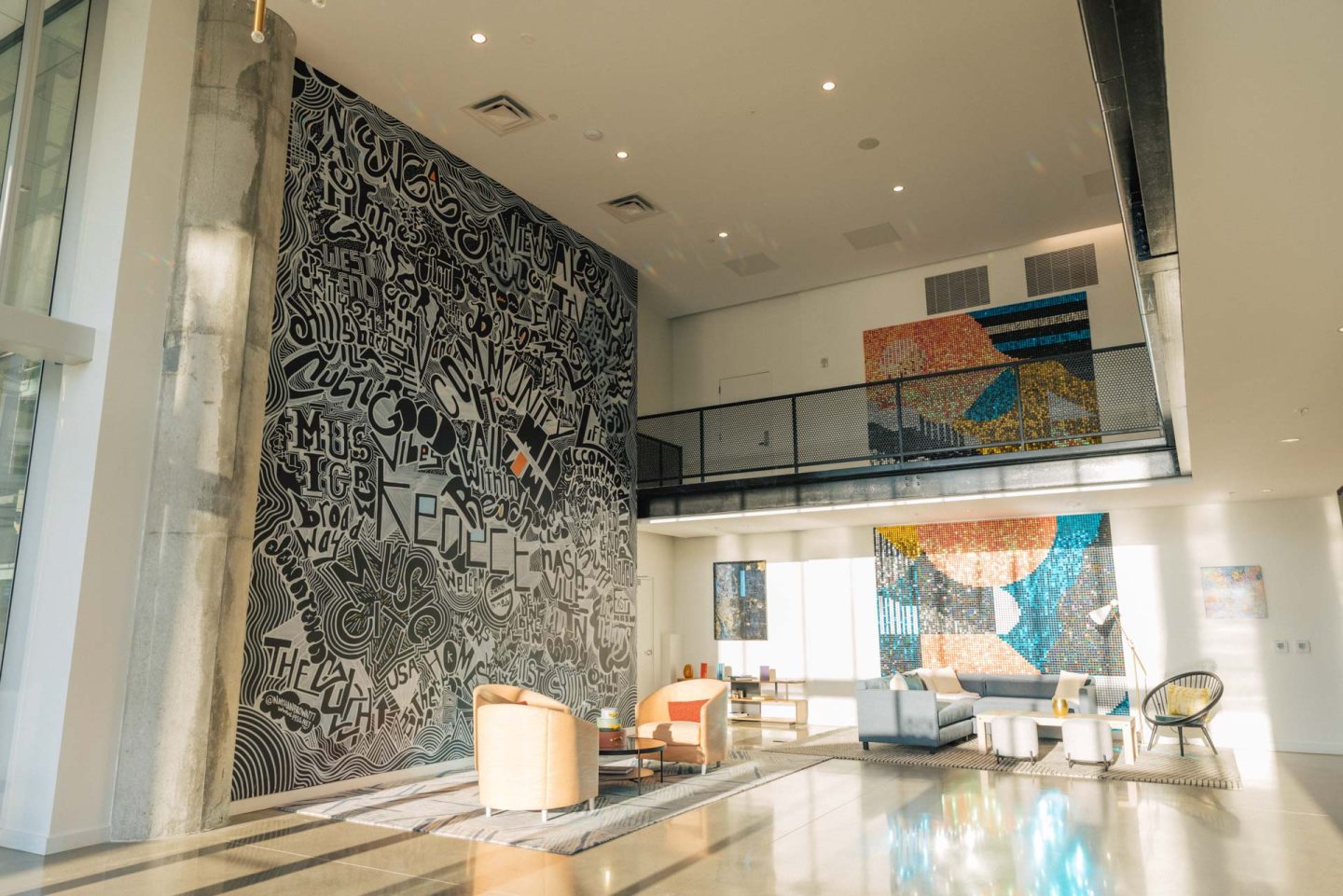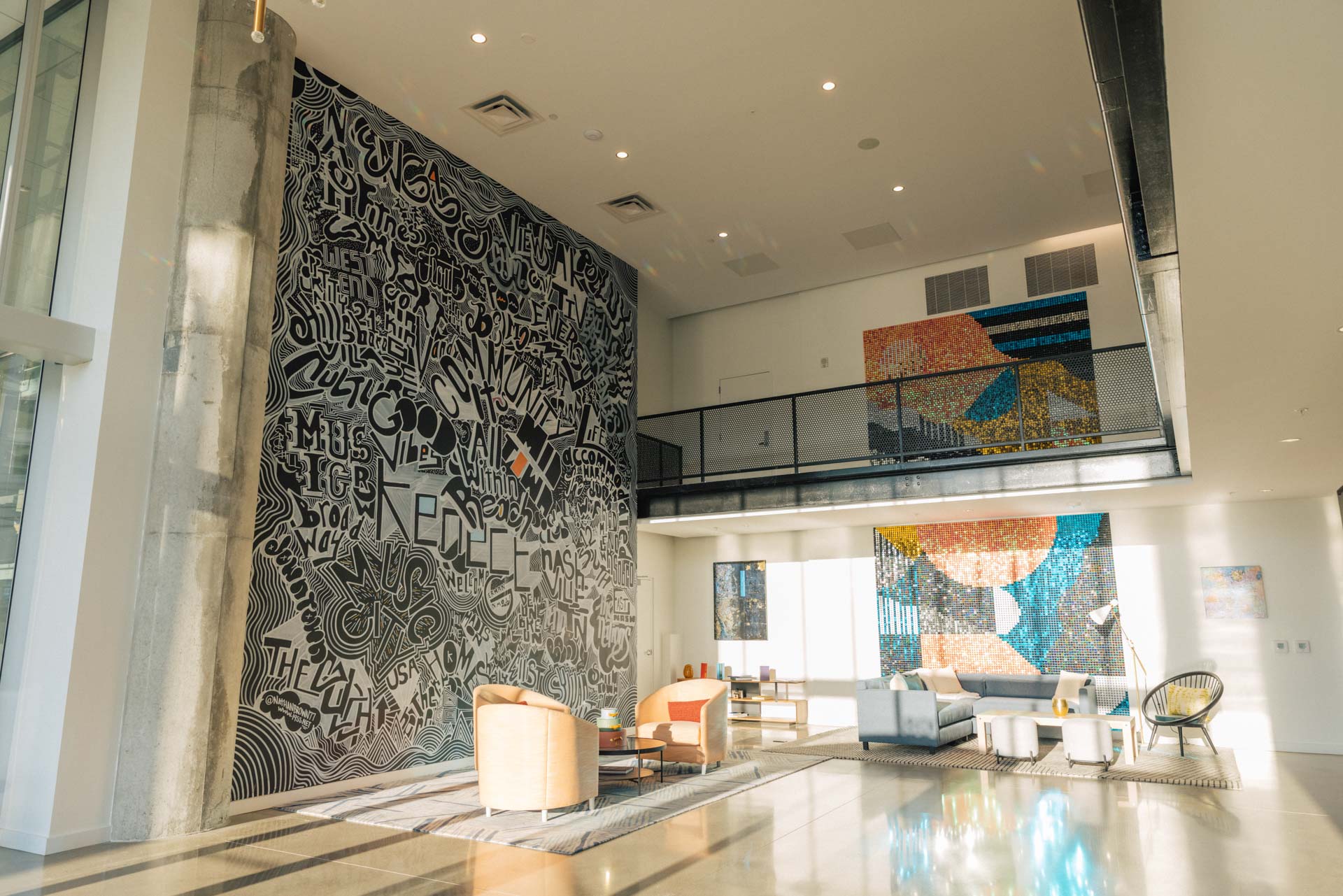 Take Kenect Nashville, a new mixed-use residential property in the heart of the city's art and cultural scene. The goal of the art collection was to create a sense of community and cohesion throughout the property's several open areas including the lobby, coworking space, and rooftop clubhouse. Upon entry, guests are greeted by Kong Wee Pang and Jay Crum's 19-foot-high sequined mural, which stretches two floors and beckons visitors further into the space. Lobby murals by Nashville artist Nathan Brown create a whimsical sense of movement that both awakens the space and encourages visitor engagement. With phrases like "Life accommodated" and "It's all within reach," one mural evokes ease and adventure, providing the perfect backdrop for residents to meet, share ideas, and set out on their next big night in Nashville. Altogether, the collection leverages Kenect's innovative use of open space, encouraging the kind of community gathering that will be highly sought after in 2022.
Trend #2: Art with Impact
Based on our State of the Art Report, 2022 is going to see a lot of "big" art. Developers are expressing a preference for original artwork, murals, and sculptures, with a strong intention to support local artists in their community. The trend toward open, collaborative spaces certainly complements the need for large artwork and explains the influx of murals, sculptures, and interactive works that our curators have been including in the latest commercial projects. These pieces serve as local landmarks and wayfinding tools, meanwhile fostering dialogue and discovery among visitors. And when such artworks are reflective of the local community, they make a big impact, too.
The Rally Hotel in Denver's famous McGregor Square features an 8-foot-tall interactive sculpture, "The Machine," by local artist Peter Yumi. With 36 patterned blocks that visitors can touch and spin, the piece encourages curiosity, playfulness, and even a nostalgia for childhood. It's a prime example of the trend toward large, interactive artwork that attracts and engages viewers without using digital technology.
And when curated with the local community in mind, big artwork can also create a big social impact. NINE dot ARTS partnered with Sage Hospitality Group, Stormont Hospitality Group, and the University of North Carolina Charlotte (UNCC) Foundation on the UNC Charlotte Marriott and Conference Center, which features a 490-piece art collection made primarily by UNCC students, faculty, and alumni. The collection features a 30-foot high tapestry-like mesh mural by Maja Godlewska, a UNCC Professor of Painting; two 7-foot tall sculptures inspired by academia and the North Carolina piedmont region by Charlotte-based artist Jonathan Pellitteri; and several other large, mixed-media artworks. Beyond being visually engaging, the art collection uplifts local artists whose work has made both the city and the university what it is today. It demonstrates a commitment to the local community, which isn't just good morals – it's good business. Commercial developers will do well to incorporate art with impact in 2022, thinking big and thinking local to generate both goodwill and good press.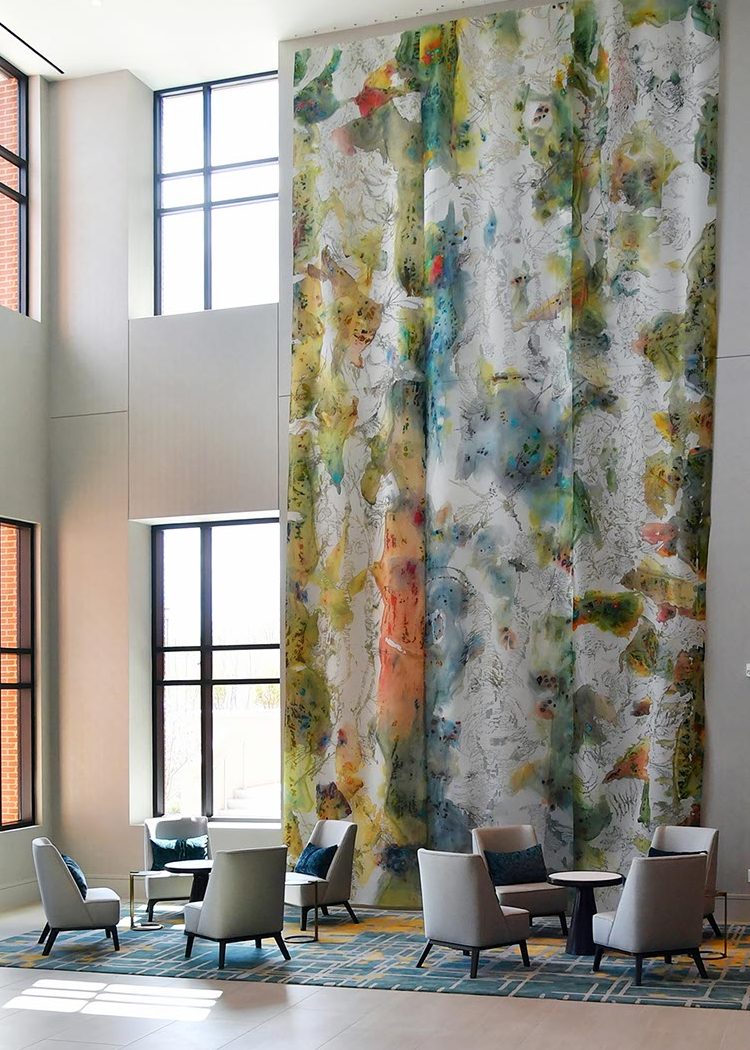 Trend #3: Communicating DEIB Values
Diversity, equity, inclusion, and belonging (DEIB) are being discussed in every job sector across the country. In 2022, many companies will be navigating how to best communicate – and live up to – their existing, new, or increased DEIB commitments in sincere and authentic ways. According to our State of the Art Report, one way to do this is by investing in art that reflects these values. 88% of respondents believe it is good business to celebrate diversity, equity, and inclusion as part of their commercial projects, and nearly 70% strongly agree that art's goal is to build social and cultural capital.
Such findings are supported by projects like Catbird, Denver's newest extended-stay hotel in the famous RiNo Arts District. Our team curated artworks that would showcase diversity in both the artists represented and the subject matters depicted. Vibrant portraits highlight the strength and resiliency of people of color, from everyday individuals to cultural icons like Biggie Smalls. The exterior mural by multidisciplinary local artist Moe Gram portrays influential Denver activists who have worked to combat gentrification and honor their neighborhood's integrity. And on the rooftop, Kenzie Sitterud's "Future Seat" sculptures combine stacks of colorful chairs to express the importance of women and LGBTQIA+ people having a seat at the table. Together, the collection explicitly communicates company values, meanwhile distinguishing Catbird as both the "place to be," and a place where everyone belongs.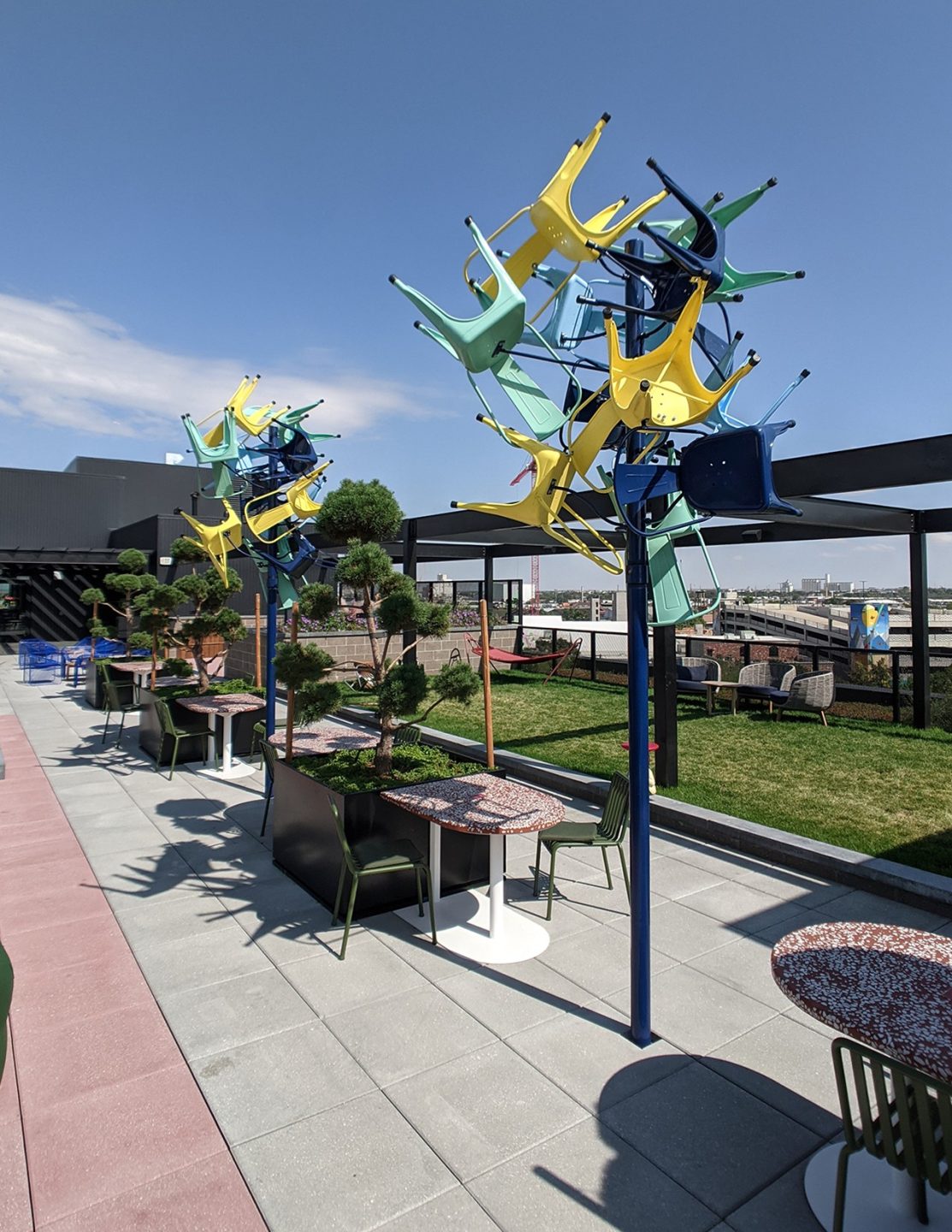 Trend #4: Creating Authentic Experiences
As SAGE Hospitality Group CEO Walter Isenberg said, "Placemaking is significant because the customer demands it. They want to go somewhere interesting, and they're interested in experiences." But to create memorable experiences, commercial developers must think beyond what is visually appealing to what is authentically compelling. Sure, the increase in social media has given rise to "instagrammable moments," but it's also helped consumers become more discerning about what is genuine, what has meaning, and what makes them feel connected to something larger than themselves.
Such is the concept behind our curation of Denver's Dairy Block Alley, the city's first pedestrian walkway that integrates ten site-specific public art commissions in the length of one city block. The activated alley features vibrant paintings, sculptures, an interactive walkway, and more; providing pedestrians an immersive escape in the midst of the busy LowerDowntown neighborhood. Murals and a poetry wall were produced through partnerships with the Colorado Crush Mural Festival and Lighthouse Writers Workshop's WriteDenver Program, engaging the community in the project's development while building momentum and excitement for the Dairy Block itself. The collection's thoughtful storytelling pays homage to the original Windsor Dairy and "the maker," honoring chefs, musicians, artisans, and others who forge ideas into being and foster community in their creations. Altogether, the artwork at Dairy Block captures the authentic, experiential quality that people are seeking, creating a feeling they remember that entices them to visit again. Winning the Urban Land Institute's 2021 Americas Award for Excellence, the Dairy Block uses art and culture to capitalize on all four trends: demonstrating exceptional use of public space and art with impact to communicate city values and create an unforgettable, authentic experience.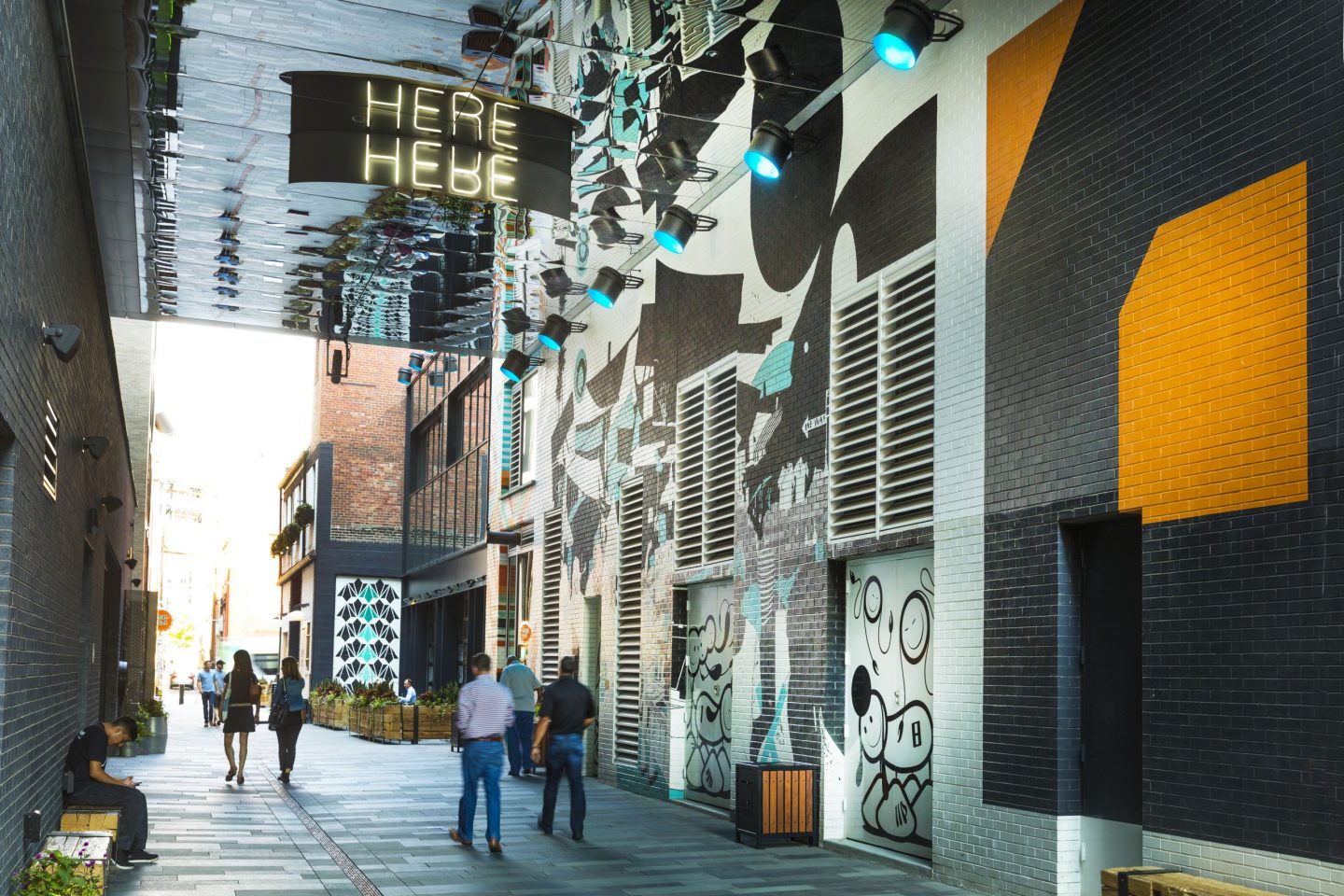 The NINE dot ARTS Difference: Meaningful Art Consulting, Curating, Community Planning, and More
As curators, we conceive next-level art collections. But as consultants, we curate collections that make a meaningful social impact. It's clear from our project history and our 2021 State of the Art Report that more commercial developers are understanding this value and thinking beyond visual aesthetics to set themselves apart. Leveraging 2022 trends through the power of art and culture will both distinguish commercial partners in an increasingly competitive marketplace and build community spirit in the years to come.