Earth Day Artists to Watch: 8 Creatives Raising Environmental Awareness 
This Earth Day, we're celebrating 8 artists whose work supports sustainability and environmental conservation. Thanks to these individuals and so many others for leveraging your creativity toward eco-friendly installations that help raise environmental awareness and inspire positive change!
1) Eric Dallimore and bunny M – The Ghost and the Scholar
This iconic installation hangs from the ceiling of Citizen Apartments and was made from an upcycled excavator arm, featuring sculptural porcupine quills made of sustainable Colorado beetle wood.
2) Kenzie Sitterud – Future Seat
These colorful sculptures at Catbird Hotel reflect the intersection of diversity, inclusion, and environmental awareness, using chair-piled, tree-like monuments to depict the idea of having a "seat at the table."
3) Gillie and Marc – Come Out, Come Out Rhino, Wherever You Are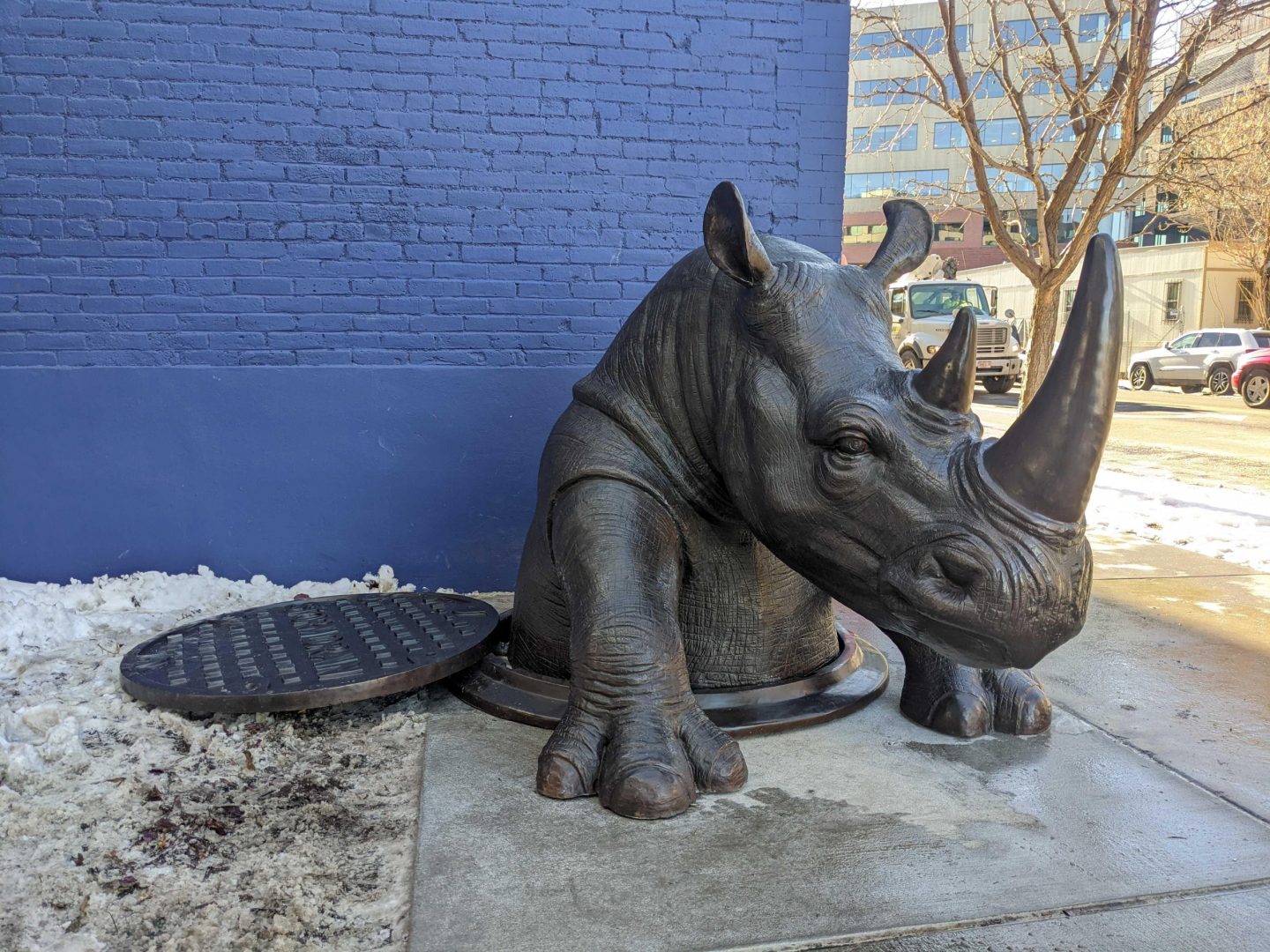 Also at Catbird Hotel is the 992-lb sculpture which features a rhinoceros peeking out of a city manhole, nodding to humankind's harmful effects on endangered animals. The installation is part of the artists' broader #LovetheLast Project, a social movement driven by public art to raise awareness, funds, and support for endangered species.
4) Samuelle Green – Bloom 5
Made primarily of recycled book pages, Green's wall sculpture at Element Hotel was inspired by the "details we pass by everyday and often do not give a second thought to – a beehive, a bird's nest, or a spider's web."
5) Pam Fortner – Untitled Custom Wall Installations
At Block 162 Offices, Fortner's repurposed installations made of vintage textbooks and encyclopedias span nearly six feet of wall space and create an engaging backdrop for the amenity lounge.
6) Molly Gambardella – New Haven Innovation Installation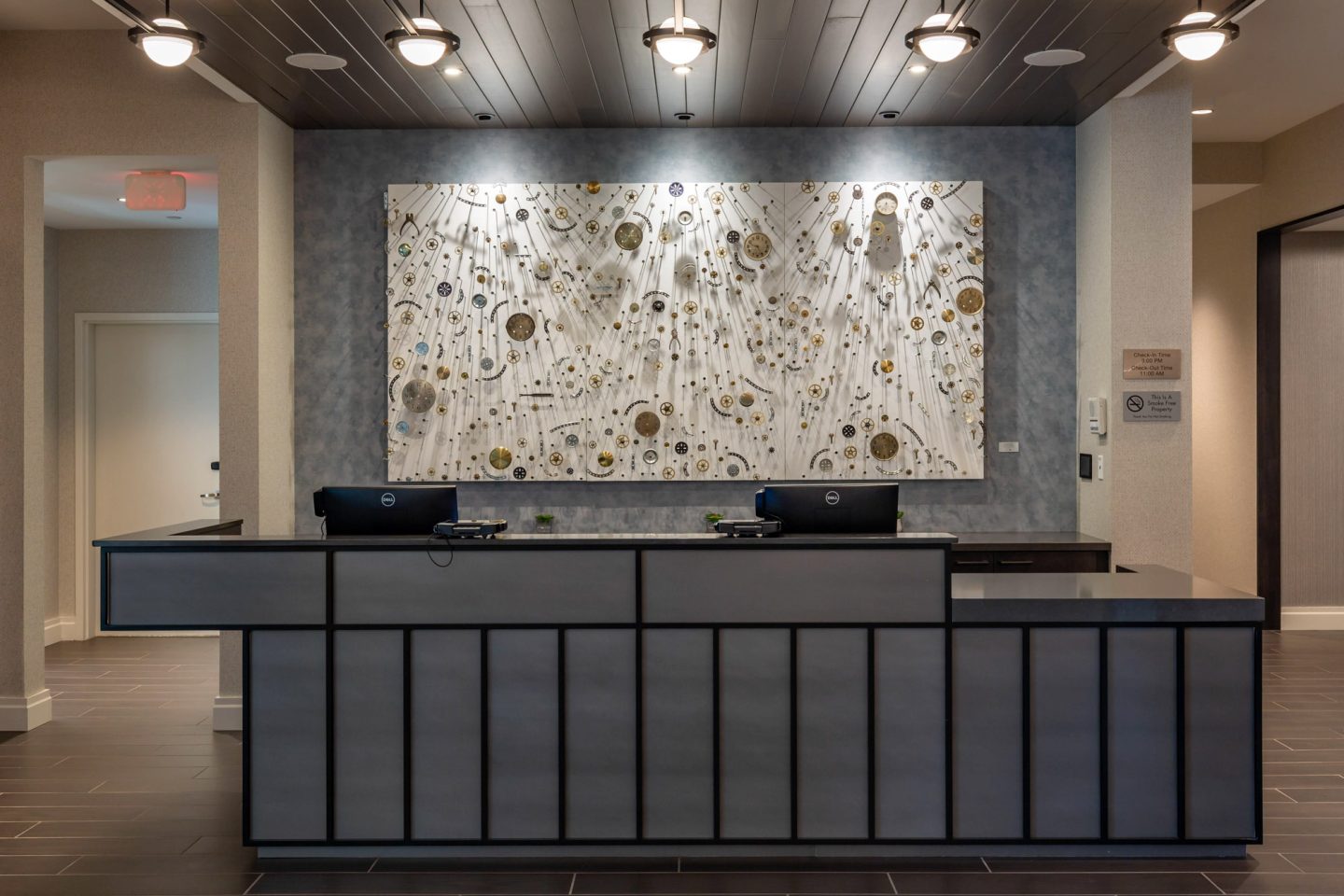 At Cambria New Haven Hotel, the reception area boasts this 3-panel installation composed of unique found objects organized in the layout of The Green, a popular park in New Haven. Objects include typewriter pieces, clock parts, tools, toys, and more, each honoring New Haven's working class community and continuous innovation. Check out this behind-the-scenes video of the artwork creation!
7) Natalya Khorover – Golden Canopy
At the 360 bar in the center of the Resorts World Hudson Valley Casino, visitors experience a vibrant ceiling installation that evokes the feeling of standing underneath a tree canopy. The artwork began with Khorover's mixed-media piece made of single-use plastic and thread, which was later digitized and enlarged to fit the casino ceiling, totaling 56 feet in diameter. "I strive to use materials which would be condemned to the landfill and use the unusual techniques of stitching and sewing to bring my artwork to life," Khorover said of her work. Watch her behind-the-scenes creation of Golden Canopy here!
8) Nicole Salimbene – Venture Tapestry
For the venture and growth equity firm Norwest Venture Partners, Salimbene created a colorful "tapestry" made of repurposed magazine pages from leading journals in the business world like Forbes, Fast Company, and Fortune. Rolled, bound with wire, and threaded together, pages containing business news and glossy advertisements become reimagined into a unique composition of color that encapsulates the viewer. Salimbenes art exists "at the intersection of poetics, psychology, environmentalism, and contemplative practice, aiming to provoke self-inquiry and dialogue regarding social issues."