How to Maximize Your Art Budget
Download this free resource!
After more than a decade of developing art experiences for our partners across the country, we know firsthand the challenges developers face when it comes to budgeting for a project. And with today's unpredictable shipping delays and soaring prices for oil, transportation, construction, and materials, things add up fast. So how do you allocate money for a next-level art collection?
That's where we come in. Using the strategies below, our team of specialists can help you make the most of your art budget, culminating in a one-of-a-kind art experience that captivates audiences without breaking the bank.
Tip #1: Start Early
According to our State of the Art Report, only 18% of business professionals say they begin thinking about art curation during a project's initial visioning, and 55% revealed they don't determine the art budget until after the architecture, design, and construction budgets are decided. Such delays may diminish the art collection's overall impact and leave the space feeling empty or dull, with art that amounts to not much more than a decorative afterthought. And trust us, when this happens, people know it.
To avoid this mistake, we recommend thinking about art early in a project's development, at about 60% of schematic design completion. This means the project has a rough construction drawing that depicts basic features and construction elements. At this point, we can begin thinking about any necessary engineering and structural support for major art locations, as well as how to best integrate artwork with lighting, architecture, and design.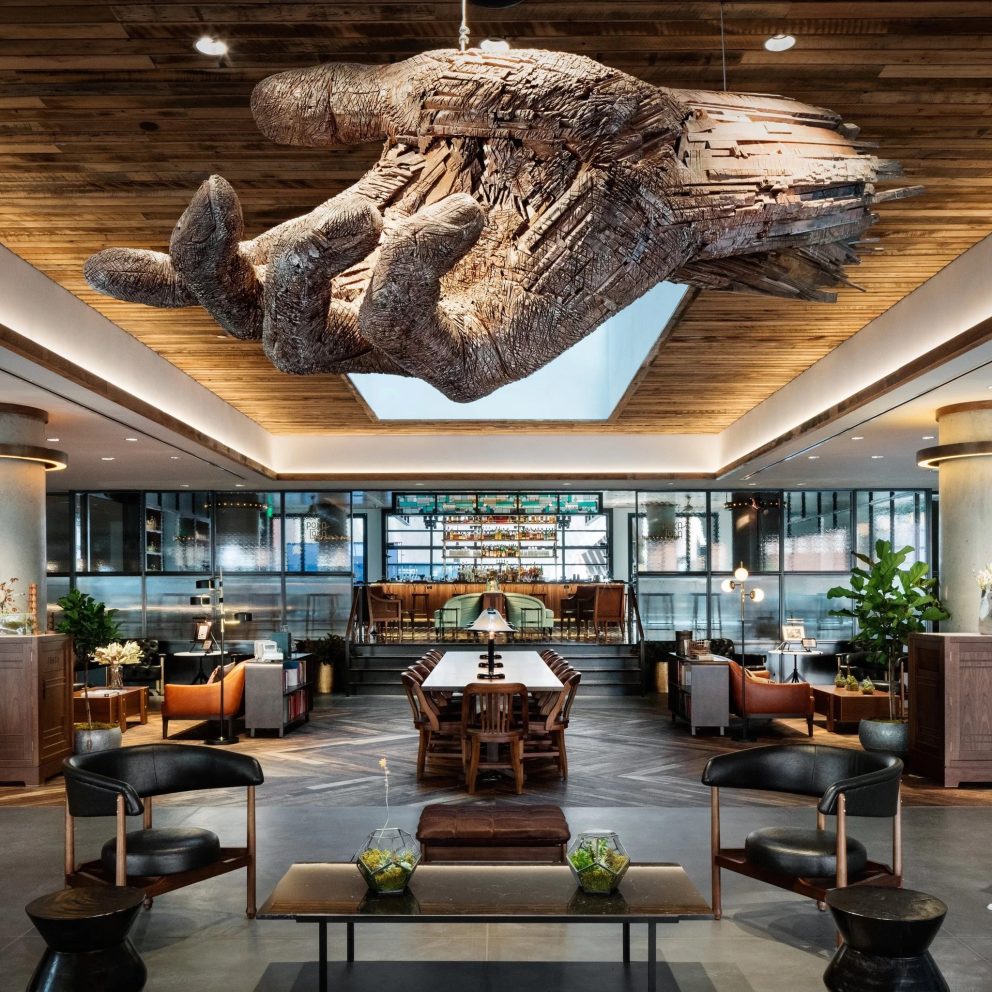 Consider The Maven Hotel's famous wooden hand, a 500-pound sculpture by artist Andrew Tirado that hangs from the lobby ceiling. Not only does the installation wow visitors upon arrival, but it's become a staple of the Denver arts scene that distinguishes The Maven as unlike any other hospitality experience. Enormous in both size and impact, this "must-see" attraction was only possible due to our team's early collaboration with contractors and developers, who then budgeted and built for a structurally sound ceiling that would hold the sculpture's weight and ensure it hung just as designed.
Altogether, thinking about art early in a project's life cycle strengthens its overall cohesion, meanwhile maximizing budget efficiencies and creating one-of-a-kind art moments.
Tip #2: Aim for Impact
One of the best ways to maximize your art budget is to prioritize highly trafficked locations and "first impression" areas, such as exterior building facades or lobbies and entryways. Whether a hotel, multifamily development, or office space, it's important to create a sense of arrival that will quickly signal to visitors: you've entered somewhere special.
At Catbird Hotel, for example, guests are greeted by a massive, 992-lb rhinoceros sculpture entitled, "Come Out, Come Out Rhino, Wherever You Are," made by world renowned artists Gillie and Marc. Because of its strategic placement outside the property – and at the entry of the highly-trafficked River North Arts District (RiNo) – the site-specific sculpture welcomes people to both the hotel and the RiNo neighborhood, serving as a landmark installation and the perfect Instagram backdrop. The rhino has made its way into numerous social media posts, creating valuable earned media and word-of-mouth marketing for the hotel. Such benefits lead to higher rates, longer bookings, and an overall revenue boost.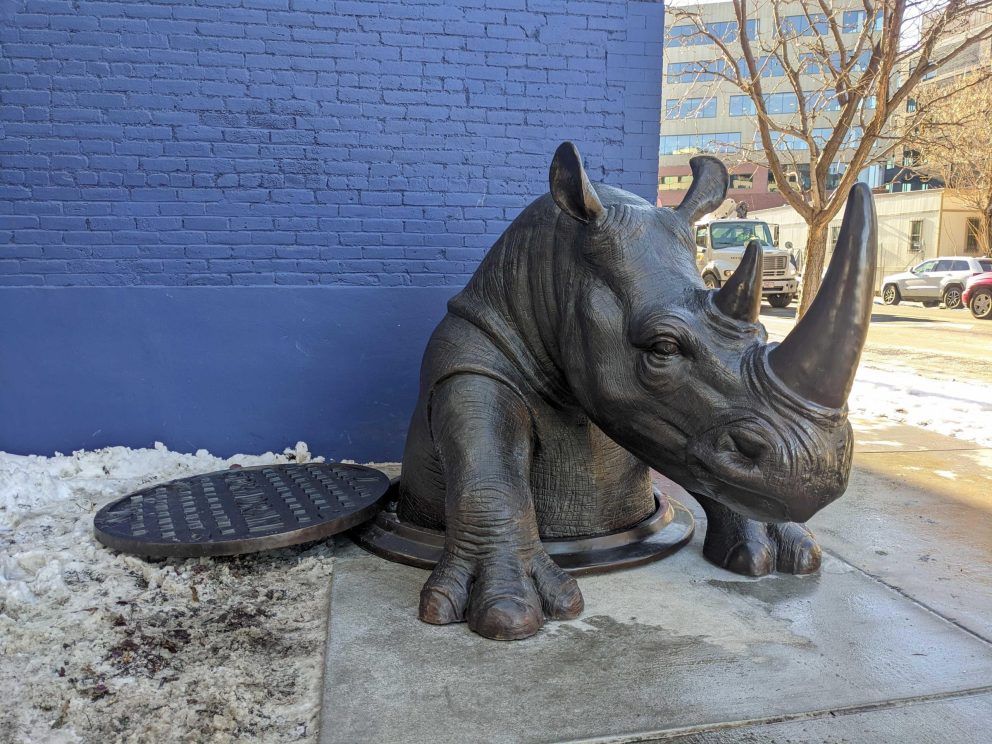 Altogether, this iconic installation is the perfect example of the benefits that come from budgeting for high-impact, highly-trafficked art moments. By dedicating a larger portion of the art budget to the rhino installation, we helped our partners at Sage Hospitality Group create an exceptional first – and lasting – impression for guests that will entice them to visit again.
Tip #3: Build Community
After creating the initial "wow" moment for visitors, it's important to budget artwork for spaces where frequent socialization and community gathering may take place. Think lounge, rooftop, coworking spaces, or exterior "break" areas. Fortunately, there are several ways to define and enhance these open, multipurpose spaces through art.
At Jackson National Life, for example, colorful deer sculptures by Mike Whiting are purposefully positioned outside the office, beckoning employees to step outside for a cup of coffee or a mid-day break.
Meanwhile, at Kenect Nashville, residents can enjoy lounging among the earthy tones of the seventh-floor clubhouse mural by Tess Davies. With quirky lines and curious patterns, the mural is suggestive of the natural landscape and complements the pool just outside.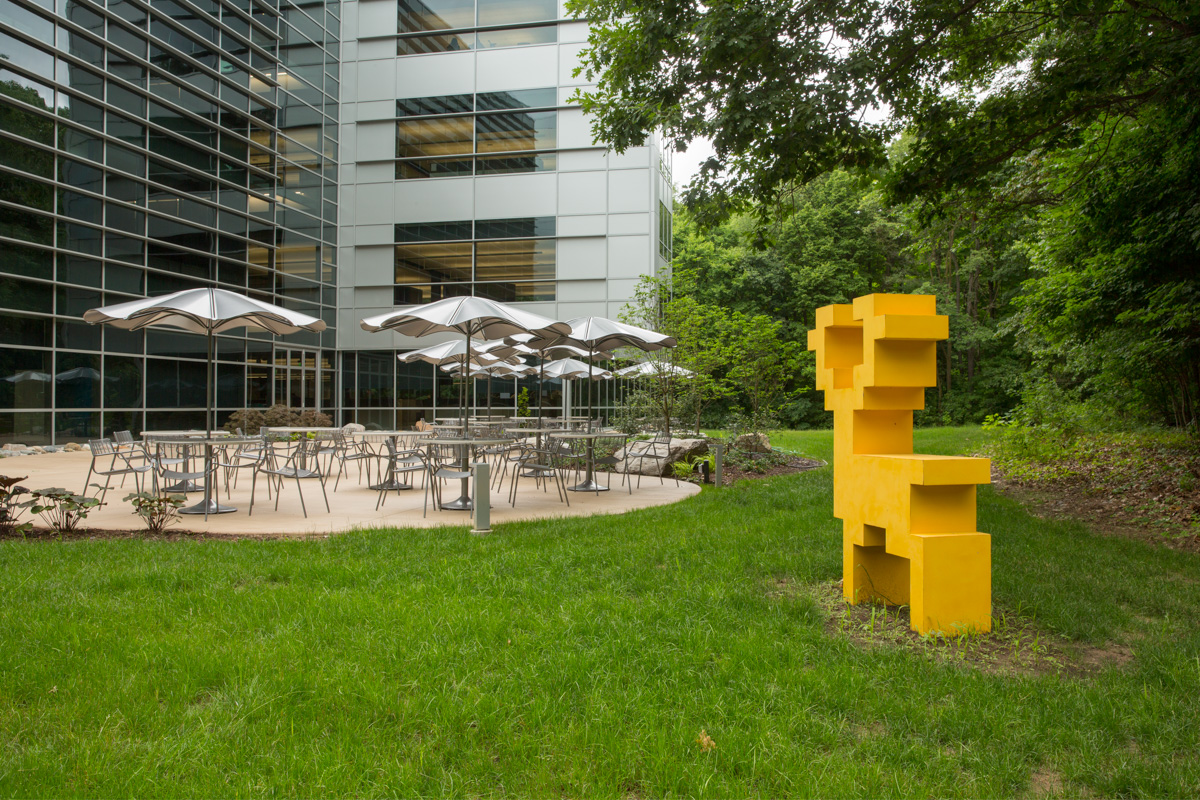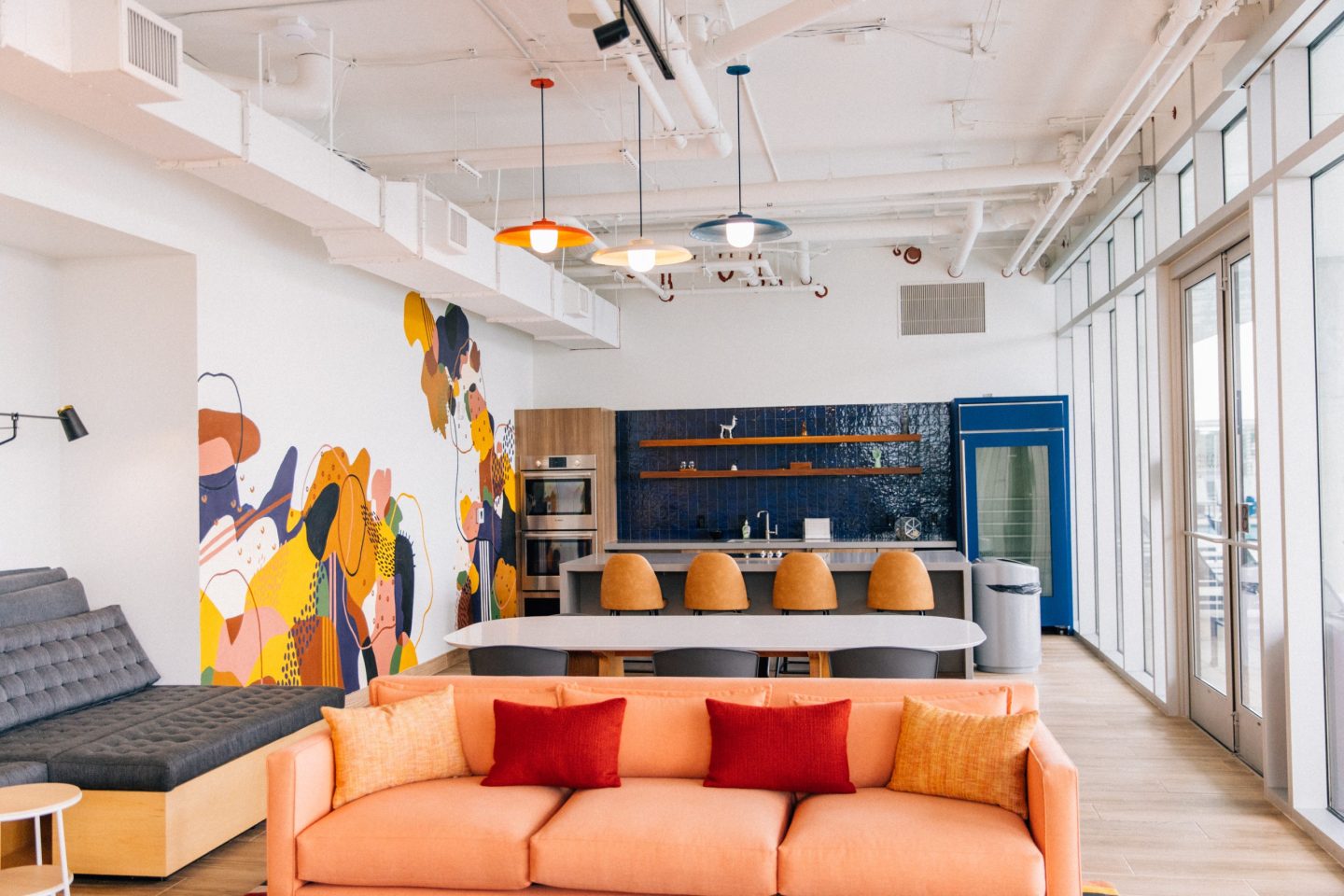 Budgeting for artwork for community-oriented spaces allows curators to strategically select pieces that will do just that – build community. From sparking conversation to becoming a popular meet-up spot, artwork can create the perfect backdrop for community connection. As placemaking pioneer Dana Crawford shared on our Dot Dot Dot podcast, "Human beings…like to gather where they feel good, and they feel good where it's beautiful. That's where the art comes in."
Tip #4: Evoke Discovery
After accounting for high-impact busy areas and community gathering spaces, be sure to allocate funds to the more intimate parts of your property, like corridors or bathrooms. Even small prints or simple shelf styling can elicit surprise and delight, helping people further connect to your space.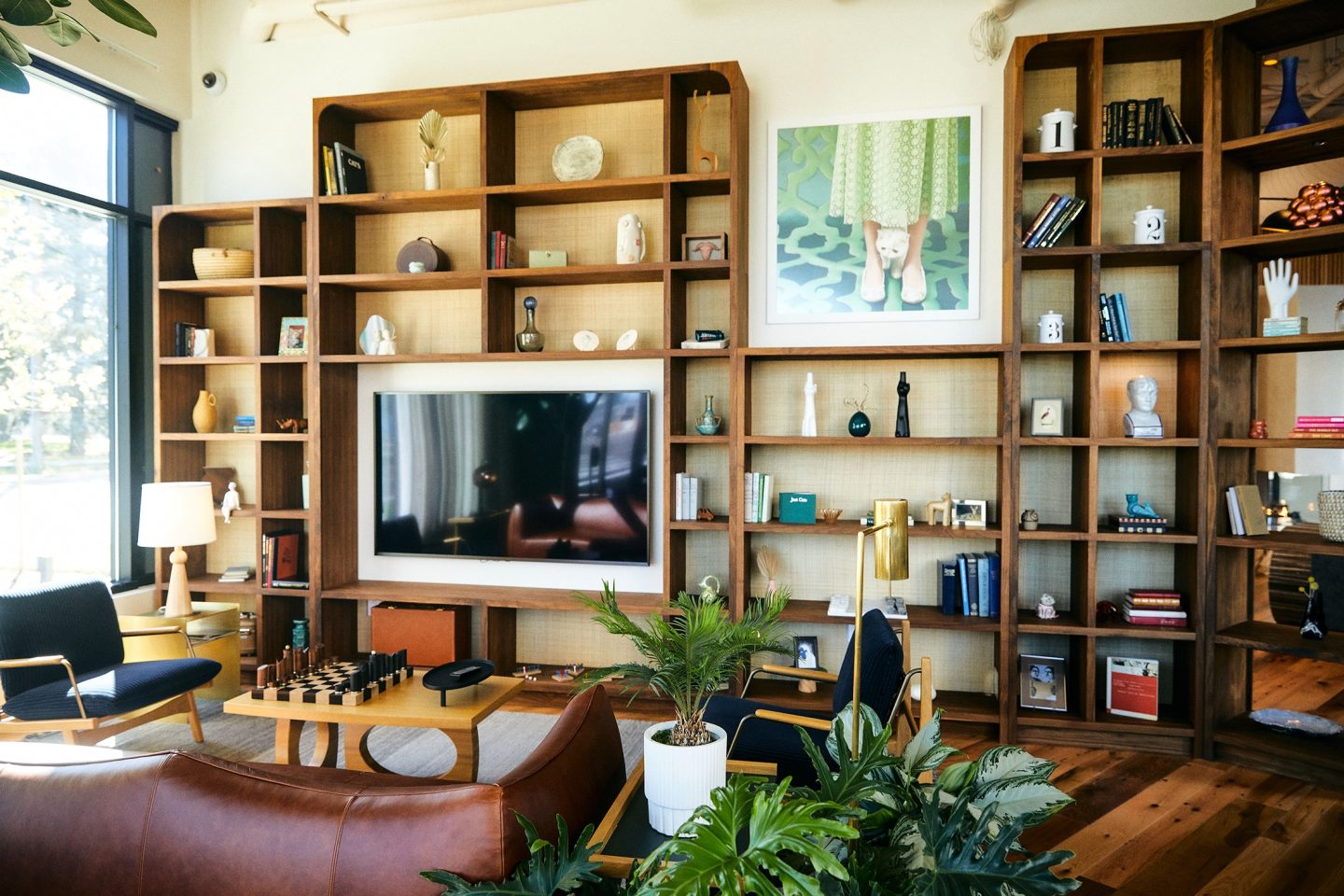 For example, our team spent nearly a year collecting eccentric antiques for the Catbird Hotel lounge, which now boasts nearly 200 curated objects – many highlighting the "cat" and "bird" motifs in honor of the property's namesake. This budget-friendly option is perfect for sparking curiosity and conservation among hotel visitors who tend to select their favorite found objects and use the styled shelves for photoshoot backdrops.
Additionally, at the senior living community Modena Reserve, we created a contemporary gallery wall that juxtaposes black and white photos of presidents with portraits of prominent female activists. Plus, we framed playbills, Life Magazines, and photographs of old Hollywood celebrities. These inexpensive artworks add a subtle yet thoughtful touch to the property's hallways and conference rooms, prompting reflection and conversation.
Tip #5: Partner with Experts
It can be both costly and time-consuming to curate artwork that stands out. But we're here to help.
Following these tips, our team of specialists can provide guidance for maximizing your art budget to make the strongest impact. And by starting early, we create spaces for bold, iconic artwork that would be impossible anywhere else. After all, 94% of developers from our State of the Art Report stated their projects would be less successful without art, so we know firsthand that these decisions pay off.
Ultimately, incorporating great artwork shouldn't mean sacrificing other elements of your project or breaking the bank. As a partner in placemaking, you can count on us to help you develop a one-of-a-kind art experience and a memorable sense of place – on time and on budget.